Named after a Creek Indian princess, Noccalula Falls stands 90 feet tall and is one of the most visited natural attractions in the state. When rain conditions are normal, the waterfall is around 20 feet with a smaller waterfall located a little to the right of the higher fall. While heavy rains cause the two falls to merge into one wider waterfall.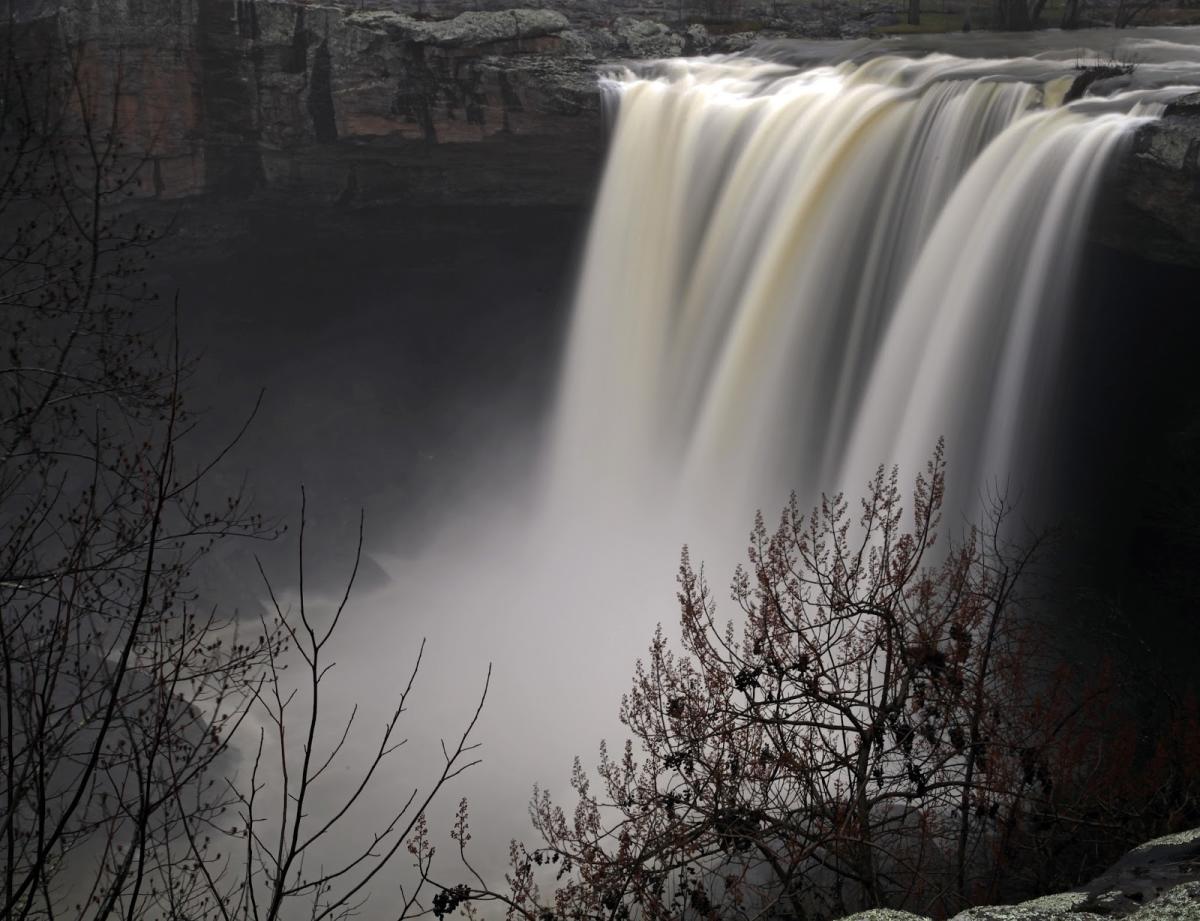 Attractions:
Noccalula Falls Park. Nestled among the trees in the park is a pioneer village, a group of rustic, hand-hewn log buildings representing a display of pioneer living conditions, included in the village are a country store, grist mill, covered bridge, pioneer home, smoke house, blacksmith shop and more. Other park attractions include a War Memorial and Museum, botanical gardens, hiking trails, sightseeing train, playground, carpet golf, picnic pavilions, Wedding Chapel and honeymoon cabins, and meeting facilities.
Mary G. Hardin Center for Cultural Arts includes three art galleries, the Imagination Place Children's Hands-on Museum, a 72-foot working model railroad, and the Gadsden Community School of the Arts.
The Gadsden Museum of Art strives to support and maintain a museum of local history of the Gadsden and Etowah County area and to support and maintain a museum dedicated to Southern artists. The museum is committed to the acquisition, collection, and preservation of paintings, sculptures, decorative arts, artifacts, and items of historical significance deemed worthy for view by the public.
Wills Creek Vineyards & Winery, located in nearby Duck Springs, Ala., is one of three active wineries North of I-20. The vineyards are nestled in the peashell hills of the Duck Springs Valley, in the heart of the Duck Springs wildlife preserve. Wills Creek Vineyards offers several varieties of muscadine, fruit wines and grape wines, and a family tradition spanning many generations of wine making that immigrated from Switzerland with the wine maker.
Jules J. Berta Winery is located atop Sand Mountain in Albertville, Ala. The vineyards are five acres of vines on a 22 acre farm, and mostly consist of Chardonnay, Cabernet Franc, Merlot and other varietals. They additionally have fruits wines and muscadine wines grown by local Alabama farmers.
Maraella Winery is located in the picturesque foothills of the Appalachian Mountains in Hokes Bluff, Ala. Established in 2005, their vineyards include estate grown and bottled Cabernet Sauvignon. Offers visitors a choice between classic viniferous varietals and traditional Alabama fruit wines. Gift shop has a great selection of cheeses and wine novelties. Stop in for a complimentary wine tasting and tour.
Tigers for Tomorrow. Looking for a unique experience? Take a trip to Untamed Mountain. Tigers for Tomorrow is a wild animal park and environmental education center that's home to over 130 animals. See 70 big cats, wolves, and bears. Children can interact with barnyard animals at their contact yard.