Need a getaway for just the two of you? How about a rustic, romantic weekend in north Alabama? There are many lakeside cabins, mountaintop chalets, and bluff-top rooms all across the region to spend getting away from it all. Sip champagne and admire the view from your balcony or curl up fireside under a cozy blanket. Whichever you choose, this getaway will be one to remember.
Bear Creek Log Cabins
Bear Creek Log Cabins in Fort Payne offer a full kitchen, hot tub, rock fireplace with gas logs, dish network, fishing ponds, hiking, and authentic log cabins with antiques.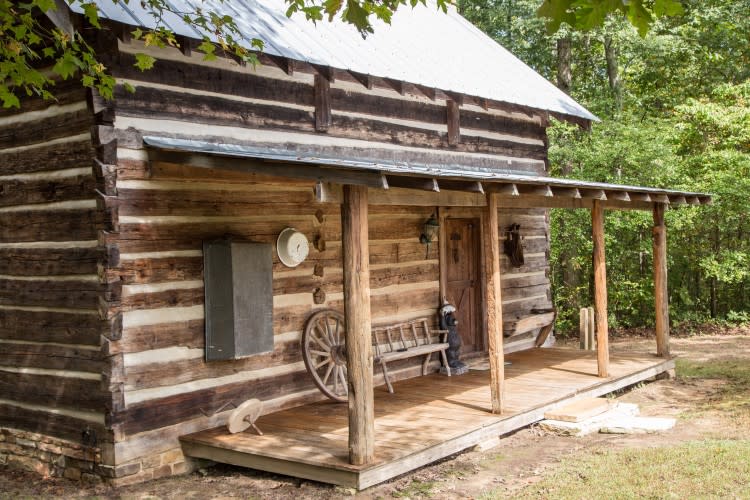 Cathedral Caverns State Park
Cathedral Caverns State Park has several new cabins that make for a sweet retreat. These cabins are modeled like a tiny home. One cabin is ADA accessible, and one cabin is pet-friendly. (photo courtesy of Cathedral Caverns State Park)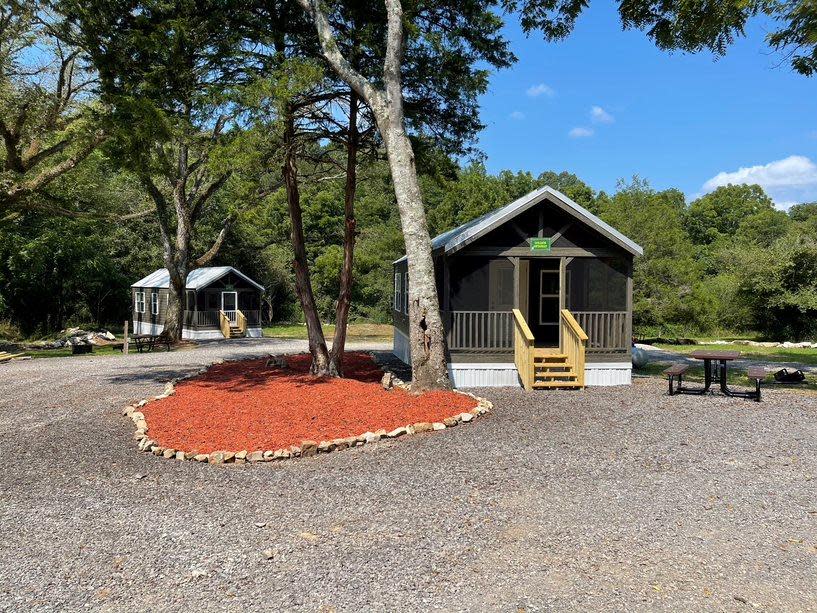 Cowan Creek Resort
Cowan Creek Resort is located on Weiss Lake in northeast Alabama and is perfect if fishing and lake life is your idea of a getaway. You can sit out on your cabin's front porch and take in the breathtaking view of Weiss Lake and the surrounding mountains. Cowan Creek Resort Cabins and Fish Camp offers cabins, a gift shop, bait, tackle, and a boat ramp.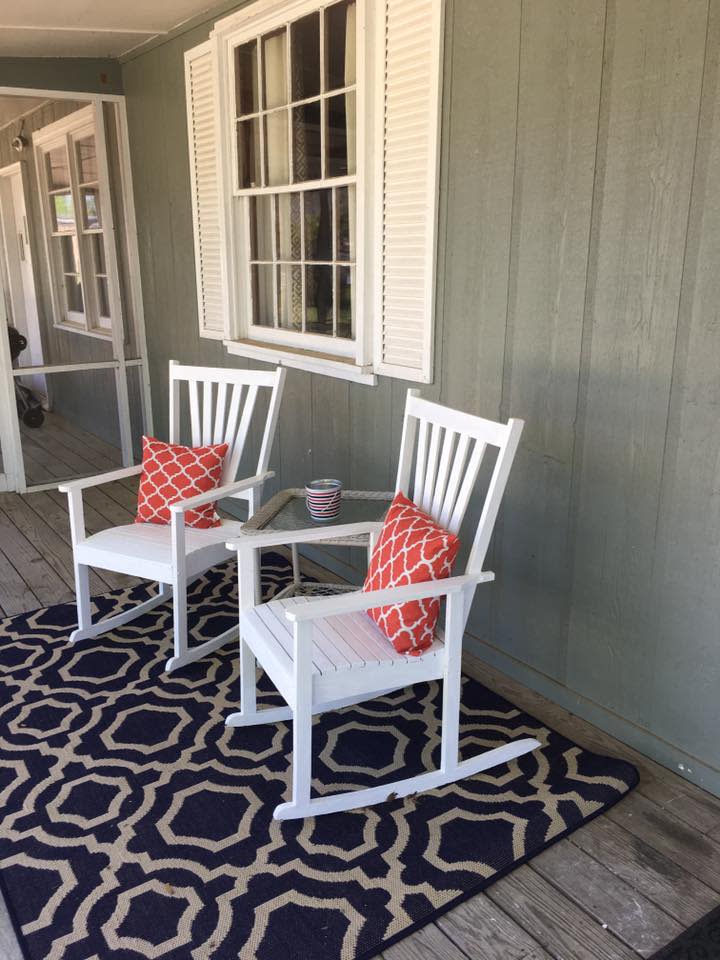 DeSoto State Park and Lodge
DeSoto State Park and Lodge is a perfect mountain getaway location! The park offers log cabins, rustic cabins, mountain chalets, and 94 full hook-up RV or tent campsites if you really want to be outdoors. For the more adventurous, there are also primitive camping sites for tents as well as two back-country campsites with shelters. There's a full-service restaurant, picnic area, nature center, and more than 25 miles of hiking and mountain biking trails.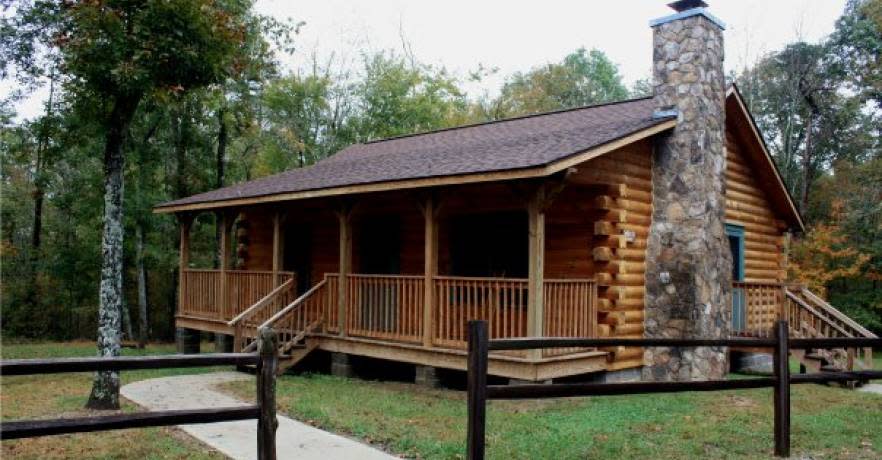 Dismals Canyon
Dismals Canyon is one of the finest examples of ecological and geological features composing our nation's natural history, and they have cabins that put you right smack in the middle of such a pristine wilderness. They've even got secluded campsites to really be outdoors. Hike the breathtaking canyon and take in all the beauty.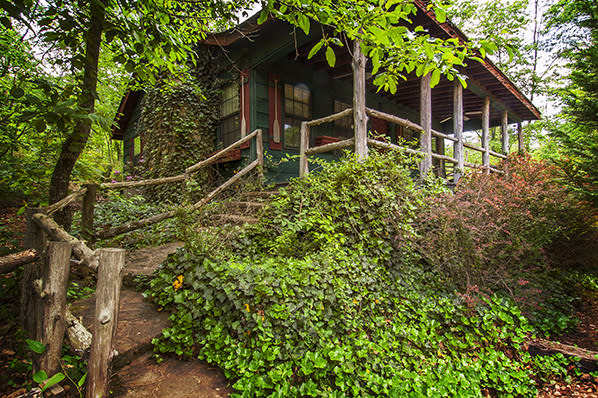 Dogwood Hills Golf Club and Gardens
If you love golf, then Dogwood Hills Golf Club and Gardens is the perfect getaway for you! Located near the northern tip of Sand Mountain in Jackson County, this Golf Digest Four Star rated course is an easy drive from cities throughout the tri-state area. Stay in the Log Cabin Village and golf all day!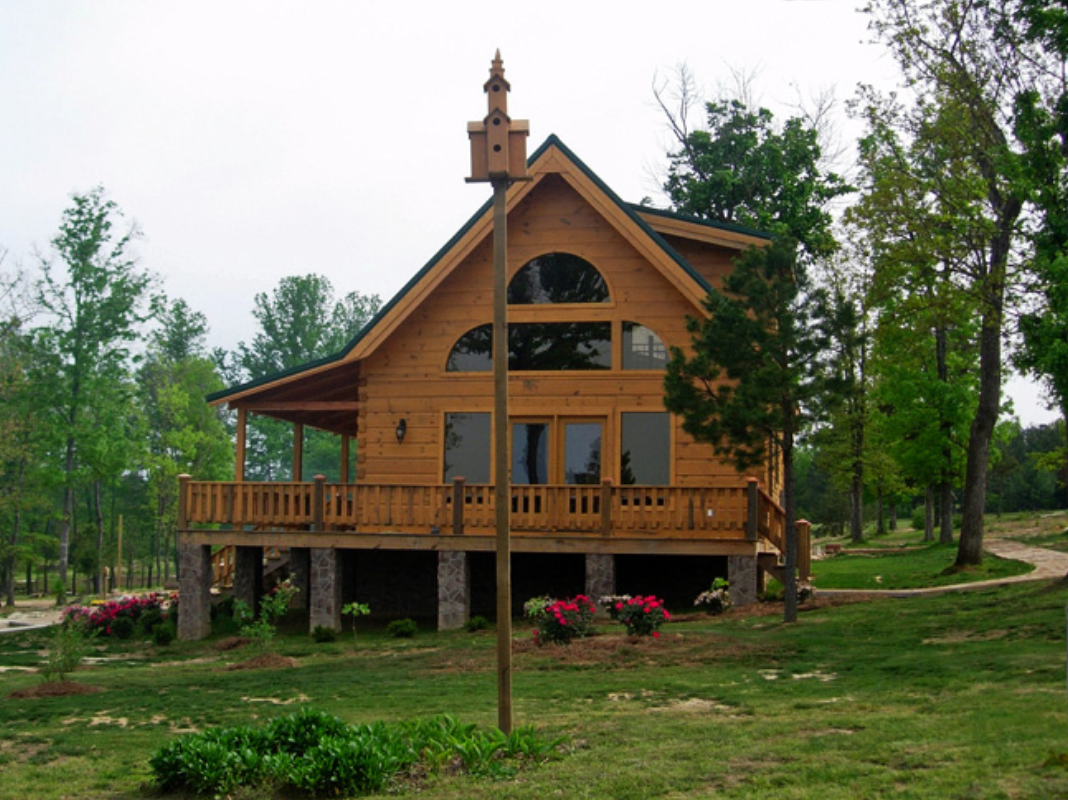 Doublehead Resort
Located on beautiful Wilson Lake, each cottage at Doublehead Resort is constructed with vaulted ceilings and exposed beams that reach the second-story loft. The first floor is designed with a master bedroom and full bath, along with a fully equipped kitchen and open great room with a wood-burning fireplace and satellite TV. Also located on the first floor are a dinette and a washer and dryer. Upstairs you will find 2 additional bedrooms and another full bath. And of course, each cottage has its own private pier, hammock, picnic table, charcoal grill, and rocking chairs.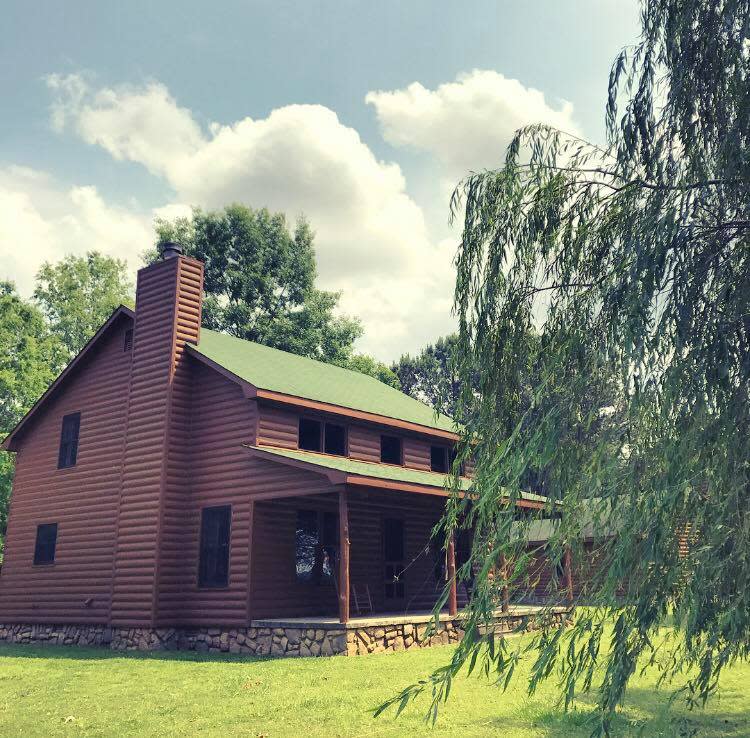 Goose Pond Colony
Nestled in the trees on Lake Guntersville, Goose Pond Colony's cottages are the perfect quiet, relaxing getaway. Each cottage has 2 bedrooms, 2 bathrooms, a kitchen, living room, dining room, a screened-in porch or deck, and a charcoal grill. Cable TV, telephones, linens, dishes, utensils, and cookware are also included. There are piers available if you want to bring your boat, too.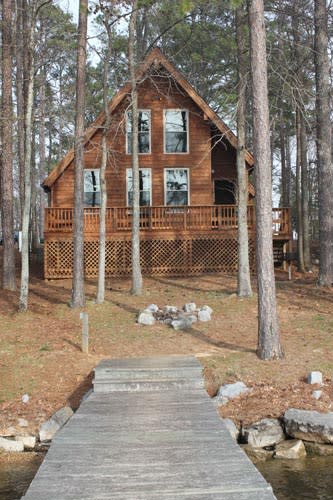 Gorham's Bluff
The view at Gorham's Bluff is spectacular! Hundreds of feet below, the mighty Tennessee River cuts a wide swath through the landscape. It is impossible to stand at the edge and take everything in—the sheer scope and immensity of it all—and not be dazzled. But that is just a fraction of what makes Gorham's Bluff so compelling. Stroll the charming streets, smile at the quaint picket fences, toast the sunsets, and fall in love with the community as we have.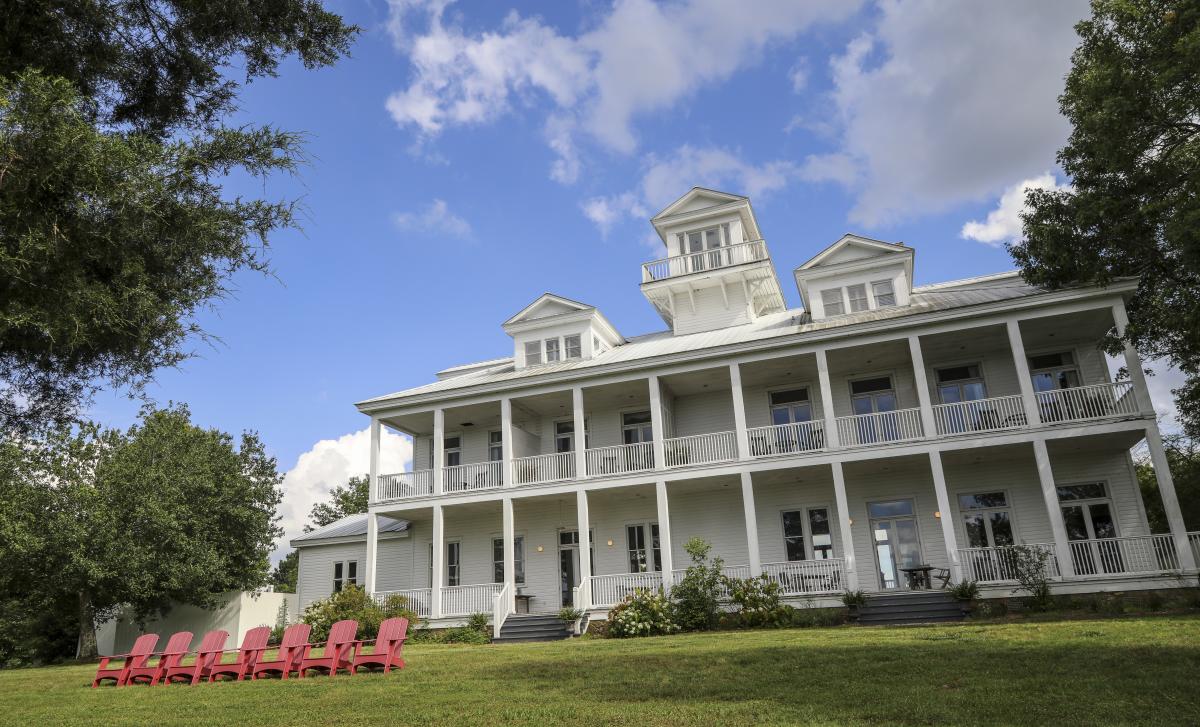 Jackson County Park
The cabins at Jackson County Park are new and located right on Lake Guntersville! There are plenty of walking trails nearby and a restaurant within the park.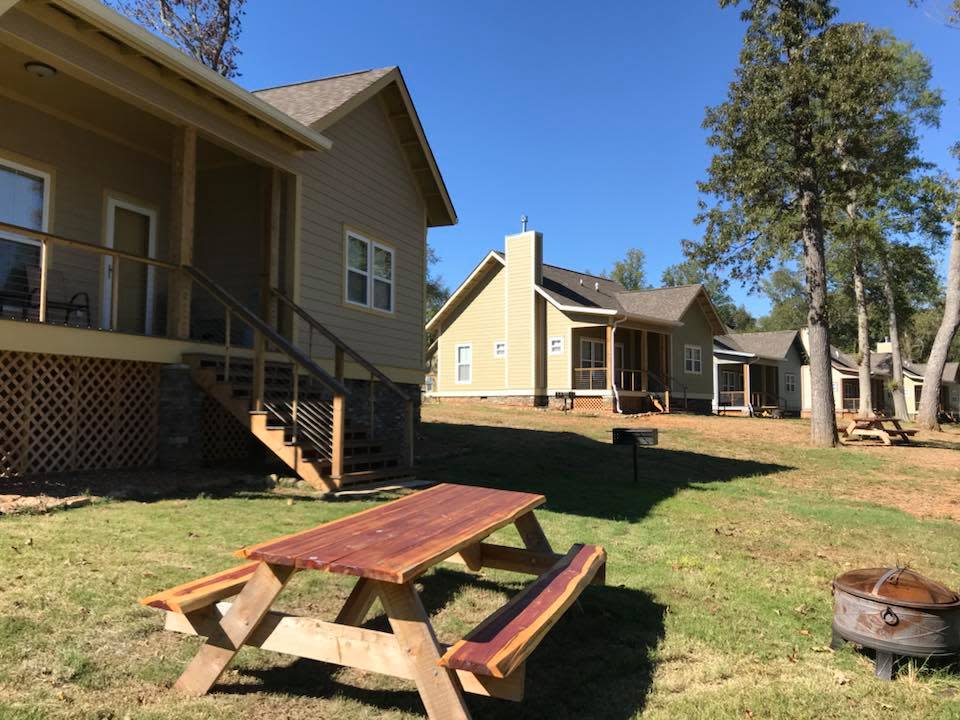 Joe Wheeler State Park
The lakeside cottages at Joe Wheeler State Park and Lodge have a wonderful view of Wheeler Lake. Nestled in the trees, each cottage has two-three bedrooms. There's trails to hike and a delicious restaurant in the lodge.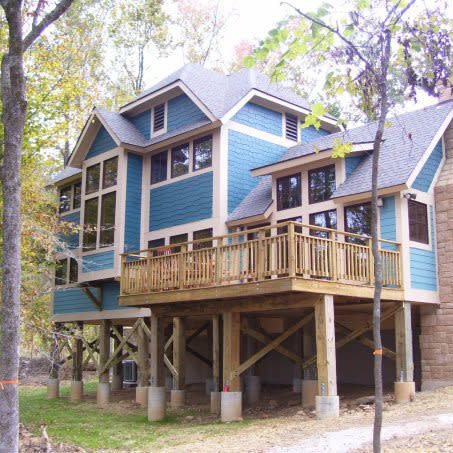 Lake Guntersville State Park
Lake Guntersville State Park's cabins sit nestled near the banks of the Guntersville Reservoir. Each cabin is furnished with a living room, cable TV, kitchen with dishes and cookware, two bathrooms, and two bedrooms. The back porch offers a sitting area, a grill in the back yard, and a small fire ring.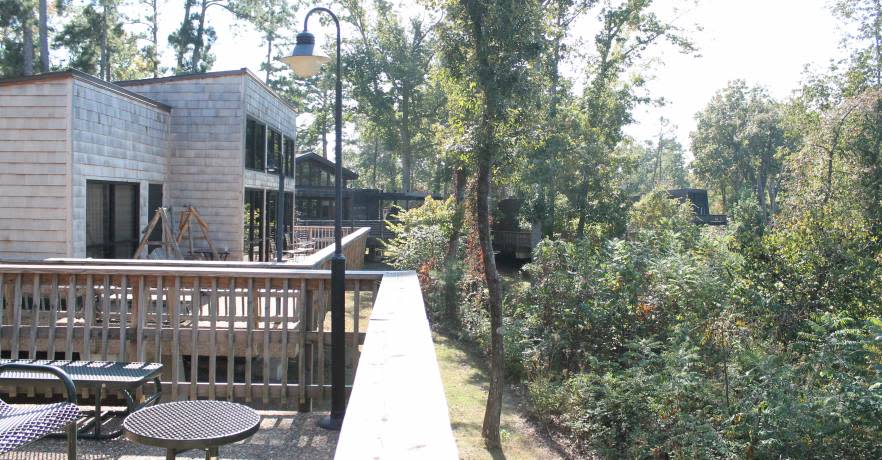 Mentone Inn
The Mentone Inn is such a quaint B&B right in the heart of Mentone. The rooms are cozy, and there's an amazing breakfast each morning. It's just minutes from DeSoto Falls and the Wildflower Cafe.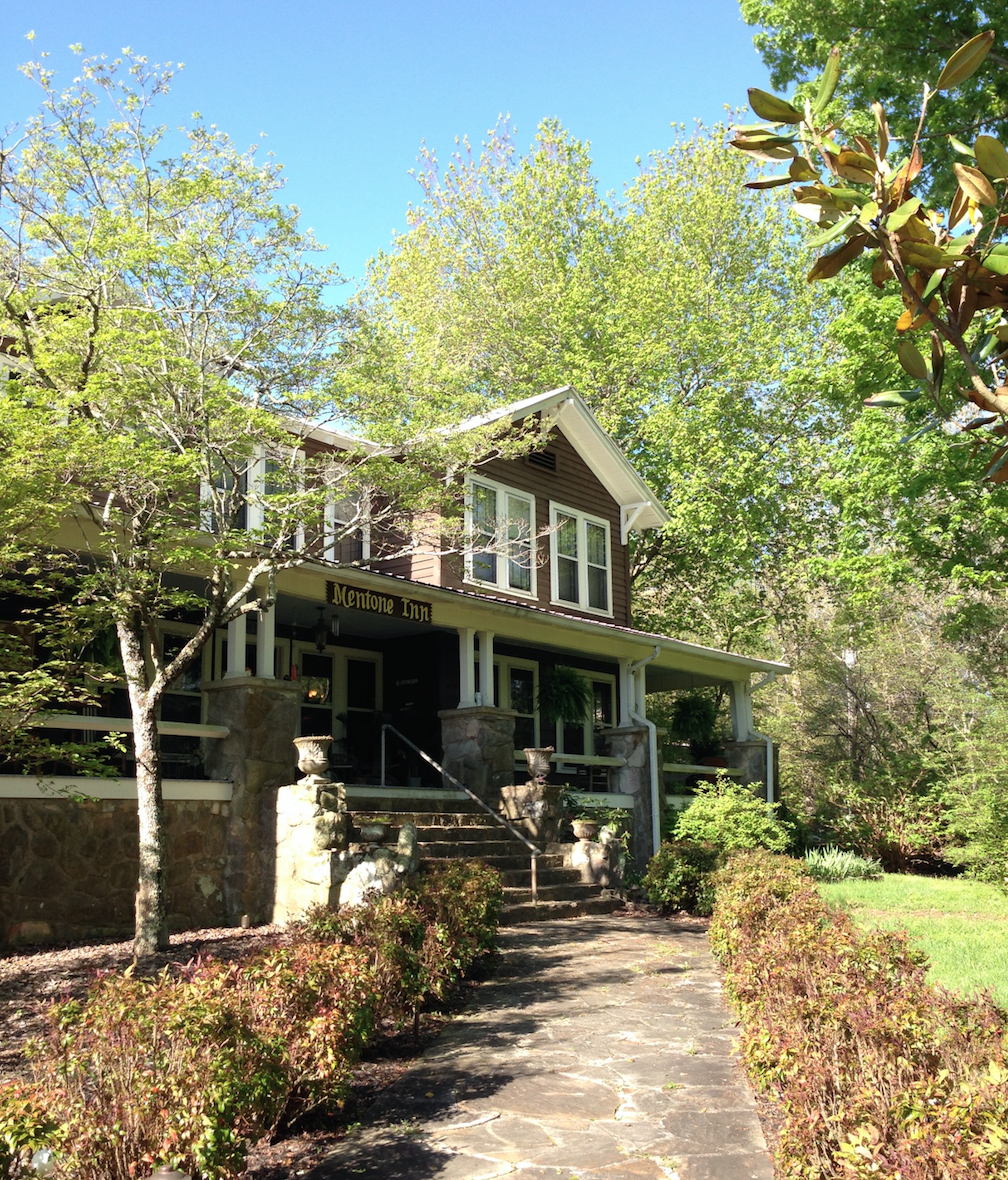 Mentone Vacation Rentals
Mentone Vacation Lodging is the leader of vacation homes and the innovator of 5-star resort service on Lookout Mountain. Offering guests the same 5-star standard and service found at some of the world's top resort hotels, these chalets, lodges, cabins, and historic homes are not just your typical cabin in the woods experience.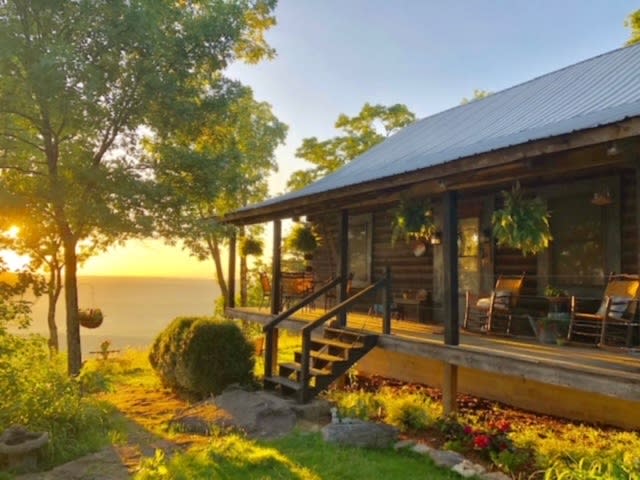 Monte Sano State Park
Monte Sano State Park has 14 renovated cabins nestled atop Monte Sano Mountain - just minutes from downtown Huntsville. There's stunning vistas, mountaintop trails, family picnic areas, and a Japanese garden and teahouse inside the beautiful state park.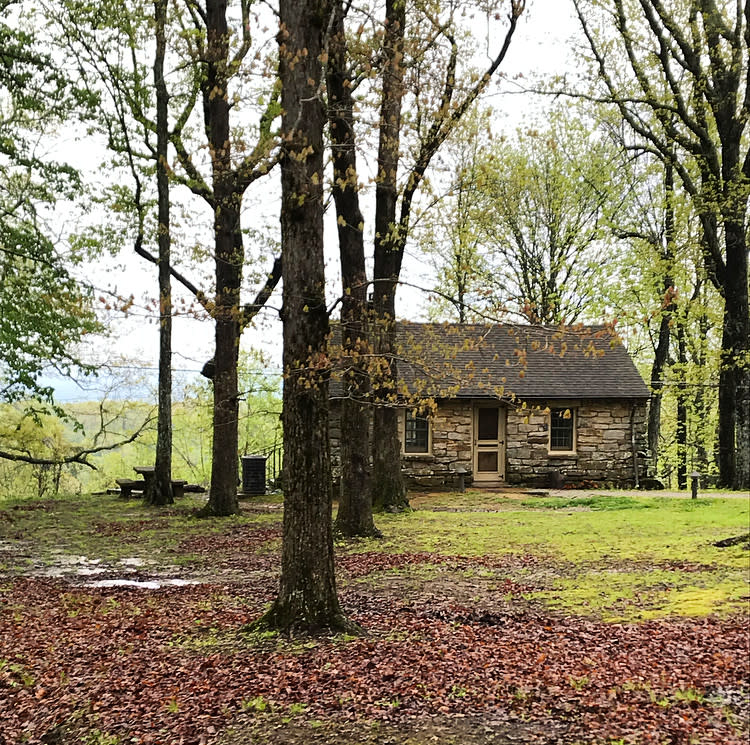 Palomino RV Resort at Burrow-Hamilton Farm
If camping is too much roughing it for you, go glamping at Palomino RV Resort at Burrow-Hamilton Farm near Cullman! This new RV resort has five glamping sites that are perfect when you love camping, but you don't love sleeping on the ground. The perfect, unique weekend getaway! (photo courtesy of Palomino RV Resort)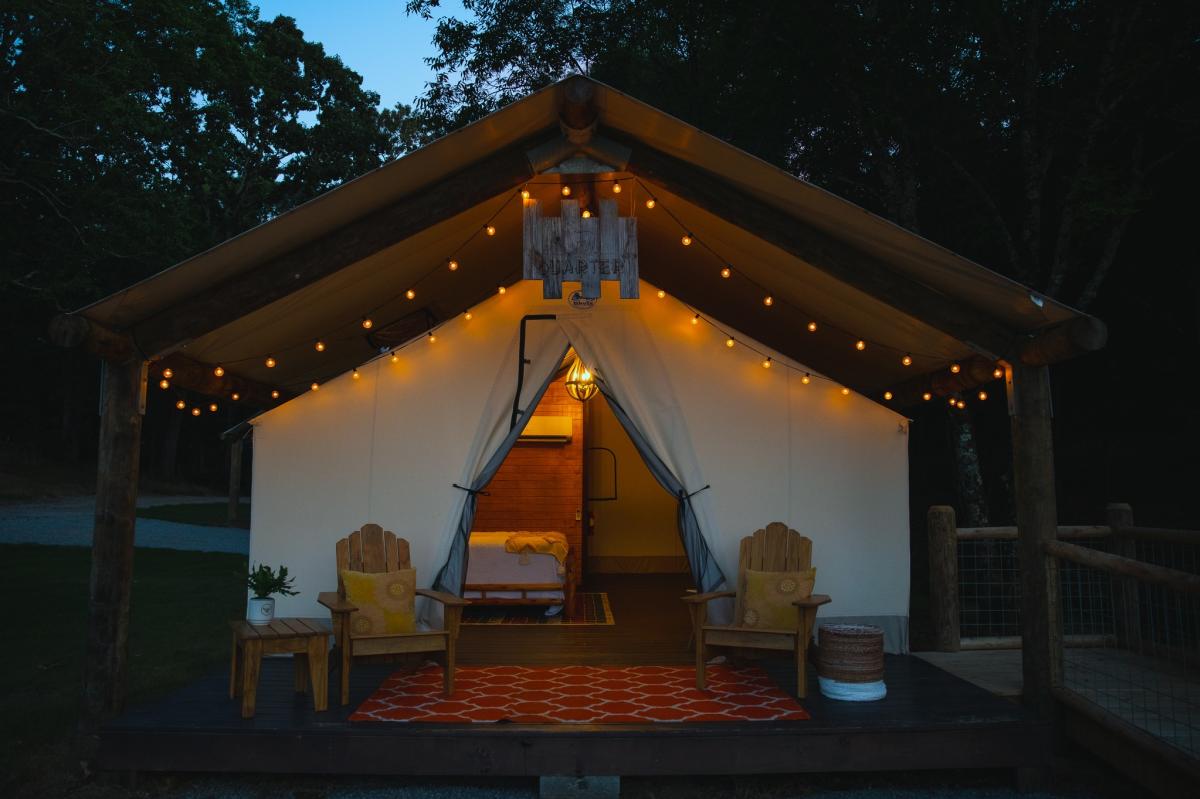 River Rocks Landing
Cozy up in a tree house, cabin, or go camping at River Rocks Landing! This unique getaway spot on the Coosa River near Gadsden has several cozy cabins with gorgeous views, and they have recently built two new treehouses: Tree House and Tree Stump. There's even a container home for rent that has a rooftop view of the river. (photo courtesy of River Rocks Landing)
Shoal Creek Gibbons Home
Shoal Creek Gibbons Home is perfectly located on Shoal Creek at the mouth of Wilson Lake. The home is totally renovated and updated and located minutes from town; however, you will feel as though you are in your own little world.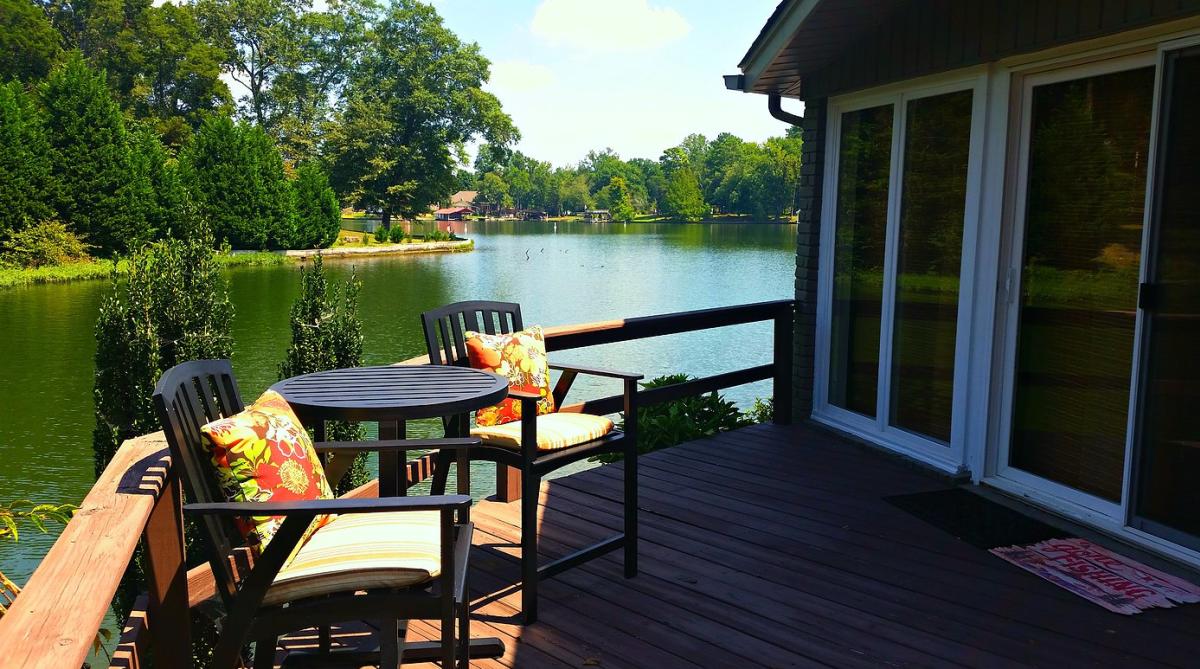 Stone Bridge Farm
The Village at Stone Bridge Farm is the addition of three two-story chalets on this beautiful estate. The chalets overlook a big lake and rolling hills. All chalets have fully-equipped kitchens; however, there is a menu from which you can order your meals from Stone Bridge's kitchen.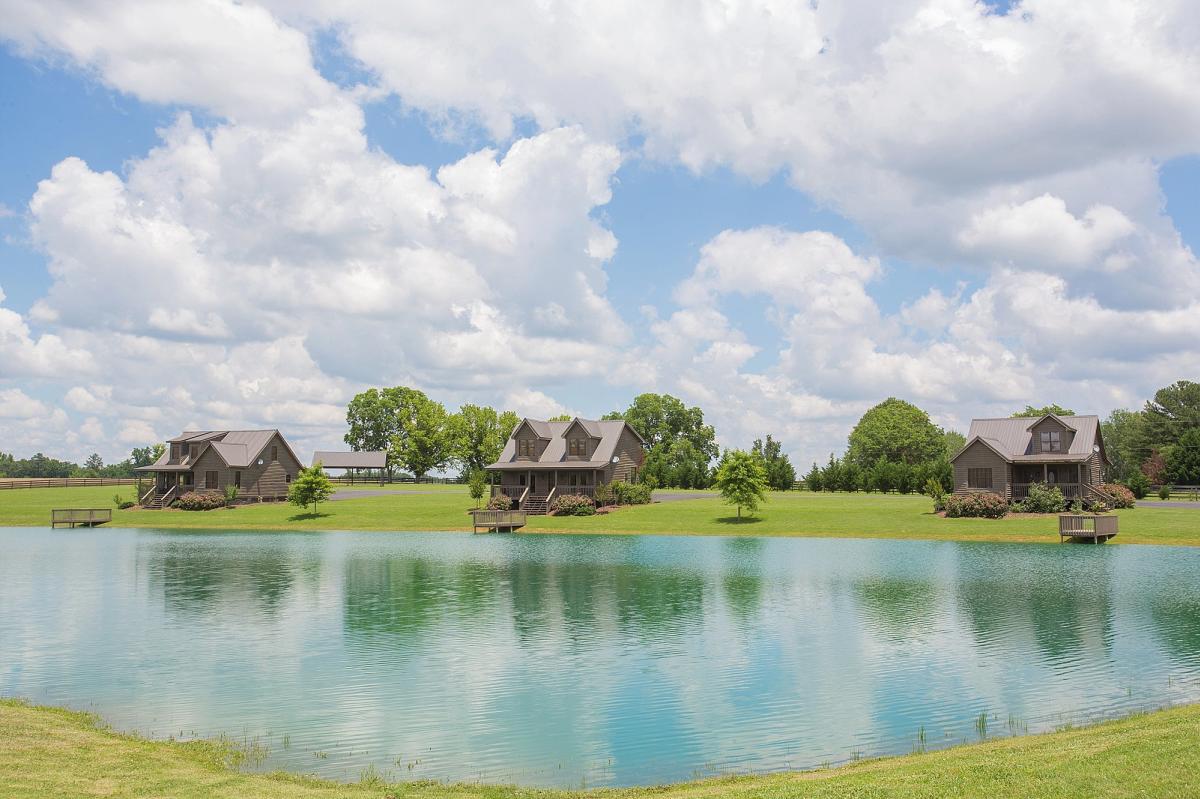 Listen to our Unexpected Adventures in North Alabama Podcast episode about the Mentone Inn and other romantic getaways in North Alabama!
For fun things to do and see on your getaway, go to www.northalabama.org.