Education
Alabama Mountain Lakes believes in the continuing education of our Hospitality and Tourism members and partners by:
Hosting informative Association meetings, "how-to" workshops, and training seminars including grant training efforts.
Serving as a resource bank for member information on industry trends, current events, and educational tools.
Providing STS Marketing College scholarships to industry members.
Hosting Social Media Networking meetings throughout the region.
Offering a Speaker Bureau
Informative Seminars
Alabama Mountain Lakes hosts several informative seminars each year. Alabama Mountain Lakes is committed to providing valuable insight and knowledge into the most important hospitality and tourism trends. Designed to inspire and create awareness in areas that are key to an organization's success, such as cultural awareness, service excellence, training and development, profitability, strategic planning, critical thinking, and best practices.
AMLA Speakers Bureau
Another way we seek to educate our members is to offer several presentations by knowledgeable professionals relating to the tourism and travel industry. This service is available free for AMLA members who wish to offer a presentation to their local civic clubs, community organizations, government groups, hospitality and accommodation organizations, or general community awareness town meetings.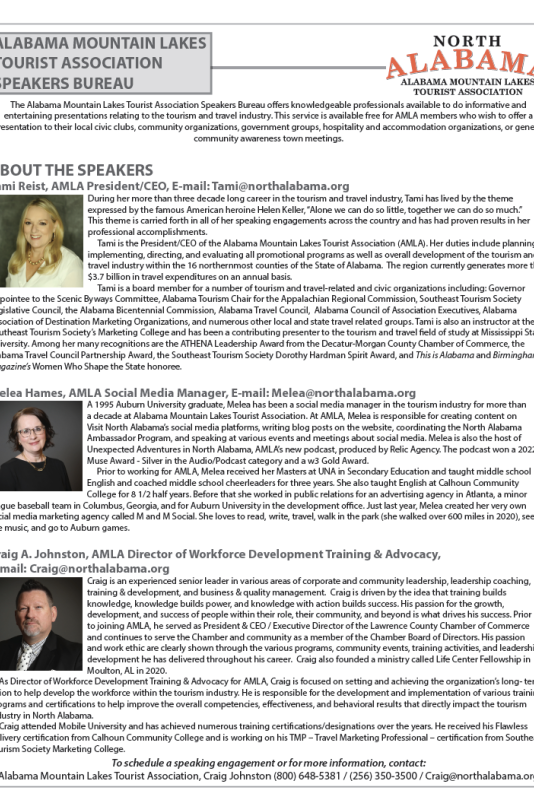 />
Southeast Tourism Society Marketing College
We are partners with Southeast Tourism Society (STS), which is an organization that promotes tourism to the southeastern 12 states, and each year STS hosts  STS Marketing College® for anyone interested in learning more about tourism to attend. Because we want our tourism professionals in north Alabama to be the best and the brightest, we offer several scholarships to our members. Everyone who has attended Marketing College has come away with more knowledge about the tourism industry, ideas to implement in their professions, and friendships that last a lifetime.
The Next Generation
Alabama Mountain Lakes partners with the Alabama League of Municipalities to teach the next generation about municipal government and why municipalities matter. 
Covered bridges are scattered all around North Alabama and remind us of the way things used to be.