Here in the south we really take pride in our BBQ. The North Alabama Barbecue Trail is the perfect way to travel, taste unique and flavorful plates, and share that BBQ pride with the people around you. Our "BBQ Secondary Adventure" took us to the following stops along the trail.
Dale's BBQ | 10850 AL Hwy. 168, Boaz, AL 35957
I must confess, we have not spent a lot of time in Boaz, typically it is a pass through trip. But today we had a purpose, which purpose you may ask? Locating some of the best (if not the best) BBQ in Boaz - Dale's BBQ. It was certainly not a wasted trip. I want to express, if you are a rib fan, Dale's only has ribs on Friday. Do not let that discourage you. I went with the Pork Plate, not to be clouded with sauce, bread, or any other features that could distract from the quality of the pulled pork. Before I discuss the pork, let me tell you a story of the best Potato Salad in all of the Land! I mean, if you make this trip just for the potato salad - I would completely understand. In Dale's BBQ case, it is like the heaven's gifted this potato salad. The comforting taste of butter, heavy cream, and mayo whisk you away to the guiltiest of pleasure. Back to the main course. At times you can eat pulled pork, regardless of method (on or off bun), experiencing a more prominent salty taste. Dale's pulled pork defies that norm, which I really enjoyed! The taste of smoke and seasoning are trapped in the bark and the perfect amount of fat. Giving character to each bite, to be complimented by a slight dip into their sweeter red sauce. At the end of the day, Dale's BBQ has put their focus on the things that matter… Pork and that heavenly Potato Salad.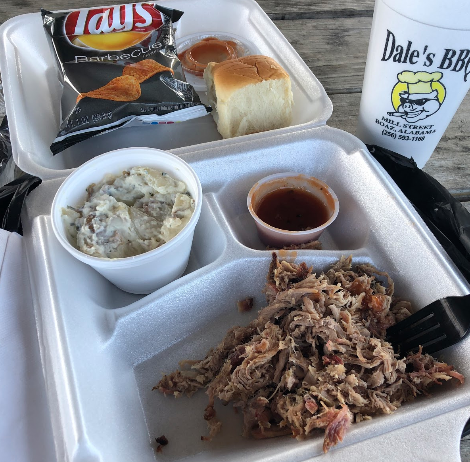 Johnny's BBQ |

1401 4th St. SW, Cullman, AL 35055
This stop was a happy stop, as Cullman City/County has a rich history and an amazing marriage with nature, two of my top three most favorite things. What is the Third you may ask? Well let's be honest… I am writing a BBQ Blog. Now Johnny's is know around the region for their amazing BBQ, they have been business since before 1963 and that very year were placed in the Alabama Hall of Fame. Their ribs are highly sought after - so arrive early! I tried their Pork Plate, I was not prepared for what was to come. I am not a messy eater (even though my wife may say otherwise, so staying clean while eating this overly filled plate. Alternative to Dale's, Johnny's ensures that in addition to Smoke and Seasoning, you will also have the savory treat of a Saucy Marinade. Be aware, if spice is something that you are cautious of then this may warm you up. Even through the spice you can clearly feel the love and passion smoked into this tender and succulent pork. Two honorable mentions, the perfectly fried yet soft hush puppies are among the best in this region. Finally the baked beans, so sweet yet surprising not that messy. Regardless the quantity of food on this plate will fill you up to the point of requiring a nap.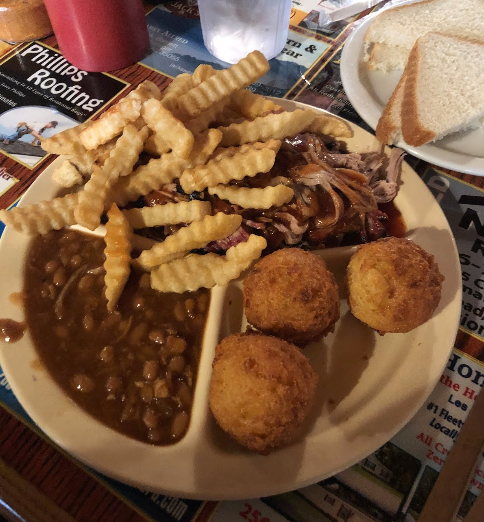 KC's BBQ |

2300 County Park Rd, Scottsboro, AL 35769
Love at first sight is typically reserved for human interactions and/or our four legged pals. In this story it is for the view and BBQ! It was quite fun finding this hidden yet popular gem. You trek through the woods and campsites of Jackson County Park all the way until you hit the docks. KC's offers inside and outside seating plus dock side pull up for your marine travel options. I was super impressed that they hand out pagers which allow you to go soak in the views of the of Guntersville Lake while you wait. Once the pager vibrates nearly off of the table, the real game begins. I am sure you are curious… Yes, there were ribs! I want to call attention to how they cleanly cut and place the ribs. I can't say that I do not love the barbaric nature of devouring whole slabs, however I fell in love with how clean everything was at the end. The only concern was the sauce being added, at times sauce can take away from the hours of labor spent on cooking the ribs. I can safely say, it enhanced the experience! These wonderful ribs provided a private individual treat, keeping you clean, full, and ready to get back to fishing… I mean to work. Either way, you will be beyond impressed with the views and BBQ.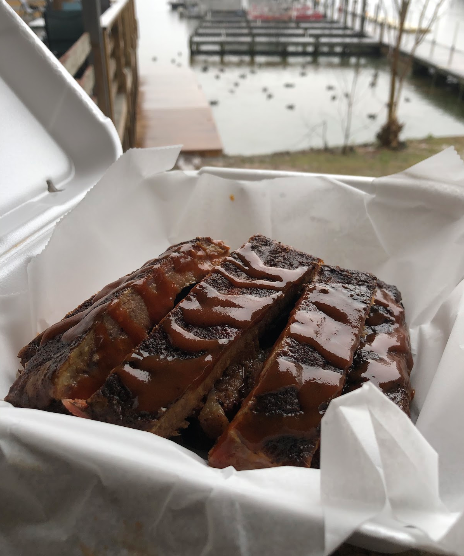 Lawler's BBQ | 11310 South Parkway SW, Huntsville, AL 35803
Back home would be the best way to describe this stop along the BBQ Trail. Why? Because Lawler's has found a way into everyone's community! Not just opening a location near you, but by finding a way to ensure the integrity of the food has the same quality stop to stop. This is one of my most favorite features about this locally grown chain. Let it be known that not every chain BBQ location focuses on this, which is why I think Lawlers is among my top BBQ recommendations. I think the dilemma of every person when standing in line ordering ribs is this: "Can I eat an entire slab? Nah, I really shouldn't… but then again a half slab isn't so bad… but what if I am not full? Welp, might as well go with the full slab." If this is you, don't sweat it here at Lawler's. Quarter, Half, or Full doesn't really matter. Each section is packed with quality meaty ribs seasoned to perfection. Prepare yourself with a towel to handle the aftermath of the entire slab destruction. Before you fill up entirely, make sure to grab a side of potato salad and tasty mac…you will thank me.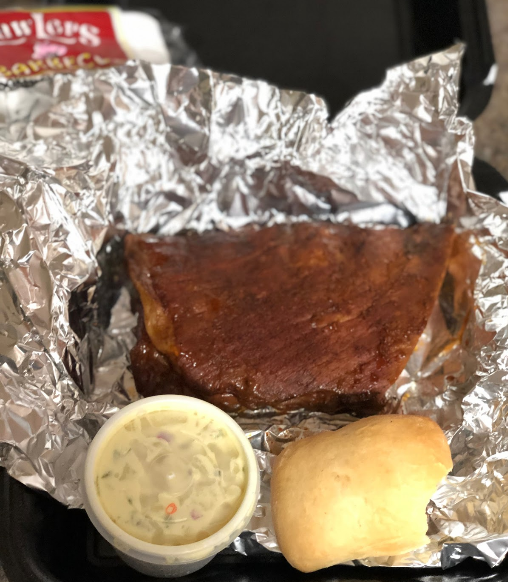 Greenbrier Restaurant | 27028 Old Hwy. 20, Madison, AL 35758
Finally, back to the beginning, Greenbrier was our first stop on this trip. Expectations were high as all of our friends screamed GREENBRIER when we discussed writing this blog. I will say that the drive into the middle of nowhere was very confusing, I really should have made sure we had enough gas. Once arriving we realized that we found the most important location, as the parking lot was packed. We made our way to our booth, making a fun note of the wall decorations from the years of being in operation, it is refreshing to observe the years of success. After getting our drink order, we were immediately greeted with a basket of hush puppies… I assumed it was because I am a celebrity, Katelyn brought me back down and gently let me know everyone gets unlimited hushpuppies. Sure enough, every few mins, our basket was back to the top! I was blown away by how quickly our food made it to the table! The ribs are slowly cooked directly over the pit tightly sealed with foil ensuring the season and flavor is kept. The ribs are then warmed to serve through a flash fry. I was pleased that the flash fry didn't take away from the hours of work, rather it ensured the flavor and seasoning were sealed in. You will be please to have a slight crisp to your ribs, it pairs well with their seasoned french fries. We played sauce roulette with the multiple bottles available at the table, risky I know, I will tell you the sweet red sauce was the winner. Having the easy squeeze bottle gave a great way to apply directly to each bite! For Greenbrier, do not be intimidated by the drive and DO NOT overfill up on the hushpuppies…I repeat do not…otherwise you will not finish your rack of ribs.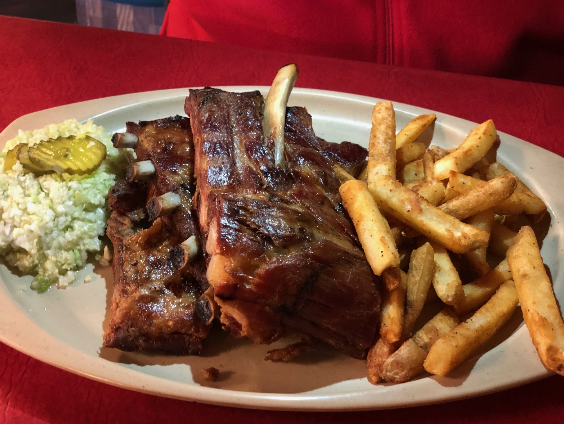 We really enjoyed traveling and experiencing these trail stops. We can't wait to visit the rest on this list and/or try out one of the other amazing trails that the Alabama Mountain Lakes Tourist Association has created. See you soon! #SecondaryAdventure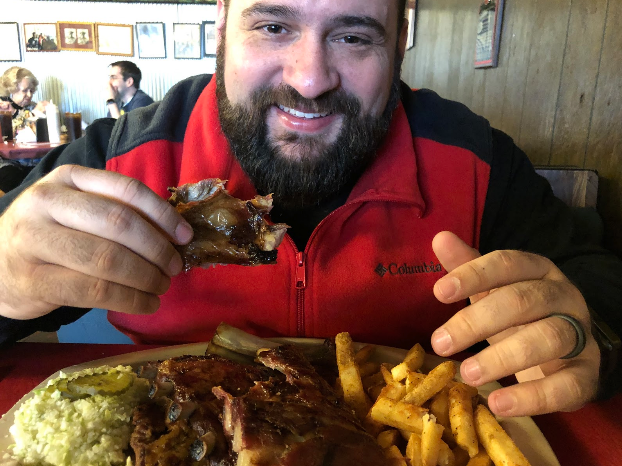 Click the link to learn more about the North Alabama Barbecue Trail and to download your list of fantastic barbecue restaurants in north Alabama.