The Power of Water: North Alabama is home to the Tennessee River and because of this amazing river, there are eight beautiful lakes all across the region that are perfect for fishing, boating, kayaking, and swimming. The mighty Tennessee River is also the reason for so many breathtaking waterfalls that are scattered across the 16-county region.
North Alabama Waterfall Trail
Thanks to the flowing waters of the Tennessee River, North Alabama has the most beautiful waterfalls either side of the Appalachians. Check out several of the most popular waterfalls all across north Alabama.
Bethel Spring Falls
Bethel Spring Nature Preserve on Keel Mountain offers hikers two miles of free trails to explore as well as one of Madison County's largest waterfalls. The waterfall is impressive enough above ground but continues its descent into a cave below, flows downhill underground, and exits through a spring at the base of the mountain. All the trails create a 1.3 mile loop leading to and from the waterfall. This hike is difficult due to change in elevation and some slippery and/or rocky areas.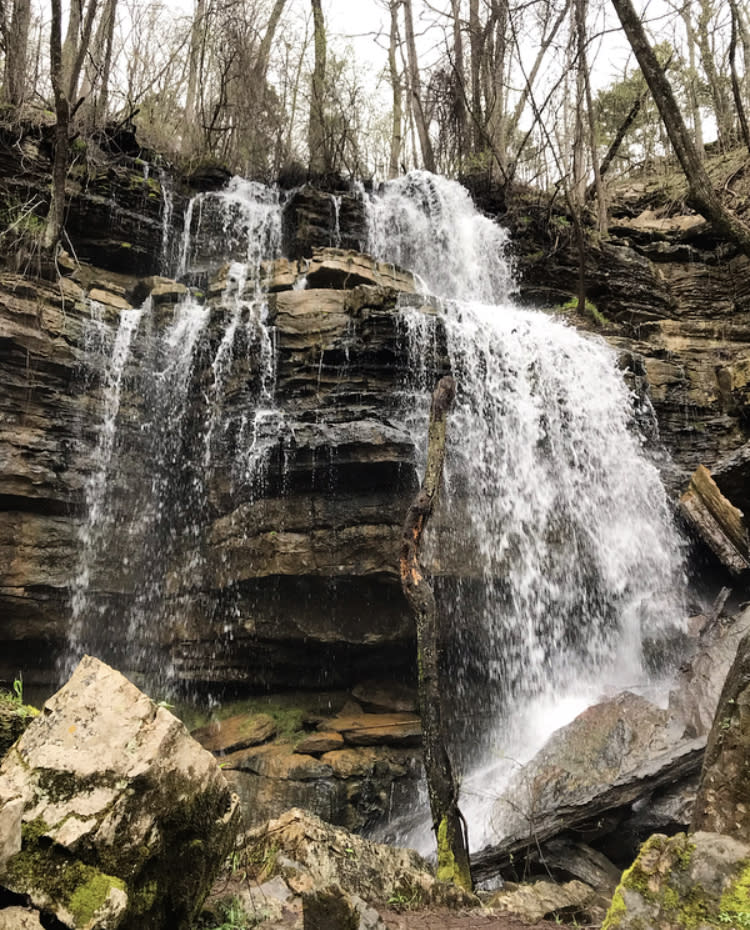 Coldwater Falls
Located in Spring Park in Tuscumbia, Coldwater Falls is a man-made waterfall that was constructed with over 2,000 tons of sandstone and today sees more than 4.3 million gallons of water flow each day. (photo by John Dersham)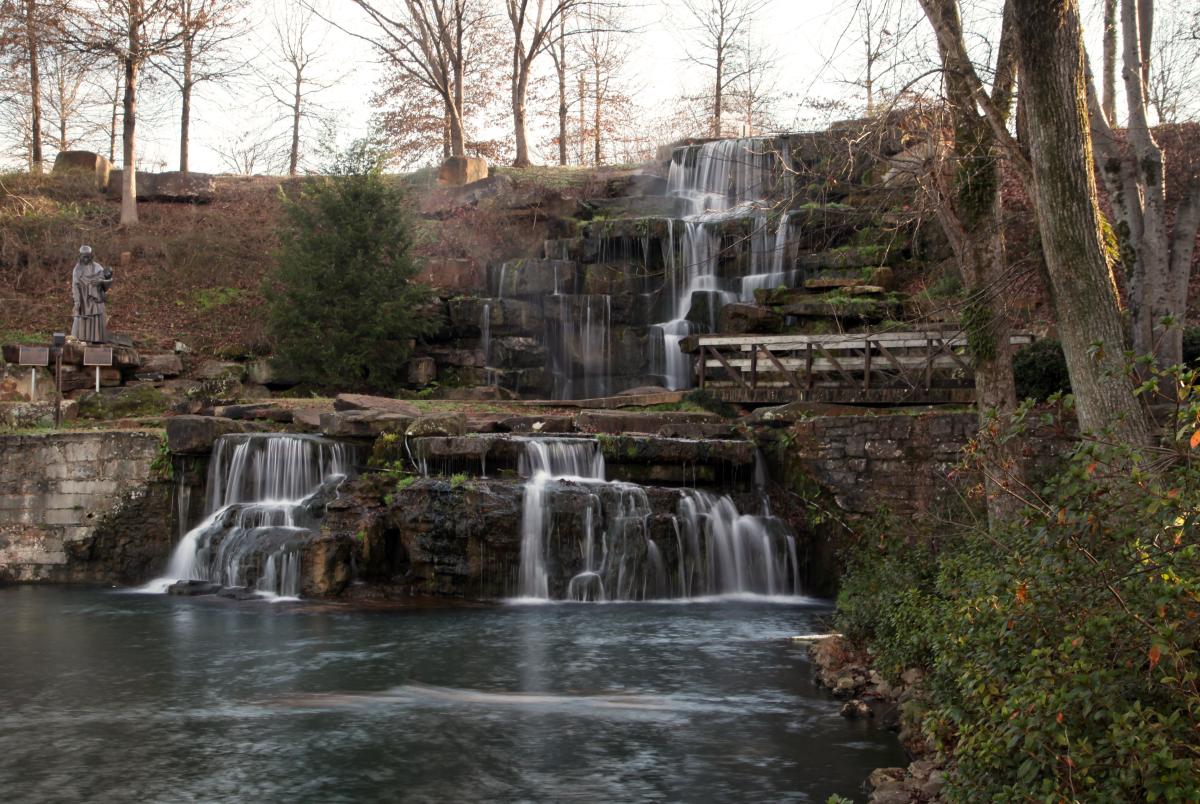 DeSoto Falls
Oh, you will be so glad you drove out in the middle of nowhere to catch a glimpse of this gorgeous and massive waterfall! DeSoto Falls is one of the most visited waterfalls, and when you visit you'll see why. (photo by North Alabama Ambassador Pat Yancey)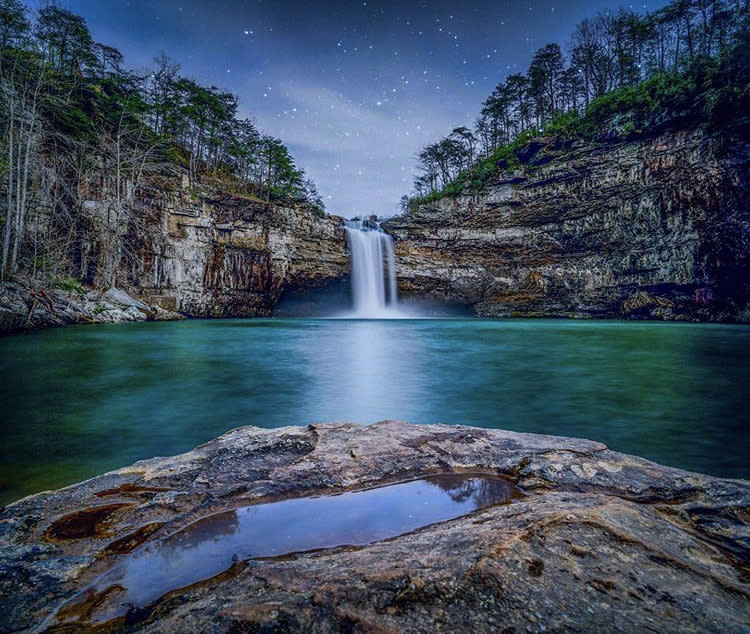 High Falls Park
High Falls Park in Grove Oak is a beautiful park with a magnificent waterfall! This waterfall is 35 feet high and 300 feet wide, and is really gorgeous after a good rain. Located just south of Lake Guntersville, the park has hiking trails, picnic pavilions, and a playground - the perfect place to spend the day. You can even splash around in the water several yards up from the falls. It's also on our North Alabama Waterfall Trail.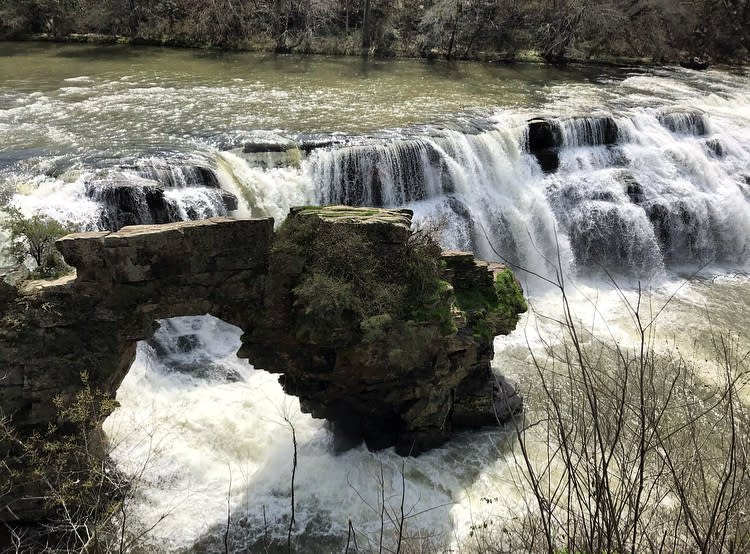 Kinlock Falls
Kinlock Falls in Bankhead National Forest is a popular spot especially in the summer time. People love to slide down the falls and swim at the bottom. (photo by North Alabama Ambassador Pat Yancey)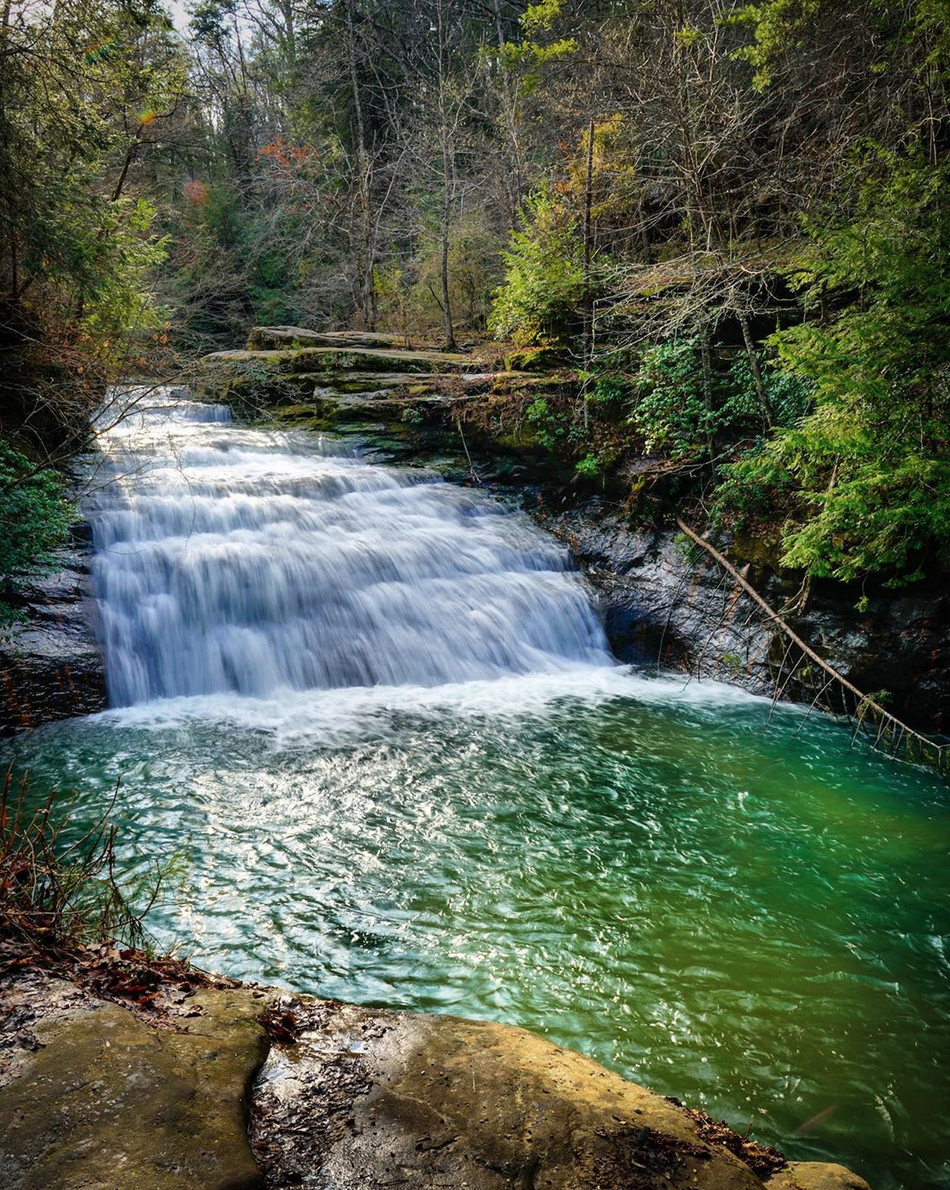 Little River Falls
One of the deepest gorges in the East, Little River Canyon National Preserve, which is part of the National Park System, contains spectacular scenery, breathtaking waterfalls, and a number of rare plants and animals. One of the most majestic parts of Little River Canyon is Little River Falls. The formation of Little River Canyon begins at Little Falls with this breathtaking 45-foot waterfall. (photo by Scott Baker)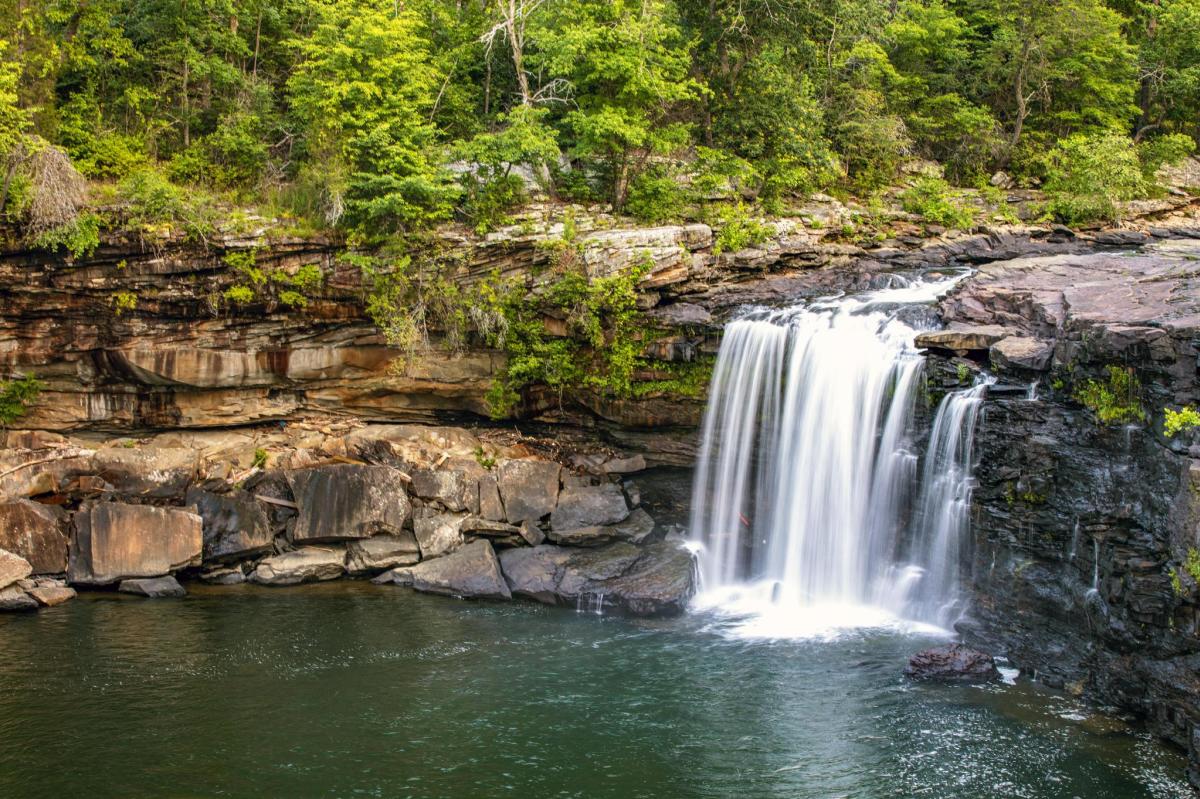 Mardis Mills Falls
Mardis Mills Falls is on our North Alabama Waterfall Trail and is out in the middle of nowhere in Blount County. The Falls is gorgeous and peaceful and the perfect place to sit and relax and even have a picnic.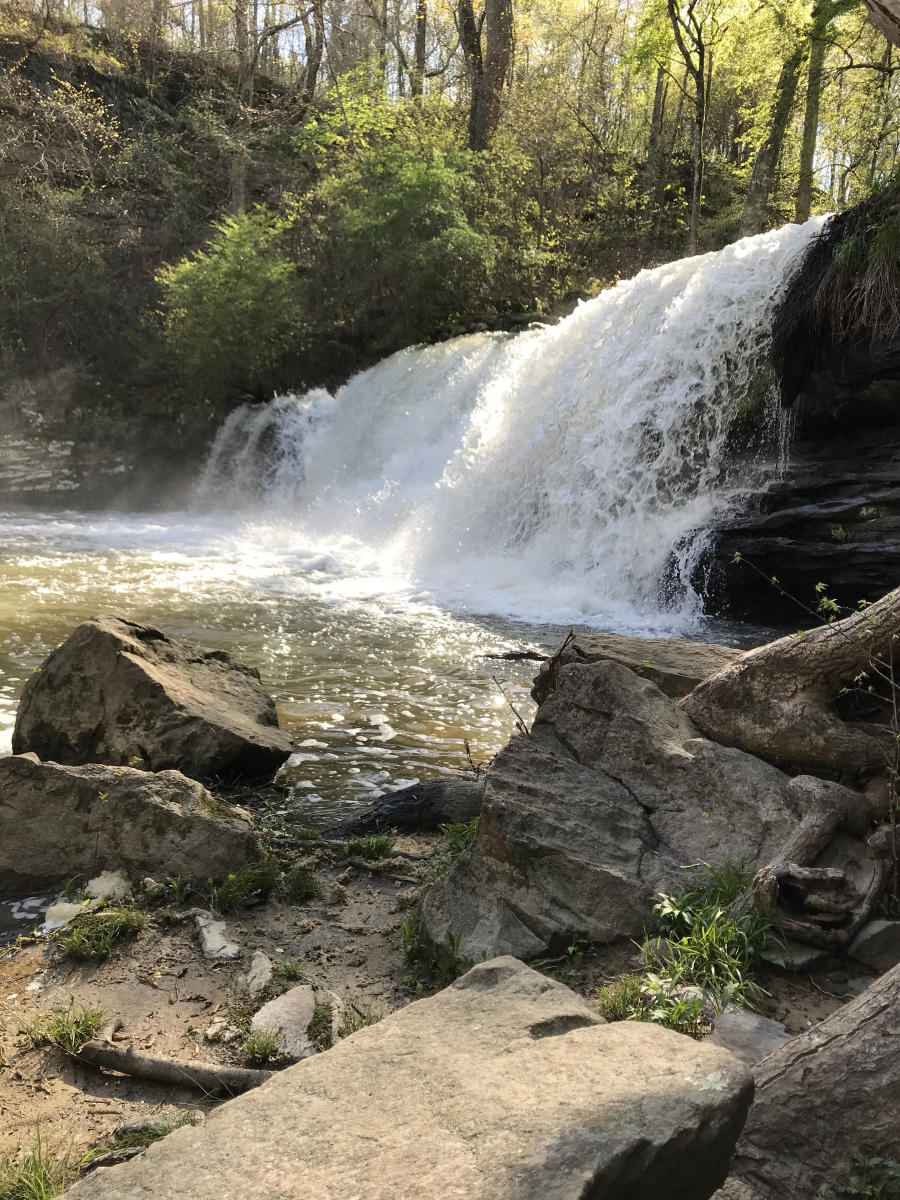 Noccalula Falls Park
Noccalula Falls Park's main attraction is the gorgeous 90-foot waterfall with a statue of Princess Noccalula overlooking the canyon. The park also features nature trails, botanical garden, and pioneer village. Another favorite attraction at Noccalula Falls Park is their C.P. Huntington Train. The train operates daily and takes visitors on a scenic one mile ride in and around the park. Unlimited train rides included in park admission.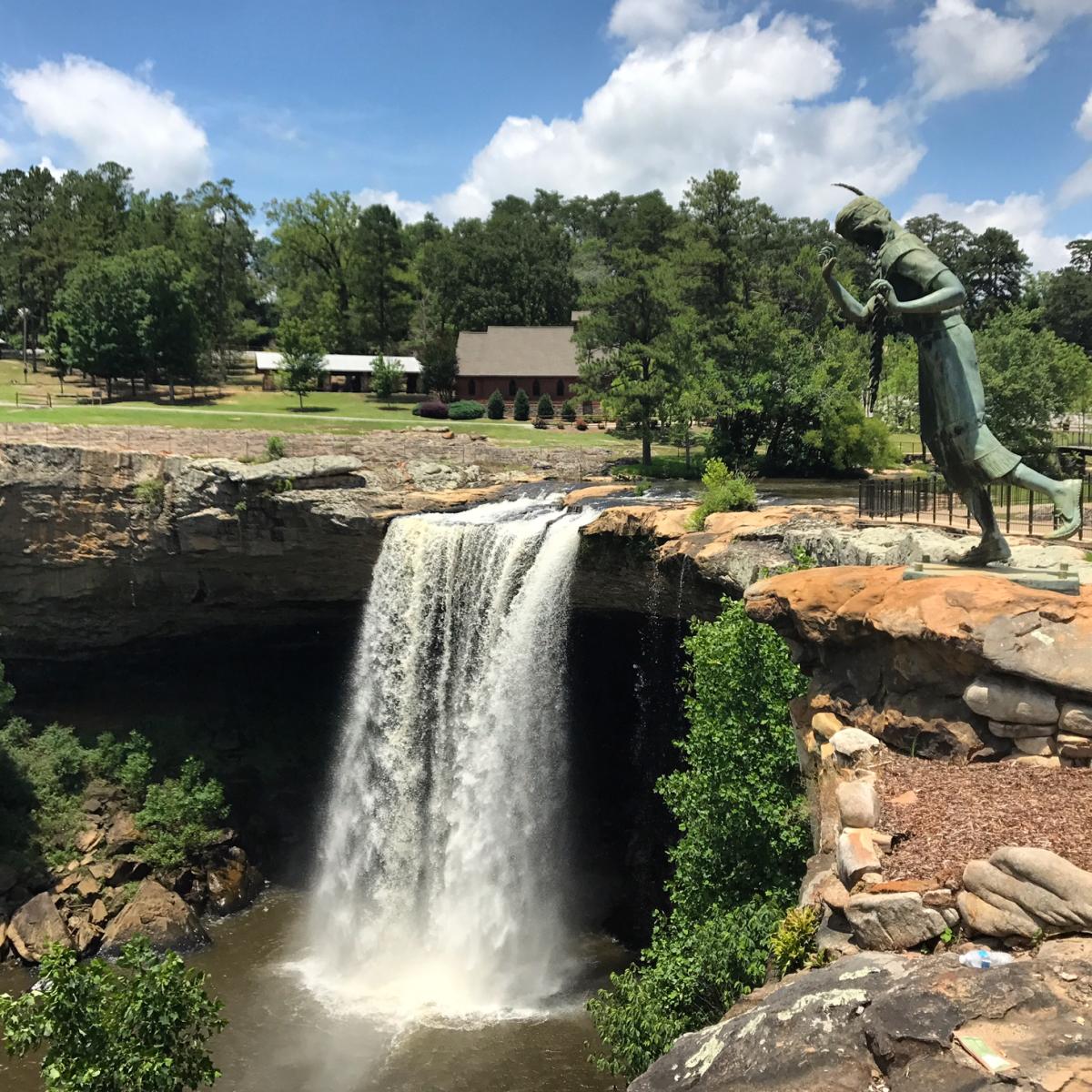 Pisgah Gorge Falls
At a total of 600 feet spread out over 1.5 miles, Pisgah Gorge Falls includes two large waterfalls that are each close to 100 feet tall. (photo by North Alabama Ambassador Amanda Bridges-Dunn)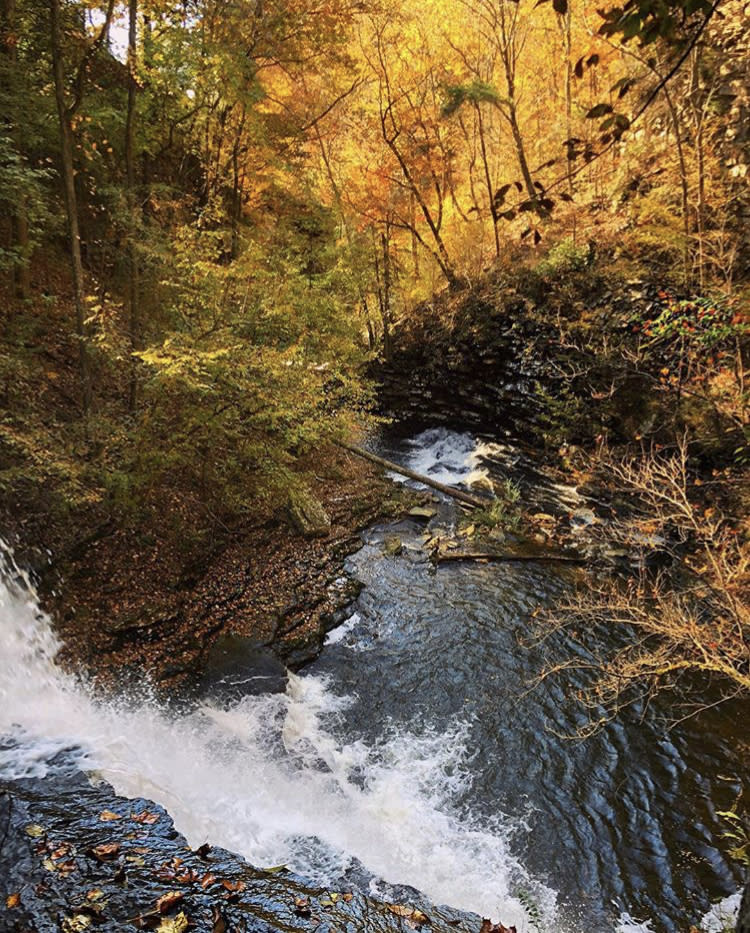 Rainbow Falls 
Located in Dismals Canyon, Rainbow Falls is small waterfall with a swimming hole at the bottom. It's perfect for a dip to cool off after you've hiked the canyon. (photo by North Alabama Ambassador Amanda Bridges-Dunn)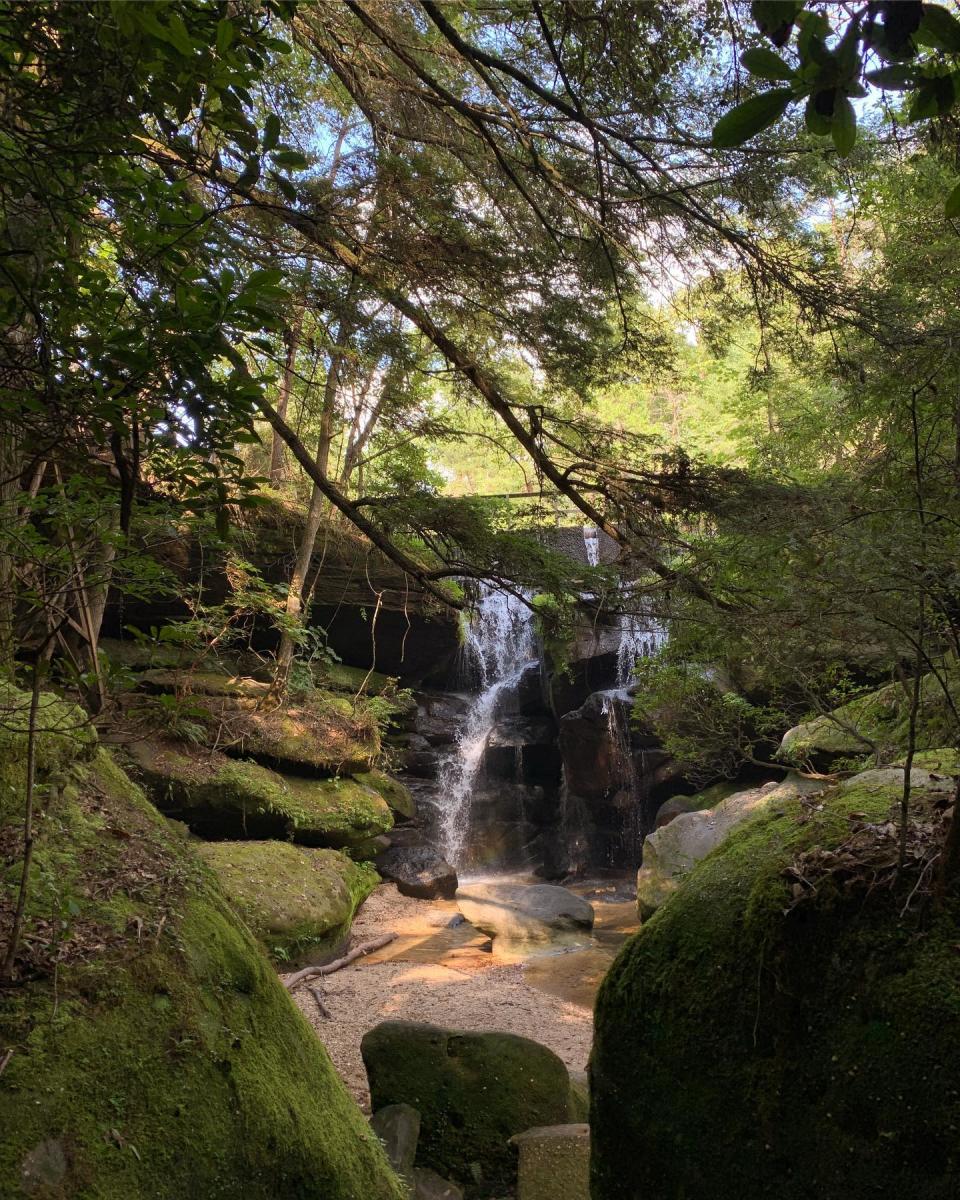 Sougahoagdee Falls
It might be difficult to pronounce, but Sougahoagdee Falls in Bankhead National Forest is another popular waterfall. The hike is relatively easy - approximately three miles roundtrip - which makes it one of the most visited waterfalls in the forest. (photo by North Alabama Ambassador Lane Leopard)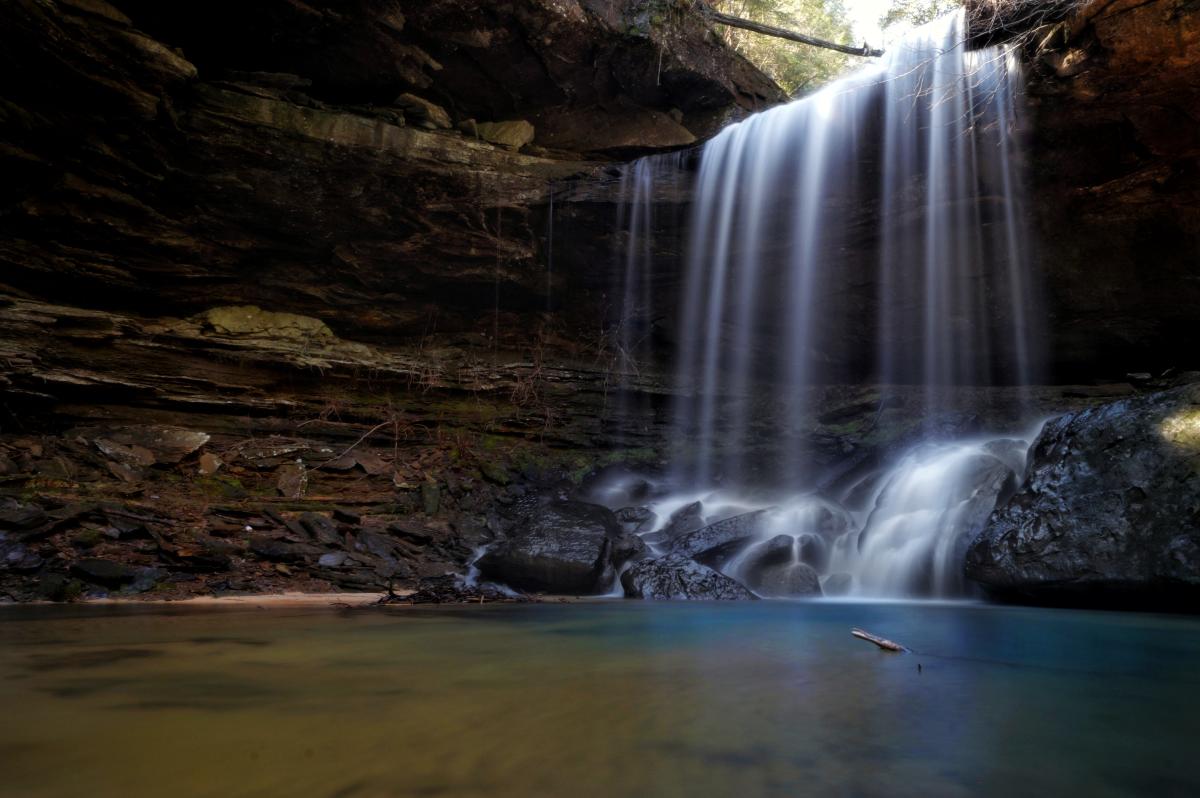 Wilson Dam Falls
Wilson Dam waterfall is on a high rock wall adjacent to Wilson Dam on the south bank. Small feeder creeks run through the natural area and create this waterfall on an adjacent cliff wall. (photo by North Alabama Ambassador David Parham)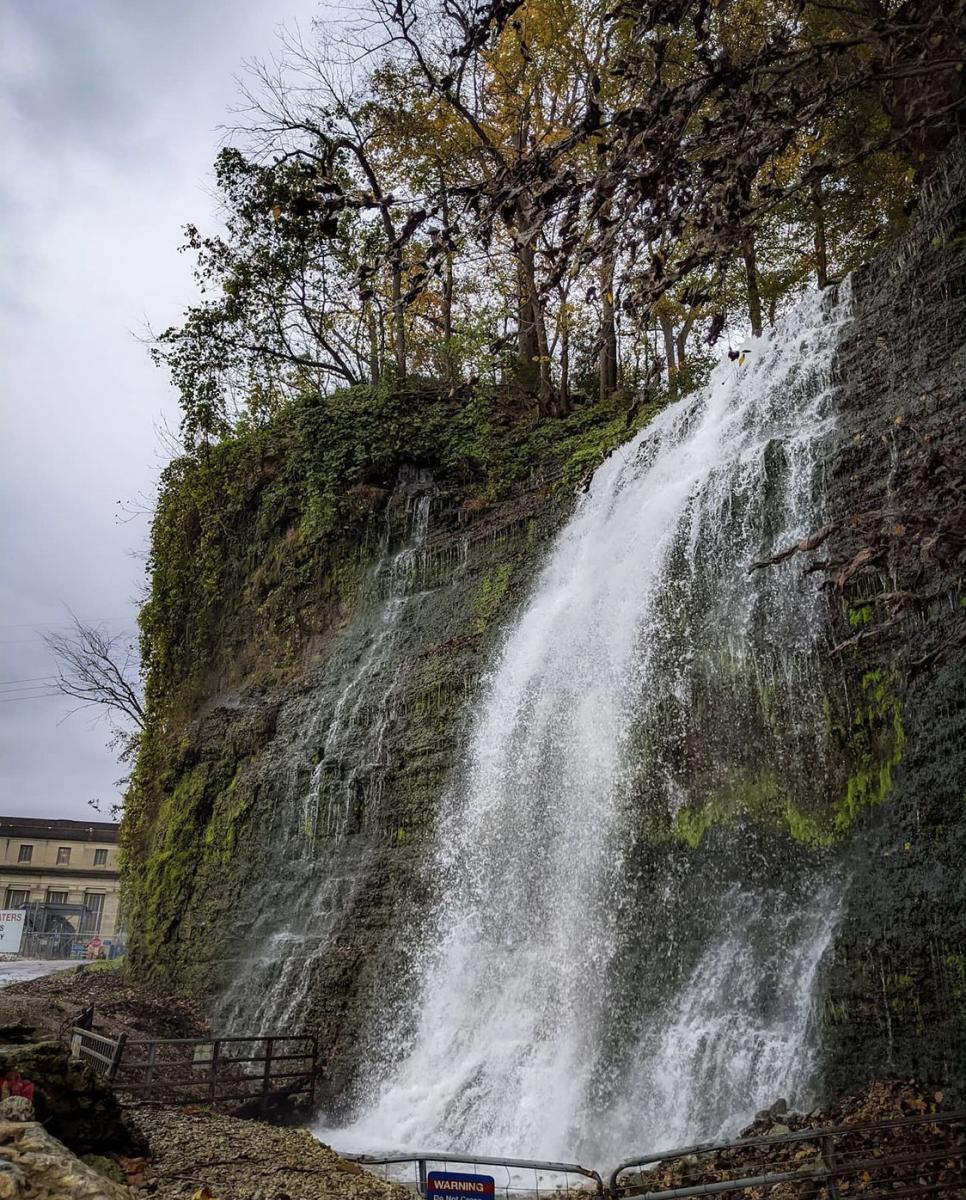 North Alabama's Eight Great Lakes
Bear Creek Lakes
The Bear Creek Lakes are known as the "Cleanest Recreational Waters in Alabama." The BCDA has a system of four lakes and the surrounding woodlands offer trophy fishing, boating, sand beaches, group pavilions, a 30-mile canoe float stream,  five campgrounds, and rental cabins. (photo by Emily Mays)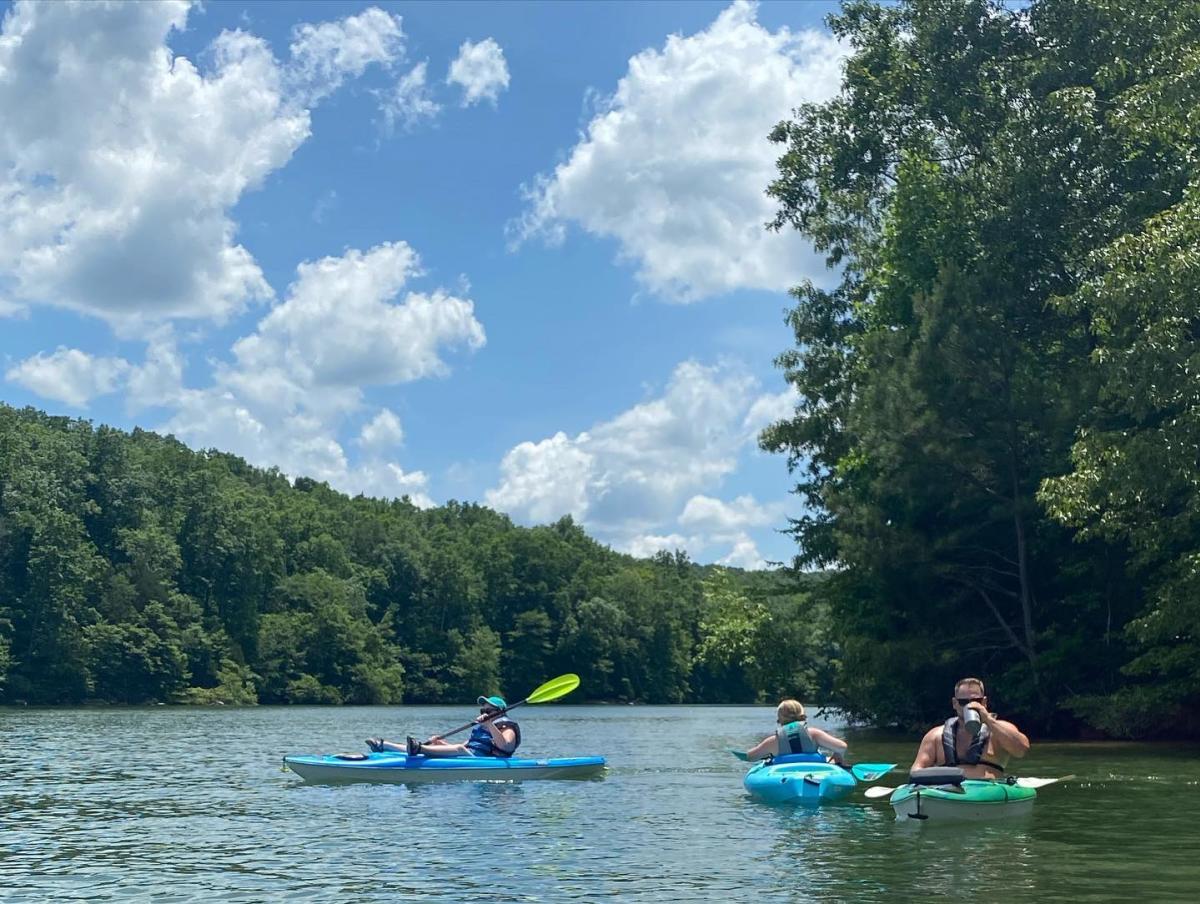 Lake Guntersville
Lake Guntersville is known all over the country for its amazing bass fishing. It is Alabama's largest lake that spans 69k acres and stretches 75 miles. (photo by North Alabama Ambassador Robert Posey)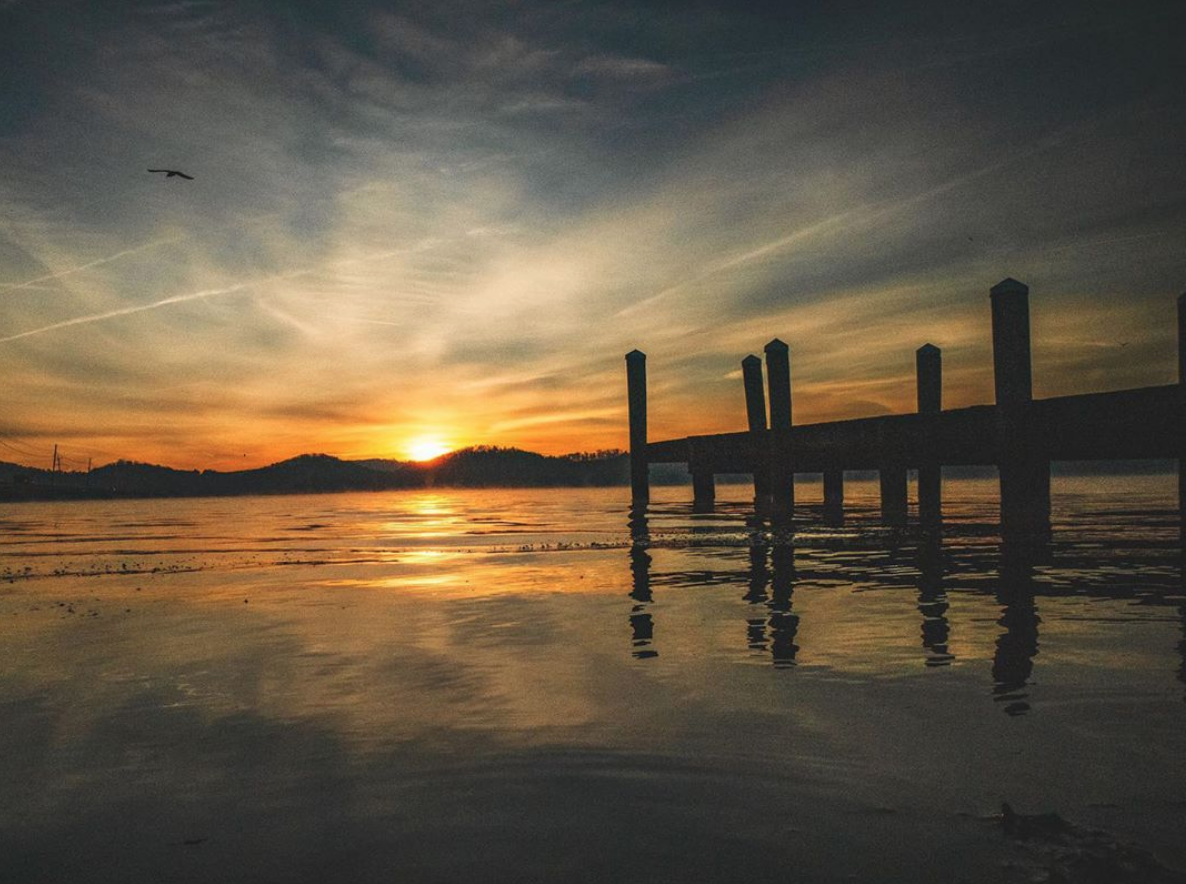 Pickwick Lake
Pickwick Lake has 490 miles of shoreline and is approximately 47,500 acres. It's known for its abundance of smallmouth bass. For more info on fishing in north Alabama, go to: www.northalabama.org/things-to-do/hunting-and-fishing.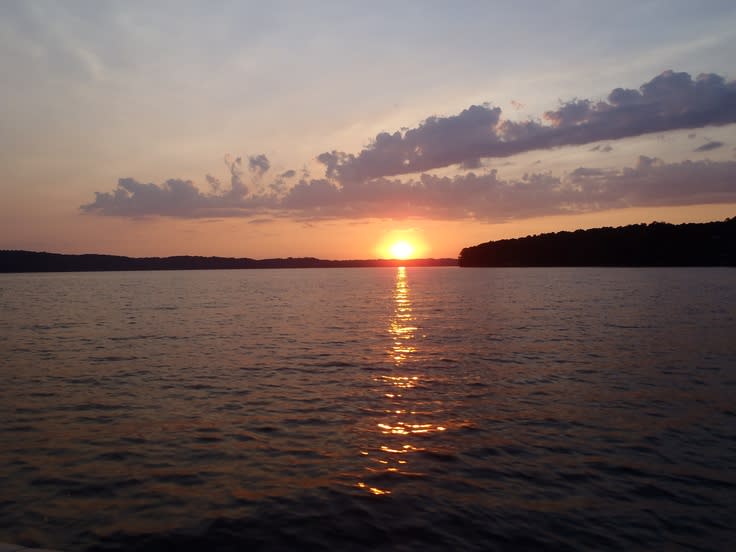 Neely Henry Lake
Neely Henry Lake is a beautiful lake that boasts of some great fishing and Coosa Landing is a public boat launch with paved and lit parking for over 100 boats. You'll also find a bait and tackle shop located onsite with a public bathroom.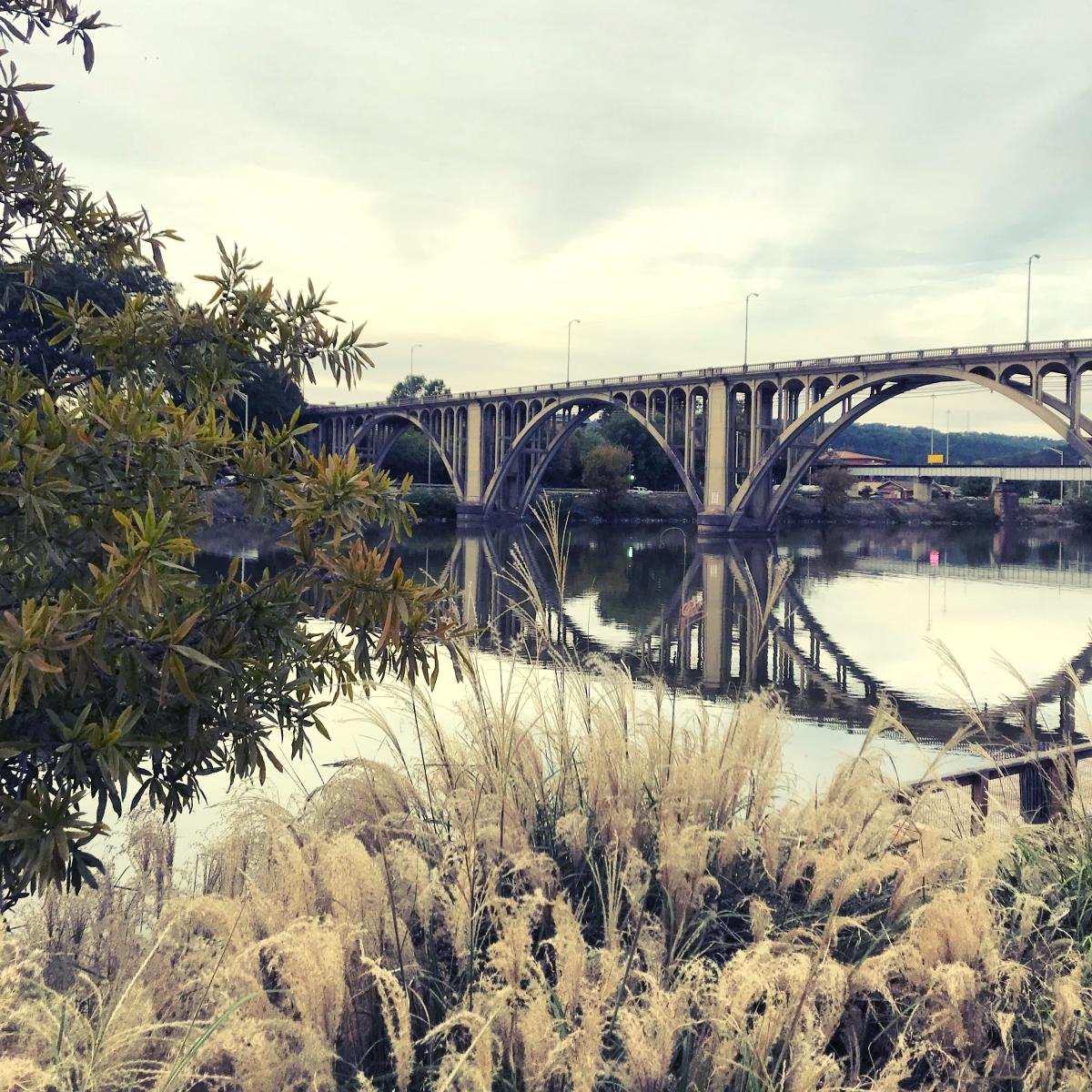 Smith Lake
Smith Lake is one of north Alabama's most popular lakes for fishing and recreation. This beautiful lake is also known as one of the cleanest lakes in Alabama.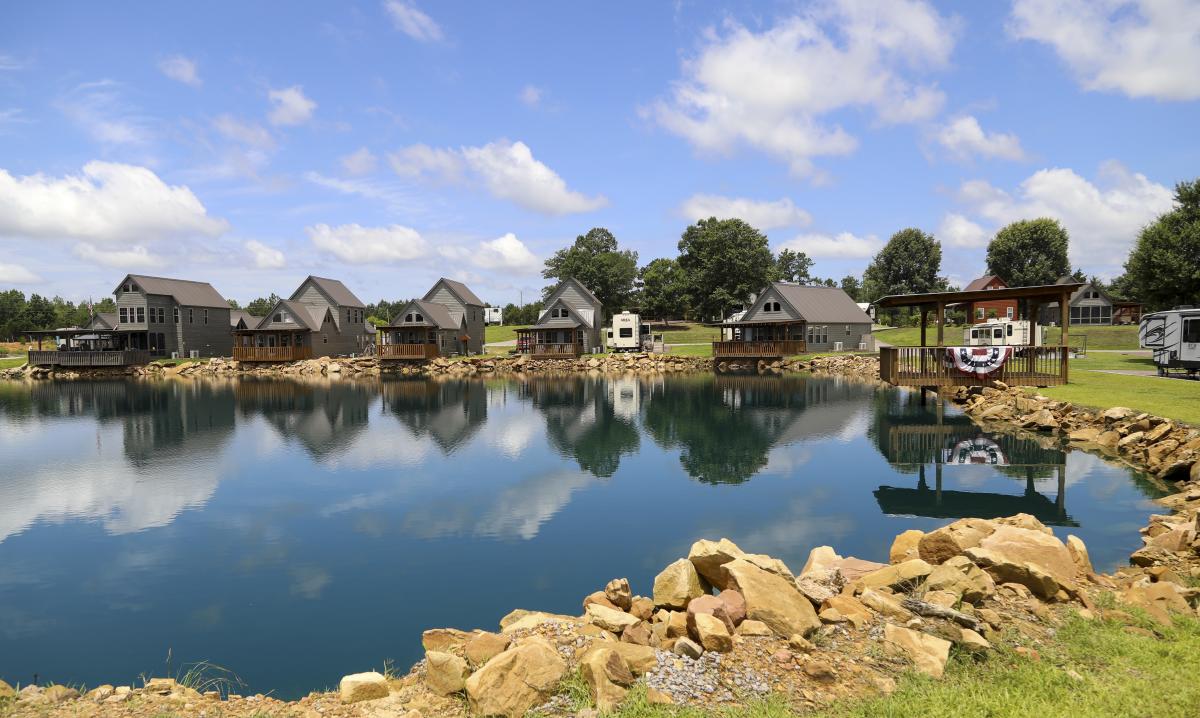 Weiss Lake
Weiss Lake in Cherokee County near the Georgia line is one of our prettiest lakes with the best crappie fishing. Known as the "Crappie Capital of the World", you'll catch more crappie than you'll know what to do with. The lake consists of 30,200 acres, offering over 447 miles of shoreline and shallow flats, large coves, under-water drop offs and deep channels. Weiss Lake also has an abundance of privately owned hotels, marinas, campgrounds, and bait and tackle stores. (photo by North Alabama Ambassador David Parham)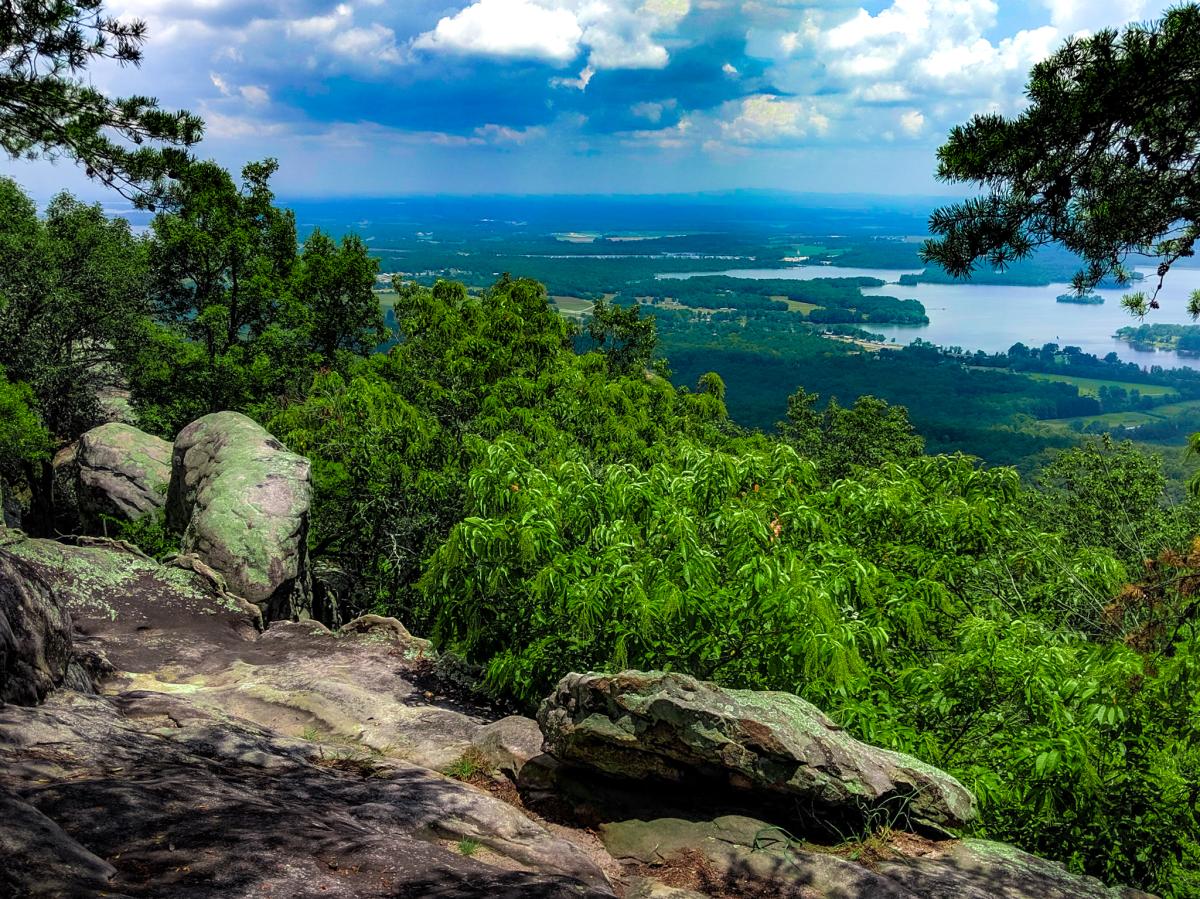 Wheeler Lake
Wheeler Lake is in both Morgan and Lauderdale counties and is known for catching some big bass and even bigger catfish! (photo by Steve Minor)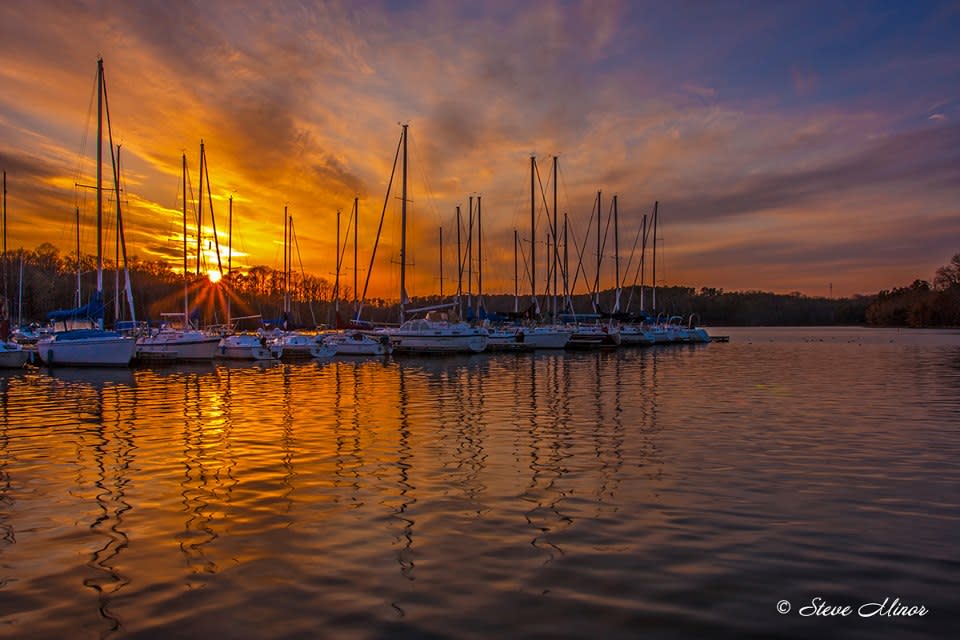 Wilson Lake
Wilson Lake is an impoundment of the Tennessee River and was formed when Wilson Dam was created. The lake separates Lauderdale and Colbert counties and is known for small mouth bass and crappie fishing.