There are so many reasons to love October: cooler weather, leaves changing, and all things haunted. Check out these cool - and maybe a little bit scary - haunted events all over north Alabama.
In celebration of Halloween, Athens-Limestone County Tourism is offering haunted walking tours next month giving visitors and locals a chance to explore the town by night. Held every Tuesday and Thursday night in October, the Athens Haunts Walk takes guests on a spooky 90 minute walking tour that uncovers paranormal activity, ghoulish legends and hauntings in the historic downtown area.
During Athens Haunts Walk, experienced and entertaining tour guides tell spooky stories of paranormal activity at 13 local structures. Stories include the college student who fell to her death and is said to still roam the halls at Athens State University's Founders Hall and the great 1893 fire that burned the wooden buildings on Marion Street. Tours include a stop at Founders Hall where the students of the then-named Athens Female Institute watched Union and Confederate soldiers battle and the steps of the Houston Library where a crowd gathered on the night voters elected George Houston as the state's first governor after reconstruction.
Now in its fourteenth year, Athens Haunts Walk is suitable for adults and children in grades 4th and up. In the past, tour participants have included both believers of paranormal behavior and some skeptics of the supernatural. The tours are also a way to get to know more about Athens and its history and lore.
The tours take place every Tuesday and Thursday night in October with the first walk beginning at 6:30 p.m. followed by the second walk at 7 p.m. Leading the tours are Bill Ward, Shane Black, Garth Lovvorn and Will Weir. All tours depart from the Athens-Limestone County Tourism office located at Big Springs Memorial Park (100 N. Beaty Street). Guests are asked to arrive 10-15 minutes before scheduled tour time. Each walk is approximately 90 minutes and a one-mile walking distance. Please wear comfortable footwear.
Tickets are $10 per person 12 years old and over. Reservations by advanced purchase are required. Tickets are sold at the Athens-Limestone County Tourism office Monday through Friday from 8 a.m. to 5 p.m.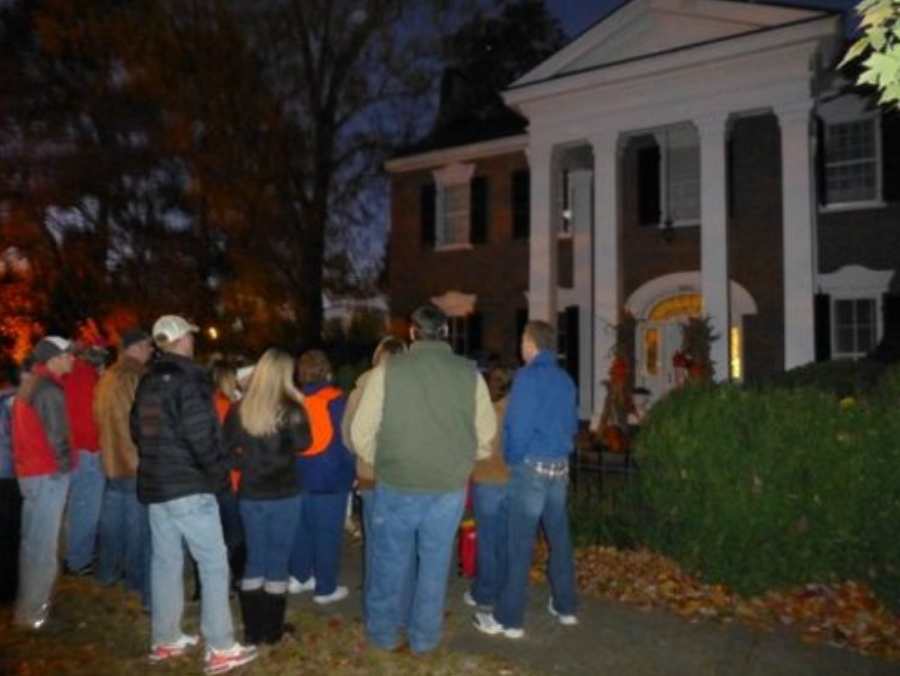 Explore Decatur streets to hear about the ghosts that remain long after the Civil War, the shadowy murders of dark alleys and an obligatory cemetery. These stories, and many more, reveal secrets of Decatur's haunted past. Tours leave promptly at 6 p.m. from the Old State Bank at 925 Bank Street in Decatur, Alabama. For more information, call (256) 509-3940 or (256) 783-2065. No reservations needed. Tickets are $10 for adults and $5 for kids 12 and under. Tickets are sold 20 minutes before the tour starts in front of the Old State Bank. No credit or debit cards.

The Huntsville Ghost Walk will begin another chilling season on Saturday, September 6. All tours begin at Harrison Brothers Hardware Store, located at 124 South Side Square, promptly at 6 p.m. In October, we also have walking tours on Saturday at 8:30 p.m. You choose one of three guided tours through the Twickenham District, the Old Town District, or the Downtown District. Hear stories from Huntsville's haunted past and learn why the spirits remain. Tickets are $10 for adults, $5 for children 12 and under. (from www.huntsvilleghostwalk.com)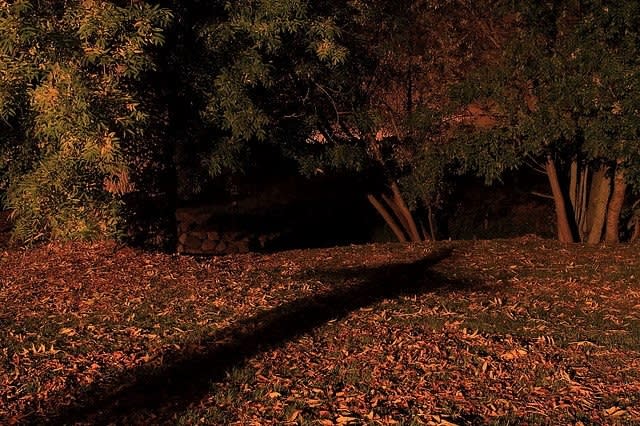 Haunted Hollow at Cathedral Caverns State Park
Tour a haunted Cathedral Caverns this October. You'll see it like you've never seen it before. (Not recommended for small children.)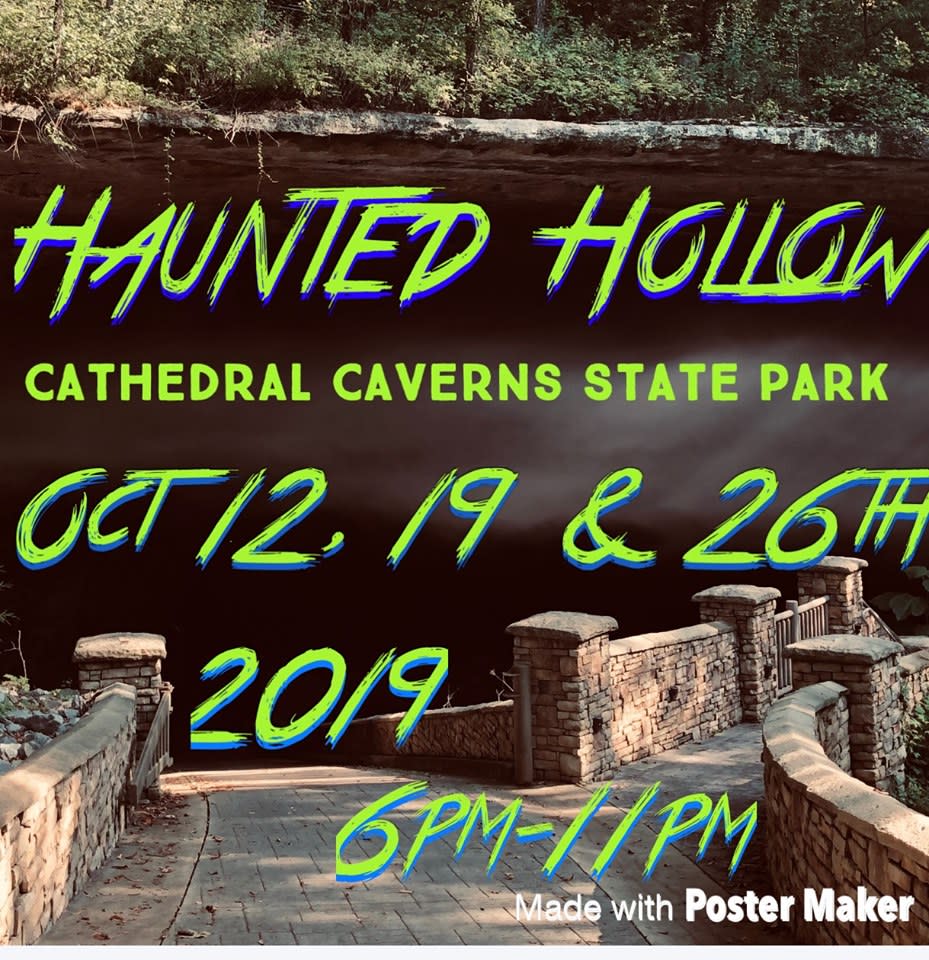 Haunted Hayrides at LaGrange College Site
From dusk until 11 p.m. on Fridays and Saturdays in October, LaGrange Living Historical Society volunteers will lead the hayrides through what many consider to be one of the most haunted areas of the Tennessee Valley. Numerous ghosts are said to walk the ground of the park at 1491 LaGrange College Rd., Leighton.  

In addition to the ghost stories, actors in Halloween costumes will be stationed along the hayride route to provide a few scares. Tickets are $5. Free for 6 and younger.

"Paranormal investigators from all over the country who have visited the Old LaGrange College Site and cemetery have told us they found more paranormal activity here than any other place," said Louise Lenz, an organizer of the hayrides.

LaGrange College was the first chartered college in Alabama. It opened 1830 and was relocated to Florence in 1854. It later became the University of North Alabama. After the college was moved, a military academy was established in LaGrange. The military academy, along with most of the community, was burned by the Union Army in 1863. Many visitors to LaGrange College Site Park, and the old LaGrange Cemetery, have reported ghostly encounters.

For more details, call 256-446-9324 or 256-702-9799.
The 2019 Maple Hill Cemetery Stroll will take place Sunday, October 20th beginning at 1:30 p.m. The GPS address of the cemetery is 202 Maple Hill St SE, Huntsville, AL 35801. The metered parking spaces and municipal garages downtown are free to the public on Sunday! Those that live nearby are encouraged to walk. If parking in the cemetery, please the use the McClung entrance located on the southern border. If parking on side streets nearby, please exercise caution and courtesy. (pic from huntsville.org)

The Southern Ghost Girls Tours and Paranormal Investigations, LLC is a team of Women, lead by investigator Lesley Ann, who share the love of the diverse culture of our great country The United States, it's history, and Investigating the unknown or paranormal. You will be lead on a real live interactive paranormal investigation on our tours and investigations. Our tours and investigations actually allow you to handle our equipment to record any findings or you can bring your own. We specialize in places in the Southern United States and specifically places in Alabama as it is dear and near to our hearts. We would love to have you join us on one of our tours and investigations so you can get to experience a real live paranormal investigation for yourself!