FOR IMMEDIATE RELEASE
CONTACT:  Karen Beasley, Director of Marketing and Communications
PHONE:      256.350.3500 / 800.648.5381
EMAIL:        karen@northalabama.org
 
AMLA Releases New Brochure Featuring Attractions, Waterfalls, Murals, Festivals, Hotels Along I-22 in North Alabama 
Decatur, Ala. (October 9, 2023) – The Alabama Mountain Lakes Tourist Association (AMLA) has released a new brochure highlighting attractions, waterfalls, murals, festivals and hotels/motels located along I-22 in North Alabama. The new What to See and Do on Interstate 22 brochure spotlights 36 different places to see and experience either along or within a short distance of the interstate in Blount, Cullman, Franklin, Marion and Winston counties.
The newest addition to AMLA's brochure list is the What to See and Do on Interstate 22 in the North Alabama. The brochure is a 4-page handy guide to some of the best places to visit, festivals to experience, must see waterfalls and murals as well as accommodations found along or within a short drive off I-22. Each listing contains a detailed description, address, phone number and website so travelers can easily start planning their next adventure. 
"I-22 serves as a Birmingham to Memphis expressway, cutting across rural areas in northwestern Alabama. This stretch through North Alabama may appear rural, but there are plenty of things to see and do, so we want to encourage everyone to stop, stretch and explore! We hope the new brochure will serve as a handy guide to what is offered in the North Alabama region along I-22 and will encourage those traveling through the area to return for more visits," said AMLA President and CEO Tami Reist. 
A copy of the brochure is available for download at www.northalabama.org, may be picked up at the AMLA office located at 402 Sherman Street SE in Decatur or may be requested by calling 800.648.5381.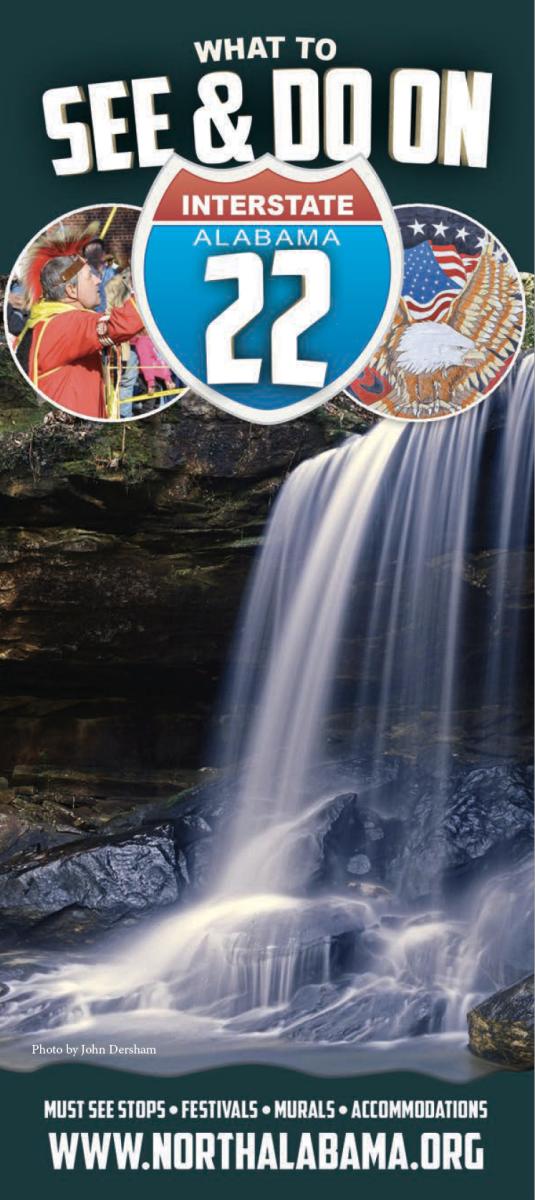 ###
About Alabama Mountain Lakes Tourist Association (AMLA)
AMLA is a nonprofit organization dedicated to the promotion and development of the $4.3 billion North Alabama travel industry within the 16 northernmost counties of the state. It is supported by 500-plus members consisting of chambers of commerce, Convention & Visitors Bureaus, attractions, campgrounds, festivals, communities, golf courses, restaurants, accommodations and vendors. Counties included within the AMLA region are Blount, Cherokee, Colbert, Cullman, DeKalb, Etowah, Franklin, Jackson, Lauderdale, Lawrence, Limestone, Madison, Marion, Marshall, Morgan and Winston. Additional information on North Alabama destinations, accommodations and special events is available by calling 800.648.5381, by visiting www.NorthAlabama.org and by following us on social media @VisitNorthAL.