When business returns to usual, we know that you are going to be ready to travel and see all the things, and we have put together a road trip just for you! Check out our road trip for our beautiful north region of north Alabama, which includes Blount, Cullman, Etowah, and Winston counties. Bookmark this road trip and be ready to get out and explore once we're able.
Oneonta Area
Mardis Mills Falls
Mardis Mills Falls is on our North Alabama Waterfall Trail and is out in the middle of nowhere in Blount County. The Falls is gorgeous and peaceful and the perfect place to sit and relax and even have a picnic.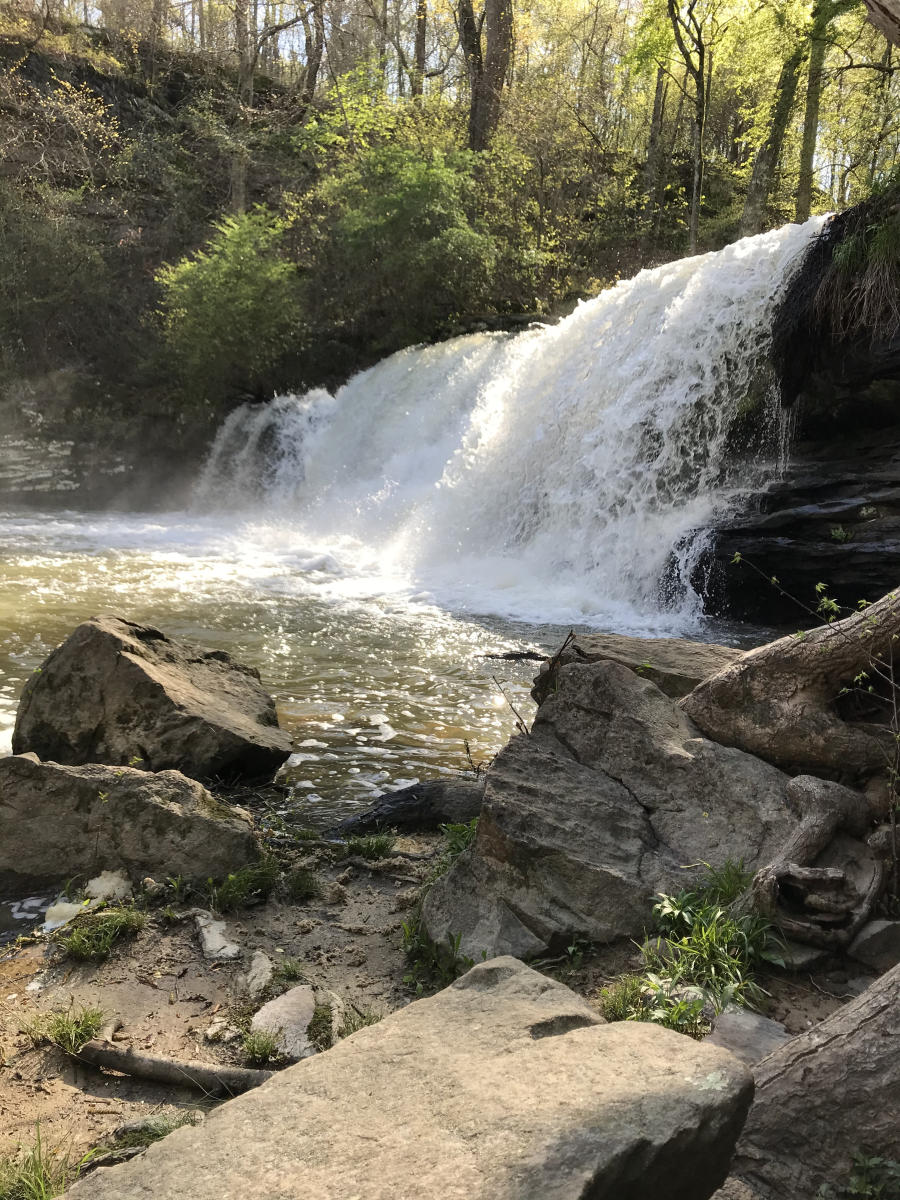 Easley, Horton Mill, and Swann Covered Bridges
Blount County has the most covered bridges in North Alabama, which has earned the county the "Covered Bridge Capital" title. There's a Covered Bridge Festival each October to honor and remember Blount County's covered bridges. (photo of Horton Mill Covered Bridge by North Alabama Ambassador Robert Posey)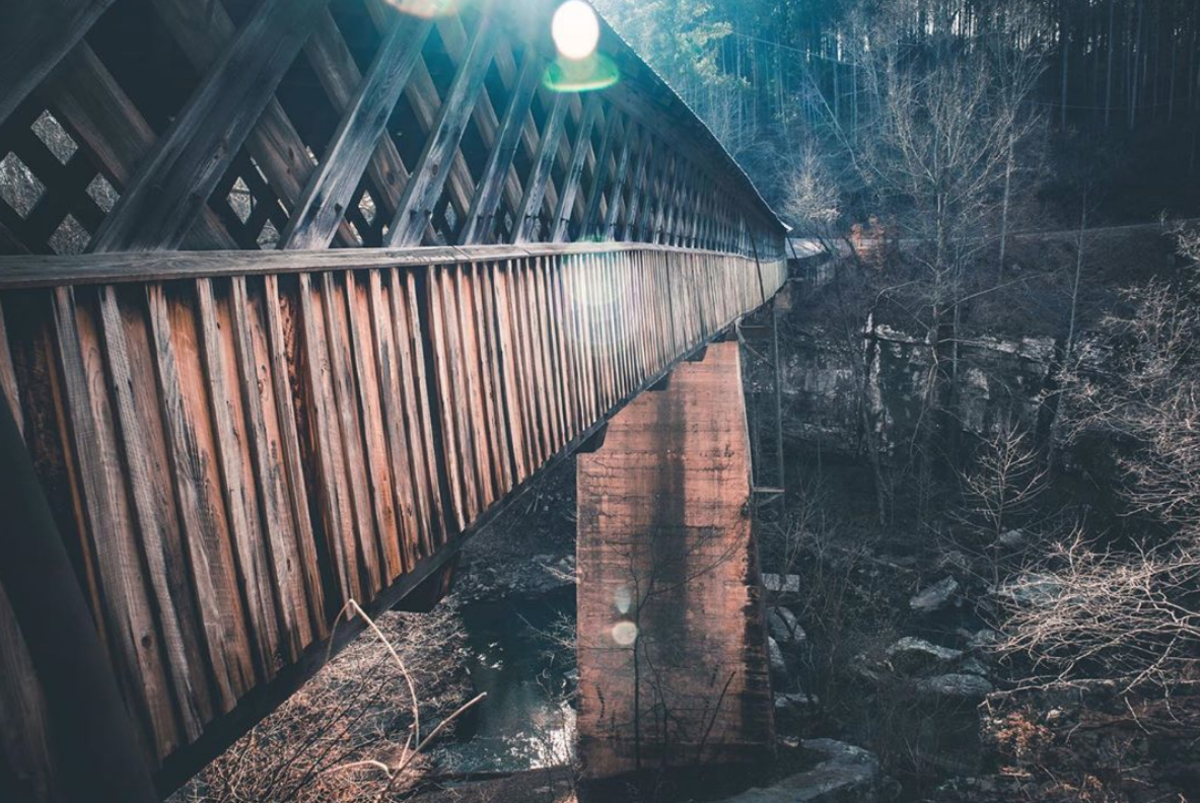 Rickwood Caverns State Park
Experience the thrill of Rickwood Cavern's miracle mile of underground caverns! The 260 million-year-old limestone formations, blind cave fish and underground pool are just a few of the natural wonders exhibited in the colorful cavern. The park features an Olympic-size swimming pool, snack bar, picnic area, large and small picnic shelter, hiking trails, playground, campground and gift shop.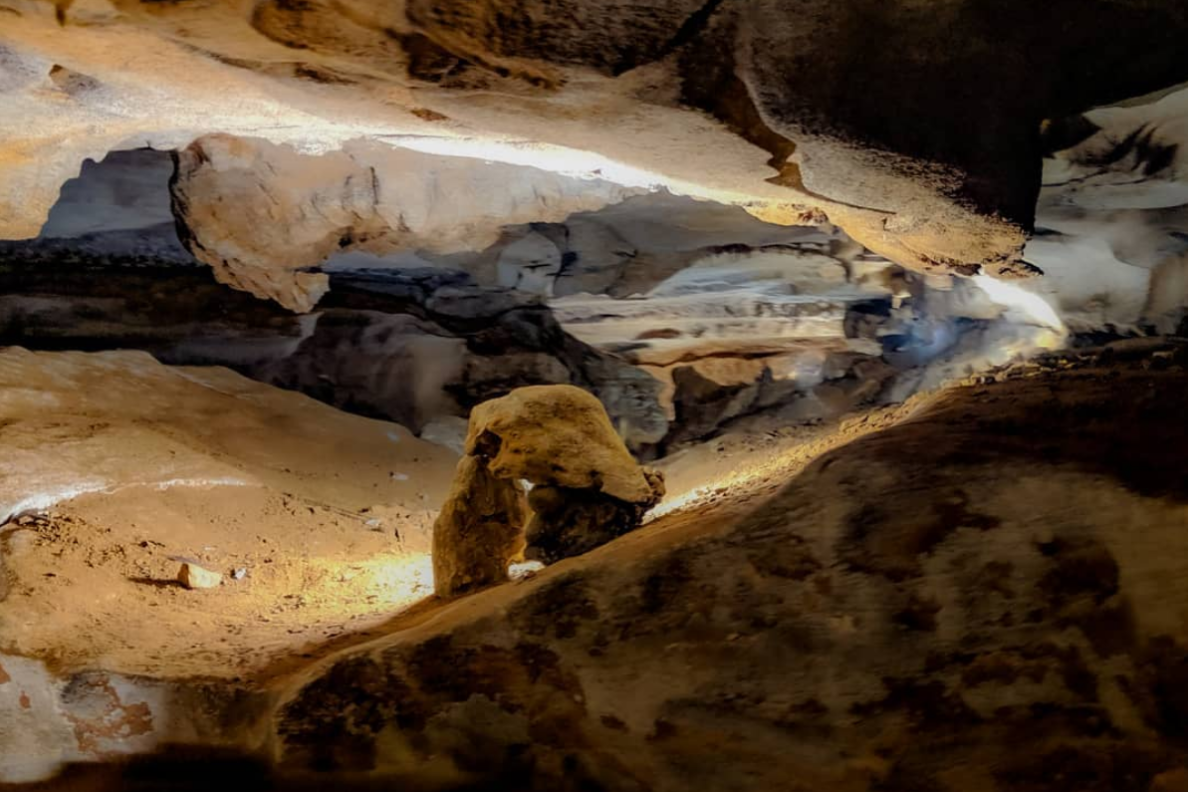 Cullman Area
Ave Maria Grotto
Known throughout the world as "Jerusalem in Miniature," Ave Maria Grotto is a beautifully landscaped, four-acre park designed to provide a natural setting for the 125 miniature reproductions of some of the most famous historic buildings and shrines of the world. The masterpieces of stone and concrete are the lifetime work of Brother Joseph Zoettl, a Benedictine monk of St. Bernard Abbey. (photo by Ave Maria Grotto)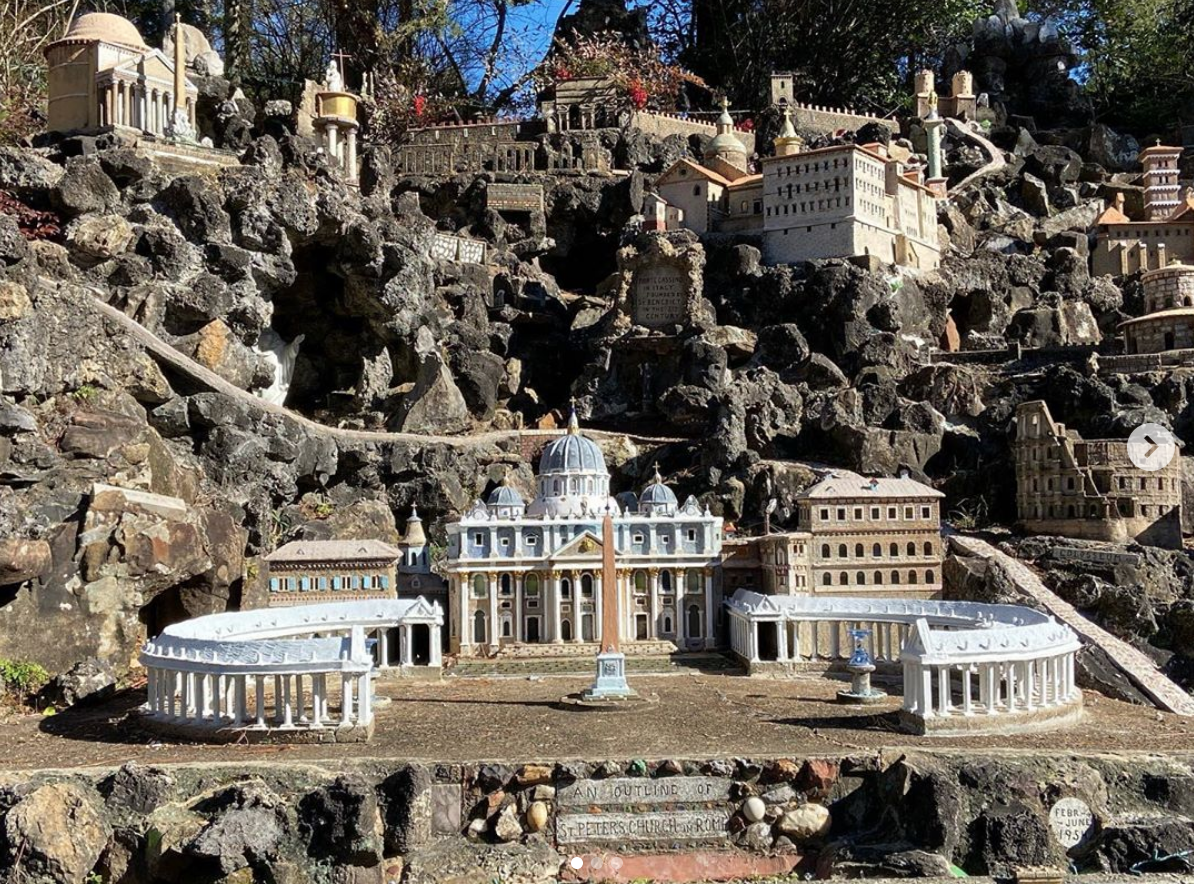 Shrine of the Most Blessed Sacrament
The Shrine of the Most Blessed Sacrament is definitely a sight to see located outside of Hanceville. The Shrine is a place of peace open to people of all faiths and walks of life. The grounds are home to the beautiful Romanesque-Gothic Church and Monastery of Poor Clare Nuns. The Shrine includes a castle and one of the largest religious gift shops in the South.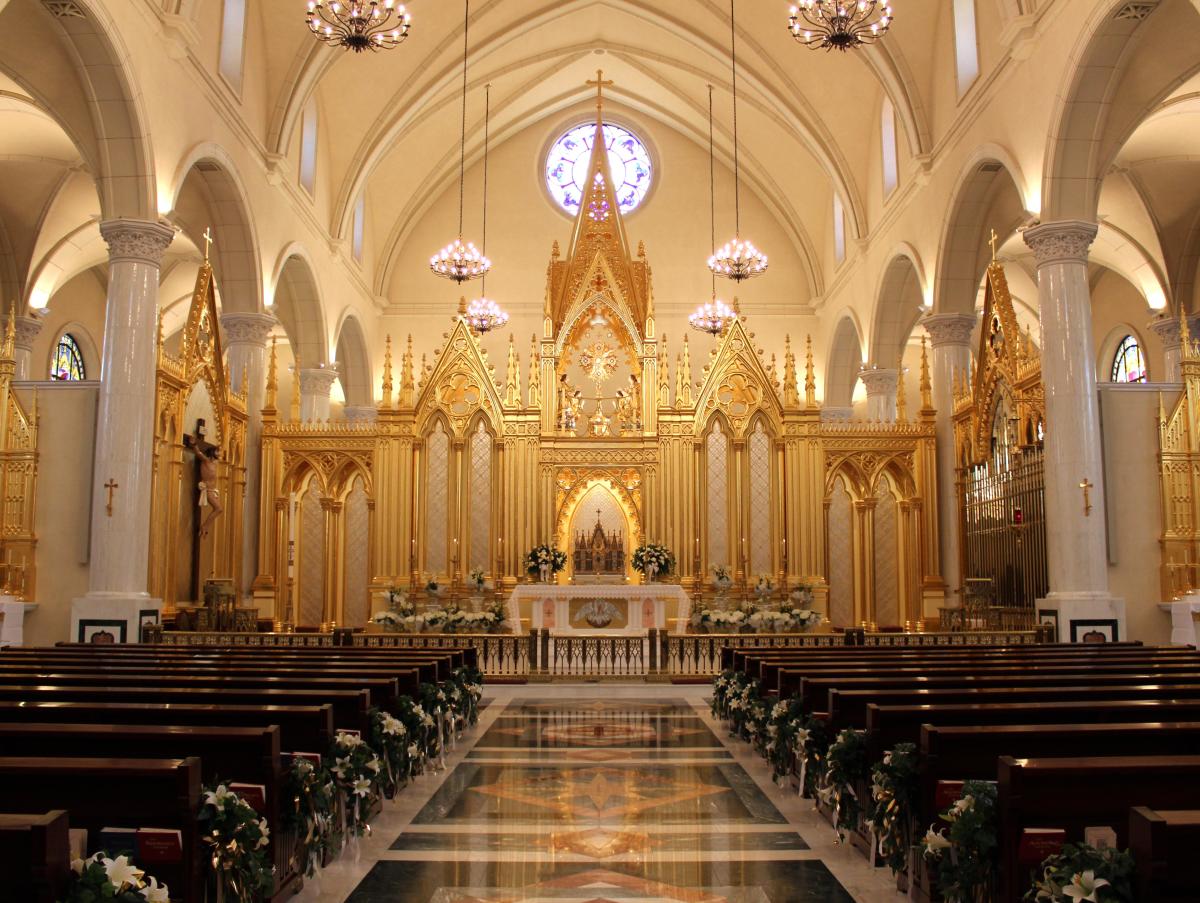 Clarkson Covered Bridge
Clarkson Covered Bridge in Cullman County was originally built in 1904, but was badly damaged by a storm in 1921. It was restored a year later and was added to the National Register of Historic Places in 1974. Today there are walking trails and a picnic area. (photo by North Alabama Ambassador Lane Leopard)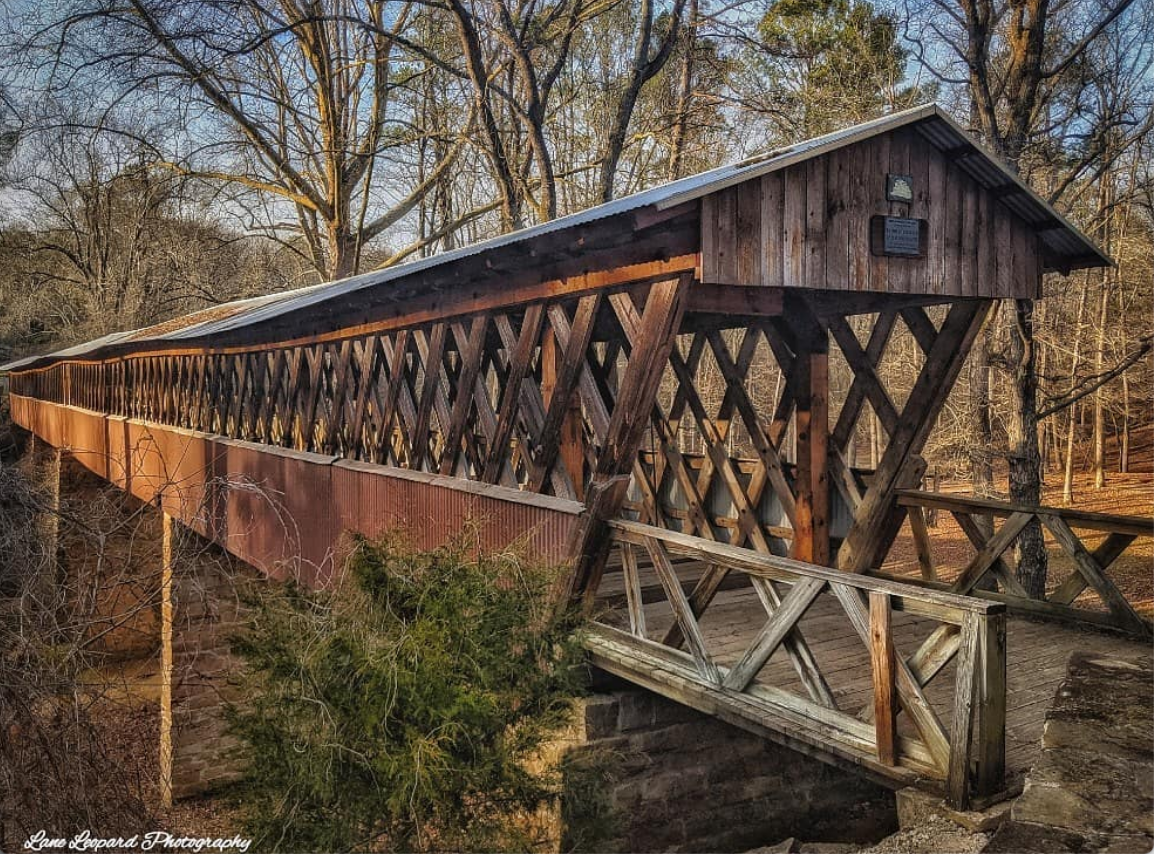 Hurricane Creek Park
Nestled in a 500-foot-deep canyon in the foothills of the Appalachian Mountains, Hurricane Creek Park holds over sixty acres of natural trails and wildlife for outdoor enthusiasts of all ages to enjoy. Hiking, rock climbing, picnicking, and bird-watching are only a few of the many activities the area has to offer. The park winds through four miles of hiking trails deep within the Hurricane Creek Gorge, passing along unique rock formations, cliffsides, and beautiful scenery all around. Park favorites include the Twilight Tunnel and Dead Man's Squeeze, both formed by weathering of the natural rock. Hurricane Creek Park is also a gold mine for rock climbing opportunities, featuring dozens of climbing faces. Admission to the park is free, and it is open from sunrise-to-sunset daily. (photo by North Alabama Ambassador Amanda Bridges-Dunn)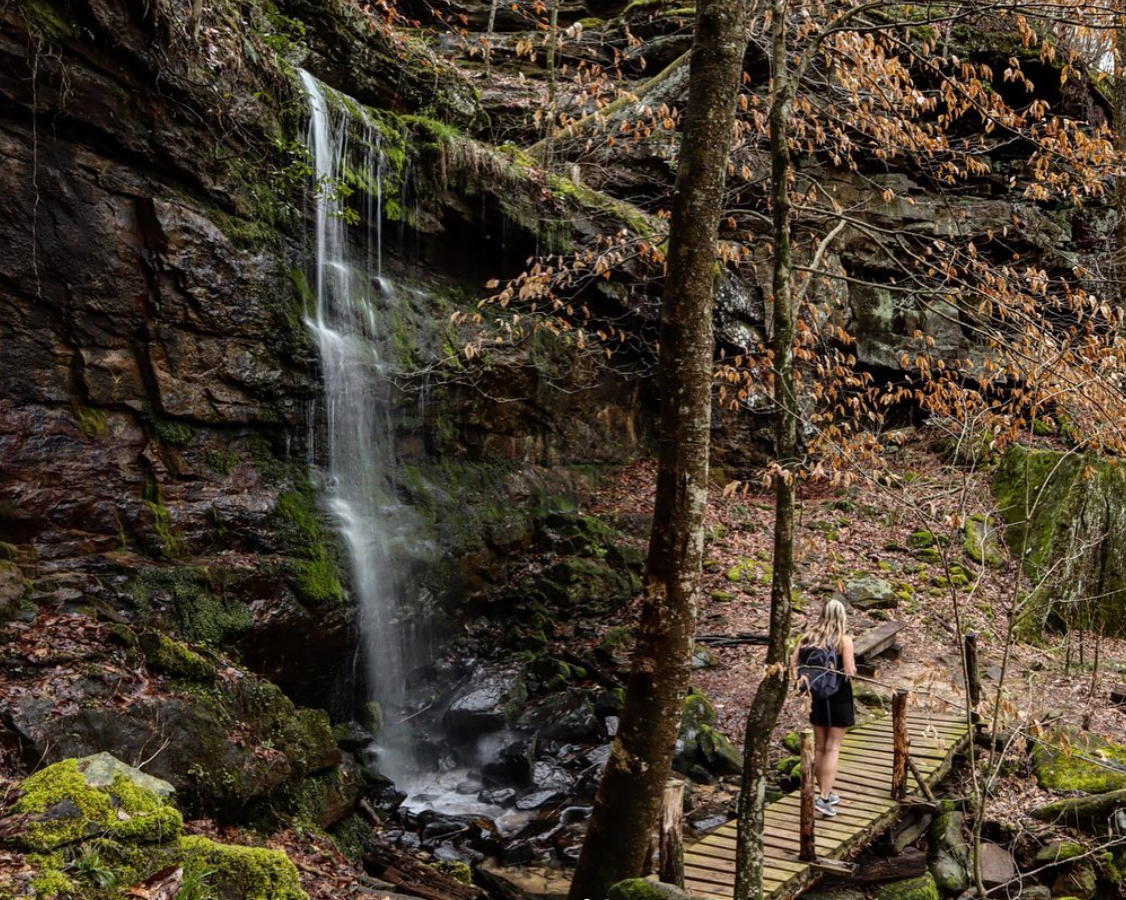 Gadsden Area
Noccalula Falls Park
Noccalula Falls Park's main attraction is the gorgeous 90-foot waterfall with a statue of Princess Noccalula overlooking the canyon. The park also features nature trails, botanical garden, pioneer village, and petting zoo. Another favorite attraction at Noccalula Falls Park is their C.P. Huntington Train. The train operates daily and takes visitors on a scenic one mile ride in and around the park. Unlimited train rides included in park admission. (photo by North Alabama Ambassador Pat Yancey)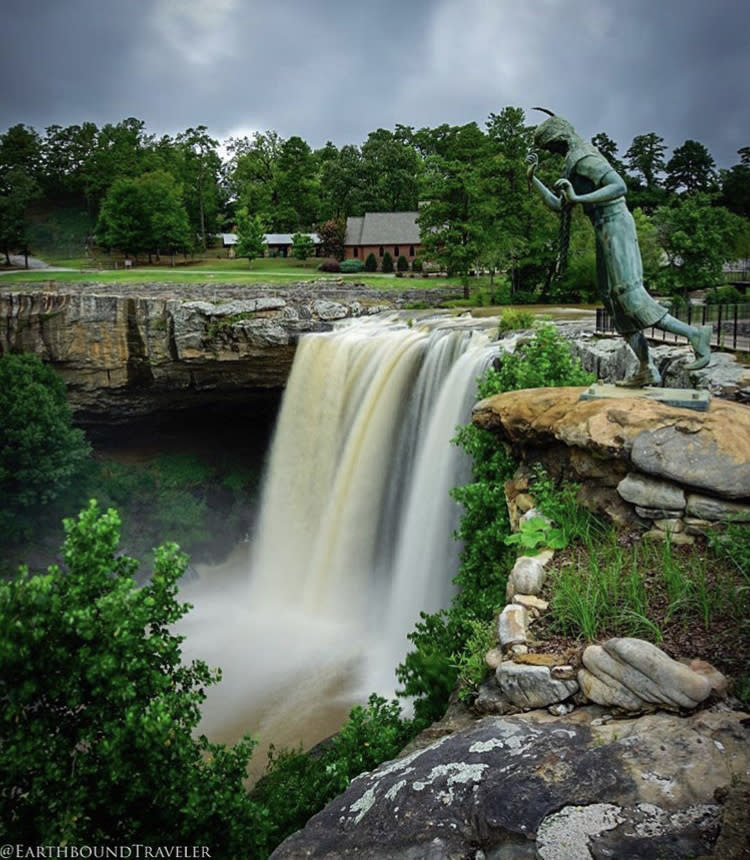 Mary G. Hardin Cultural Arts Center
Mary G. Hardin Cultural Arts Center features three art galleries, Imagination Place Children's Hands-on Museum, a 72-foot working model railroad, and the Gadsden Community School of the Arts.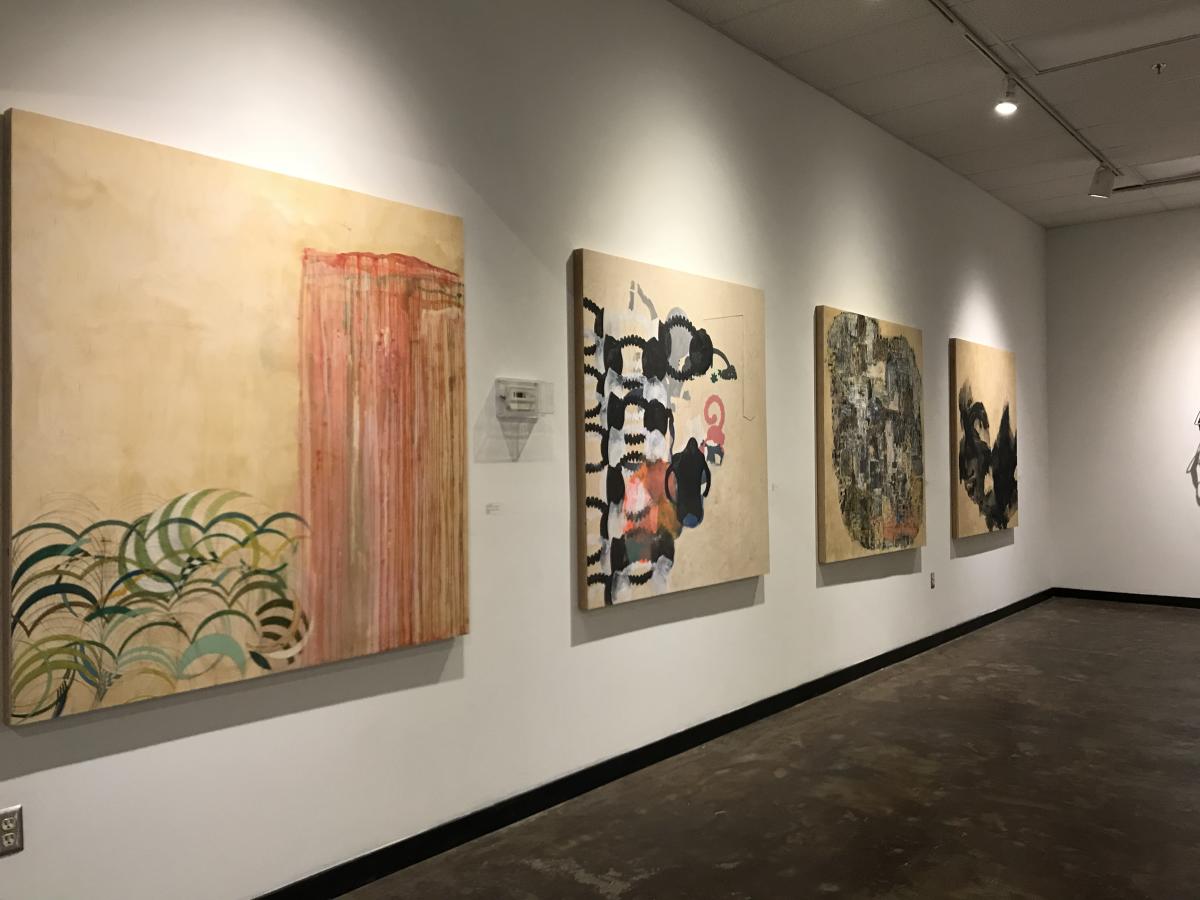 Double Springs Area
Bankhead National Forest
Bankhead National Forest is one of Alabama's four national forests. It's a beautiful forest that's located in Lawrence and Winston counties, and it's a paradise for waterfall hunters. Kinlock Falls and Turkey Foot Falls are on our North Alabama Waterfall Trail, but there are many, many other named and unnamed falls that you'll find on a hike through the forest. There are four recreation areas that provide camping, hiking, picnicking, swimming, and kayaking opportunities. (photo by North Alabama Ambassador Lane Leopard)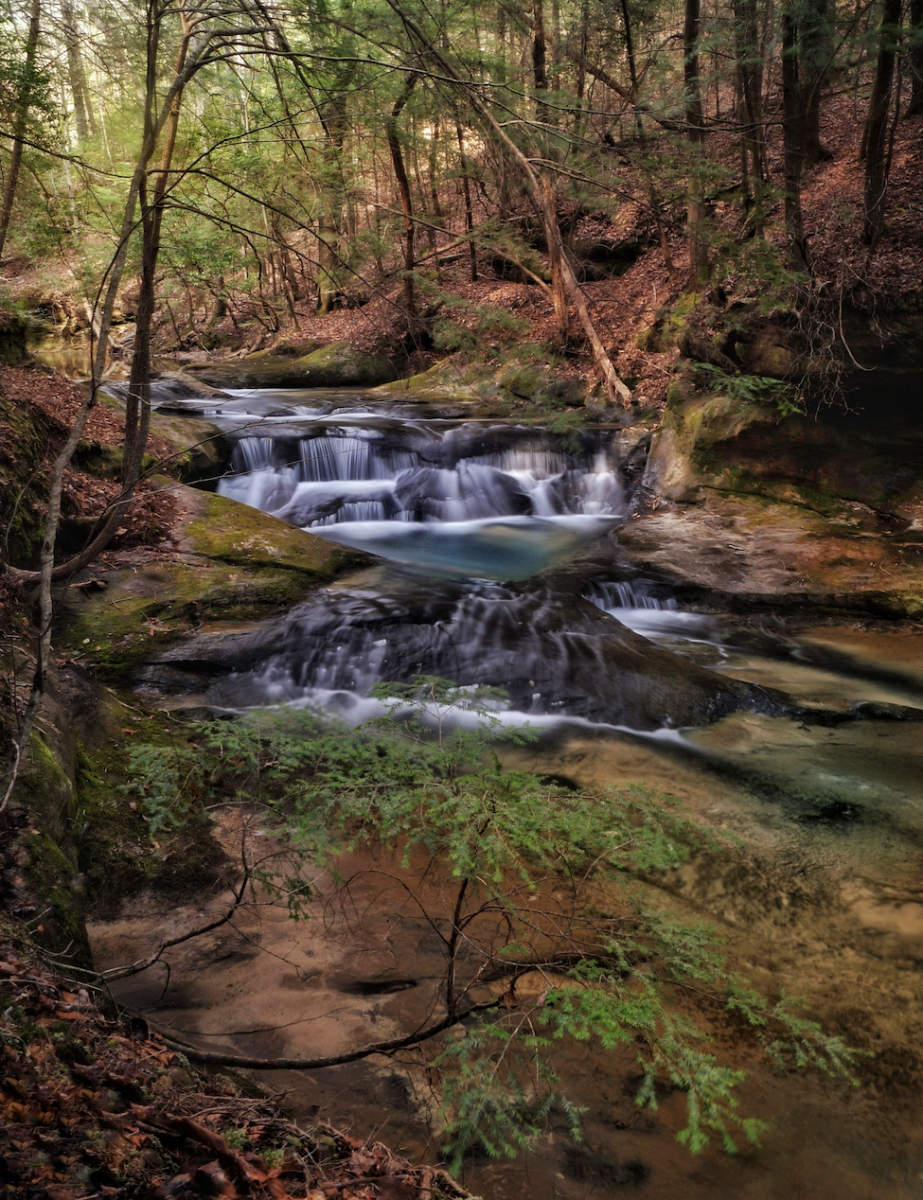 Natural Bridge Park
Natural Bridge Park in Winston County is a 148-foot sandstone bridge that towers 60 feet above winding pathways, and it's the longest natural bridge east of the Rockies. It's definitely a majestic sight to see. (photo by North Alabama Ambassador Lesia Bevis)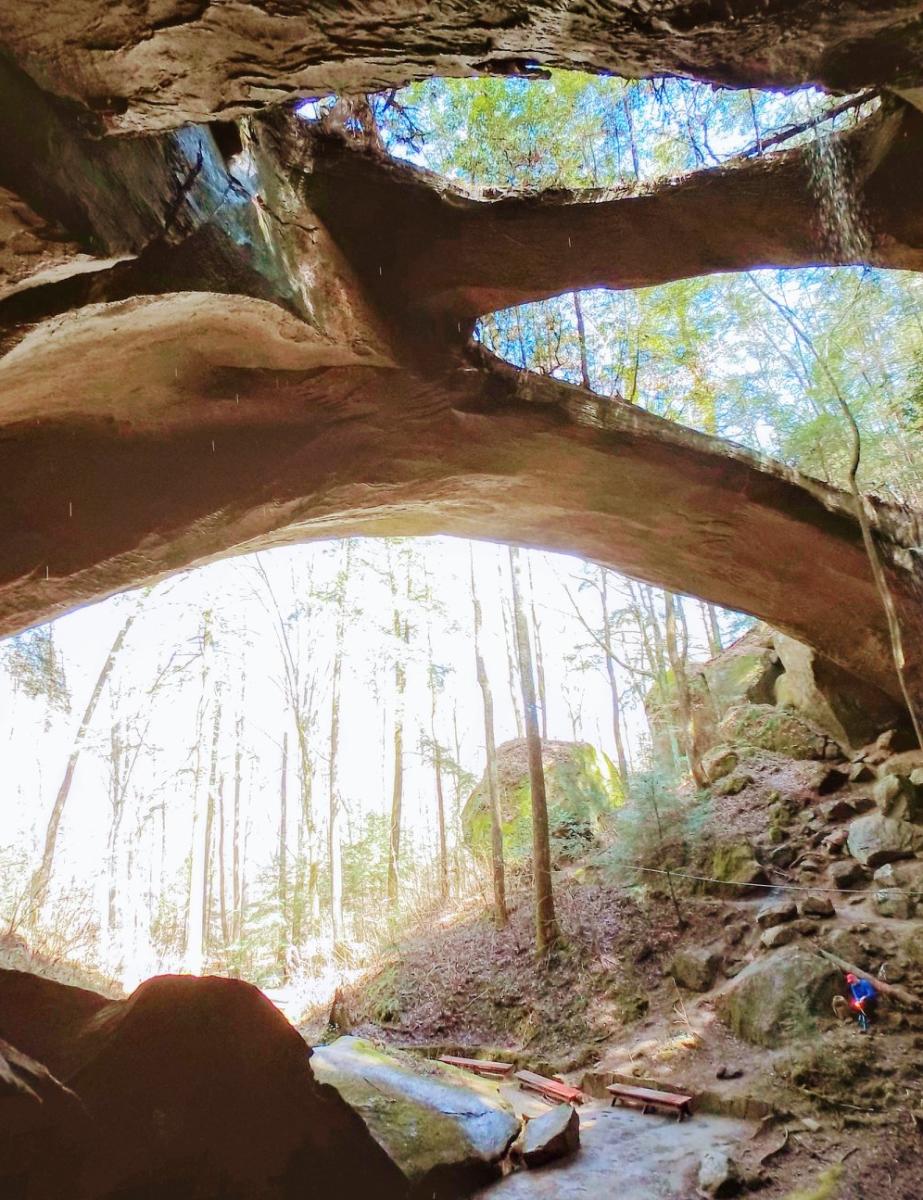 Houston Historic Jail
Circa 1868, the Houston Historic Jail is the oldest such structure in the state and the second oldest in the country. Houston was the first county seat of Winston County, which was named in honor of the first native born Governor of Alabama, John Anthony Winston.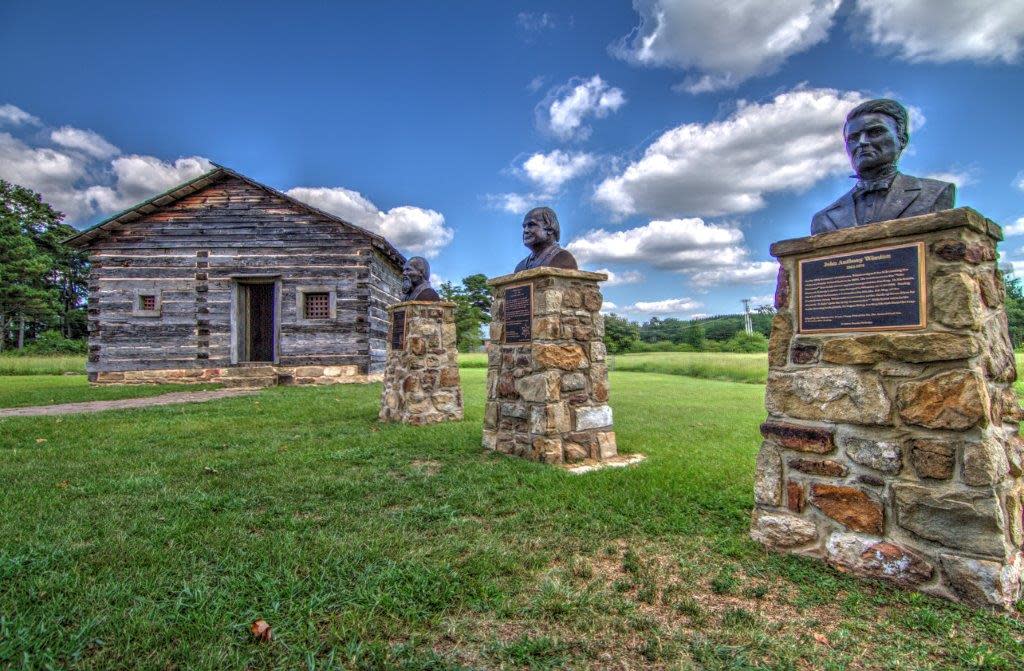 These are just some of the exciting things to do in these areas. We hope that you will look for more attractions, restaurants, festivals, and places to stay at www.northalabama.org, and we hope that you have found some places you'd love to explore once business returns to usual. We can't wait to explore with you!