There are 4,014 discovered caves in North Alabama, making North Alabama a caving hotspot. These are just several of the ones that are the most accessible. When you are hiking in the woods, be sure to stay on trail because of the possibility of a known or unknown cave. 
Cathedral Caverns State Park
Cathedral Caverns State Park is located down a winding road off of Highway 72 in the Woodville community. The Caverns is a massive cave that dates back to prehistoric times and has a stalagmite forest and frozen waterfall. A tour is a must!
Cave Mountain Trail
Cave Mountain is one of 28 Small Wild Areas managed by TVA to provide habitat protection for wildlife. It occupies about 34 acres on the south side of Guntersville Dam. This moderately challenging trail will take you past a historic cave that was used during the Civil War to mine saltpeter (a base ingredient of gunpowder). Be on the lookout for The Tupelo Gum Swamp that provides habitat for waterfowl, dragonflies, frogs and salamanders. Please note that the cave itself is closed to the public.
Cave Springs Cave
There are several caves in north Alabama known as bat caves! Cave Springs Cave within Wheeler National Wildlife Refuge has a lot of gray bats, and in the summer, the gray bat emergence can total more than 40,000! You're not able to go in this cave, but you can view the bats from the entrance.
Hambrick Cave
The Hambrick Cave is also known as the Bat Cave on Lake Guntersville. This cave is TVA-owned and managed, and is located on the Tennessee River, about a mile upriver from Guntersville Dam on the north side of the river. It is a gray bat cave and one of the largest maternity colonies of this species. Evening dusk emergences can exceed 60,000. Typically, boats anchor just off the cave entrance to view the emerging bats. Visitors should be careful not to shine beamed lights of any kind on the bats during emergence as it affects the bats and the viewing. Access and viewing is by boat only. No public admittance within the cave is allowed and there is no fee for viewing. (Info from outdooralabama.com)
Natural Bridge Park
Under the natural bridge at Natural Bridge Park is s cave-like bluff that you can walk around in. This natural bridge formation dates back to two million years ago, and it is known that the Creek Indians lived in the area. They probably used this cave-like formation as shelter from the elements. The Park has a short hiking trail that is approximately 2 miles long, and it is a pretty easy hike. There's a waterfall at the back of the park, picnic tables at the entrance, and a great gift shop.
Rattlesnake Saloon
The Rattlesnake Saloon is a restaurant that you will forever remember visiting! Located miles outside of Tuscumbia, the Saloon is situated under a cave-like bluff where Native Americans took shelter hundreds of years ago. When you arrive at the Rattlesnake Saloon, you'll park and then are taken down into the cavern in a flatbed truck, which is an experience in itself. Known for their burgers, they have other food such as snake eyes - fried jalapenos - that's delicious. It's family-friendly until after five on the weekends when they feature live music.
Rickwood Caverns State Park
Experience the thrill of Rickwood Cavern's miracle mile of underground caverns! The 260 million-year-old limestone formations, blind cave fish and underground pool are just a few of the natural wonders exhibited in the colorful cavern. The park features an Olympic-size swimming pool, snack bar, picnic area, large and small picnic shelter, hiking trails, playground, campground and gift shop.
Russell Cave National Monument
For hundreds of generations, Russell Cave provided shelter for the Southeastern Tribes of Indians. Today, you can hike around the cave and learn about the national significance of this archeological site, which is a National Park Service Unit. (photo by North Alabama Ambassador David Parham)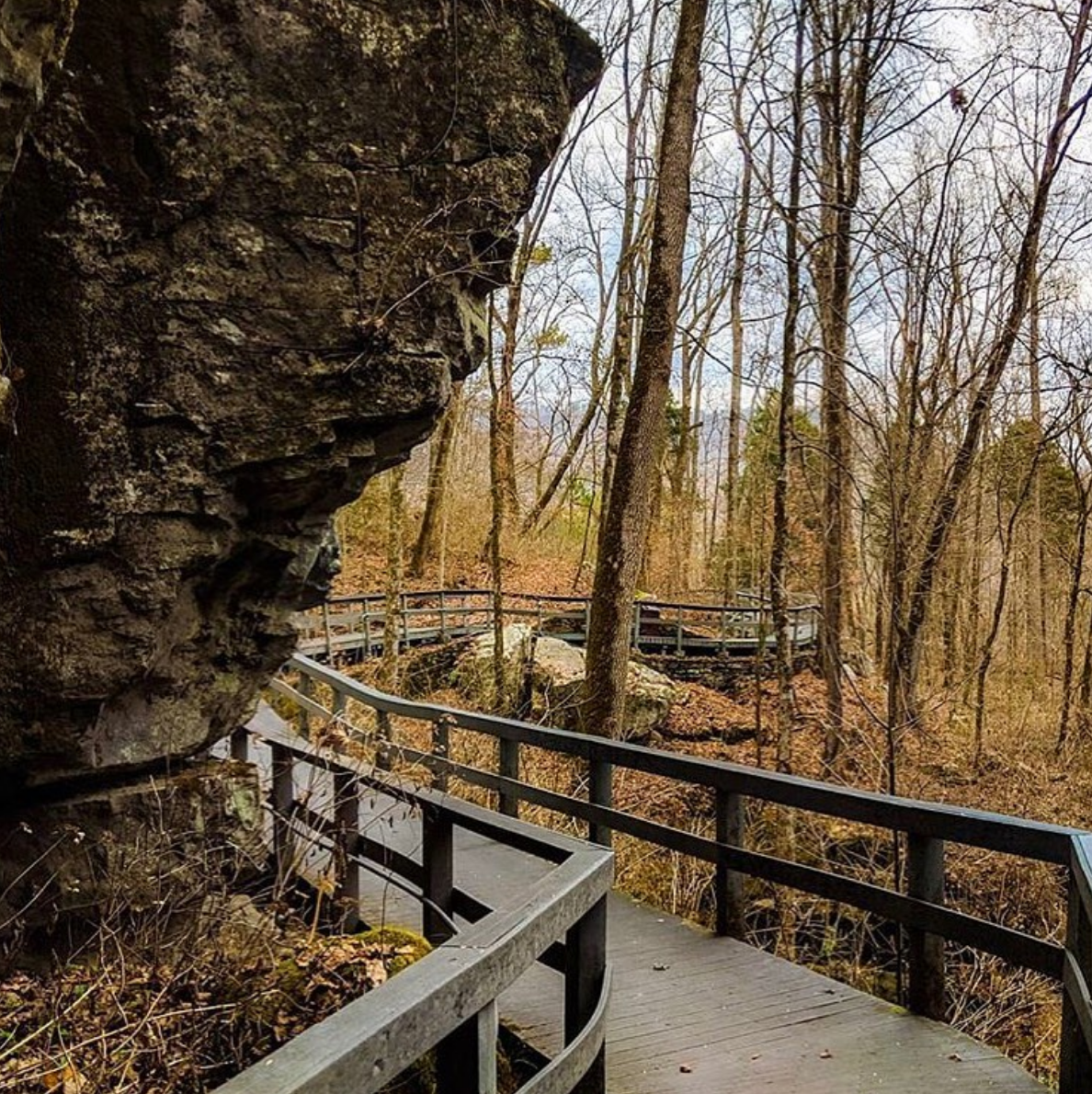 Sauta Cave
Sauta Cave is located off of Highway 72, about seven miles west of Scottsboro, and there's a short trail walk from the highway that leads to the cave. You cannot go into the cave, but you can watch the gray bats as they emerge from the cave. The best times to see these gray bats is from May-September, with mid-summer being the most impressive emergences. There are more than 250,000 gray bats that call this cave home. By standing near Sauta's entrance, thousands of bats can be seen flying over your head during the 30-40 minute show, so be sure to wear a cap or take an umbrella. For more information contact Wheeler NWR at (256) 353-7243. No public admittance into the cave is allowed. Emerging bats can be viewed from an observation deck at the cave entrance. There is no fee for viewing.
Stephen's Gap Cave
Stephen's Gap Cave is one of the most popular caves in north Alabama, and when you see it it's no wonder why! The 143-foot cave is a popular spot for pictures like the one below when the light comes in just right, which is anywhere from 10am-2pm. The cave is open to the public, but you do have to apply for a permit in order to hike or rappel in the cave. (photo by North Alabama Ambassador Amanda Bridges-Dunn)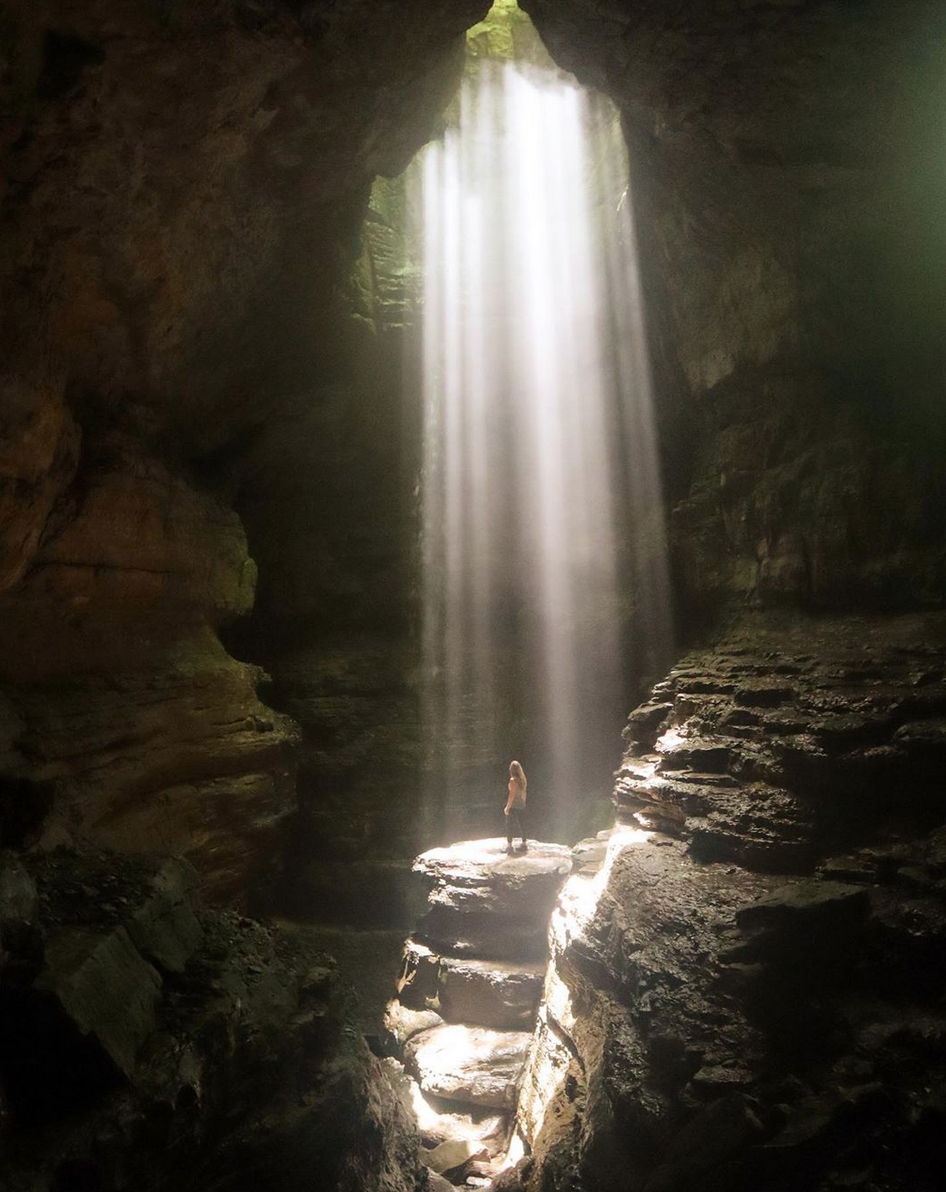 Three Caves
Three Caves Loop is part of the Land Trust of North Alabama, and it's located just two minutes from downtown Huntsville. The "caves" were actually leftover from an old limestone mine. The loop is an easy hike and only takes about 10 minutes to complete it. 
Tree Fern Cave Rock Shelter
The Tree Fern Cave rock shelter is located within Cane Creek Canyon Nature Preserve, which is just outside of Tuscumbia. Tree Fern Cave is named for a fossil impression of bark that lies in the shelter roof and dates to the Coal Age about 300 million years ago. When you hike down Boundary Road, you'll go around a large bend, and there will be a path on the right that leads to Tree Fern Cave.
Walls of Jericho
The Walls of Jericho is a 9-mile round trip trail near Scottsboro that is ranked as difficult, but the views are gorgeous. You'll find a waterfall, various rock formations and caves, and you can camp there as well. 
Cook Museum
At the Cook Museum of Natural Science in Decatur, you can explore an authentically recreated cave based on Alabama caves. Look for hidden animals and crawl through walls, and watch out for bats and bears! You'll learn about the creatures that live in the different parts of a cave, and it's all wheelchair accessible.