When business returns to usual, we know that you are going to be ready to travel and see all the things, and we have put together a road trip just for you! Check out our road trip for our beautiful north region of north Alabama, which includes Cherokee, DeKalb, Jackson, and Marshall counties. Bookmark this road trip and be ready to get out and explore once we're able.
Centre Area
Cherokee Rock Village
If you want to see an amazing view of Weiss Lake in Centre as well as three states, then the top of Cherokee Rock Village is where you need to be! In addition to the breathtaking views, there's miles of trails, crags, and places to camp or have a picnic. Also, a fun fact is that the rock climbing scene in the movie Failure to Launch with Sarah Jessica Parker and Matthew McConaughey was filmed here. (photo by David Parham)
Orbix Hot Glass
Blowing your own glass ornament at Orbix Hot Glass is just a must! They offer other classes throughout the year, such as create your own paperweight, sculpt your own flower, and blow your own tumbler. You can also tour the facility and purchase lovely items from their gallery.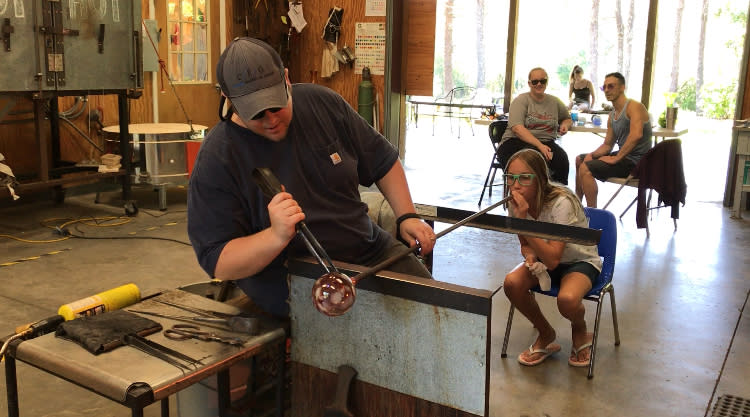 Weiss Lake
Weiss Lake in Cherokee County near the Georgia line is one of our prettiest lakes with the best crappie fishing. Known as the "Crappie Capital of the World", you'll catch more crappie than you'll know what to do with. The lake consists of 30,200 acres, offering over 447 miles of shoreline and shallow flats, large coves, under-water drop offs and deep channels. Weiss Lake also has an abundance of privately owned hotels, marinas, campgrounds, and bait and tackle stores. (photo by North Alabama Ambassador David Parham)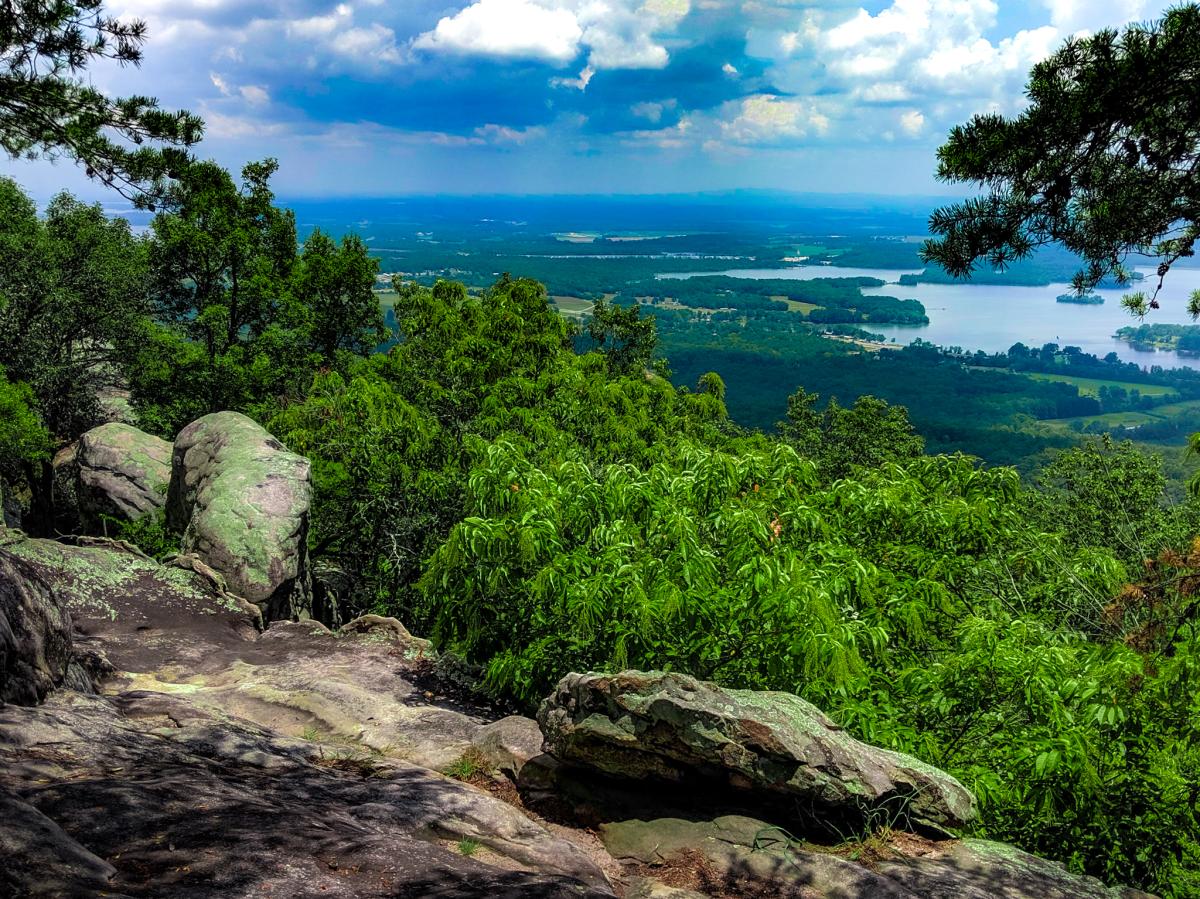 Fort Payne Area
DeSoto Falls
Oh, you will be so glad you drove out in the middle of nowhere to catch a glimpse of this gorgeous and massive waterfall! DeSoto Falls is one of the most visited waterfalls, and when you visit you'll see why. (photo by North Alabama Ambassador Hannah Sumner)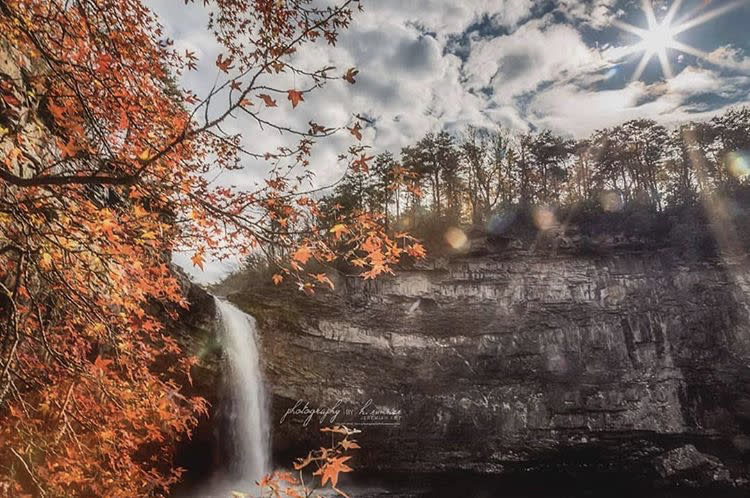 High Falls Park
High Falls Park in Grove Oak is a beautiful park with a magnificent waterfall! This waterfall is 35 feet high and 300 feet wide, and is really gorgeous after a good rain. Located just south of Lake Guntersville, the park has hiking trails, picnic pavilions, and a playground - the perfect place to spend the day. You can even splash around in the water several yards up from the falls. It's also on our North Alabama Waterfall Trail.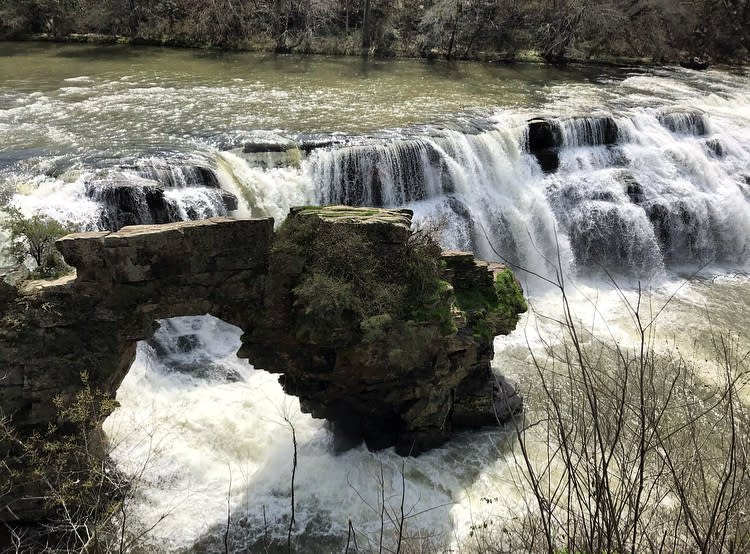 Little River Canyon
One of the deepest gorges in the East, Little River Canyon National Preserve, which is part of the National Park System, contains spectacular scenery, breathtaking waterfalls, and a number of rare plants and animals. One of the most majestic parts of Little River Canyon is Little River Falls. The formation of Little River Canyon begins at Little Falls with this breathtaking 45-foot waterfall. (photo by North Alabama Ambassador Mirandi Reese Watson)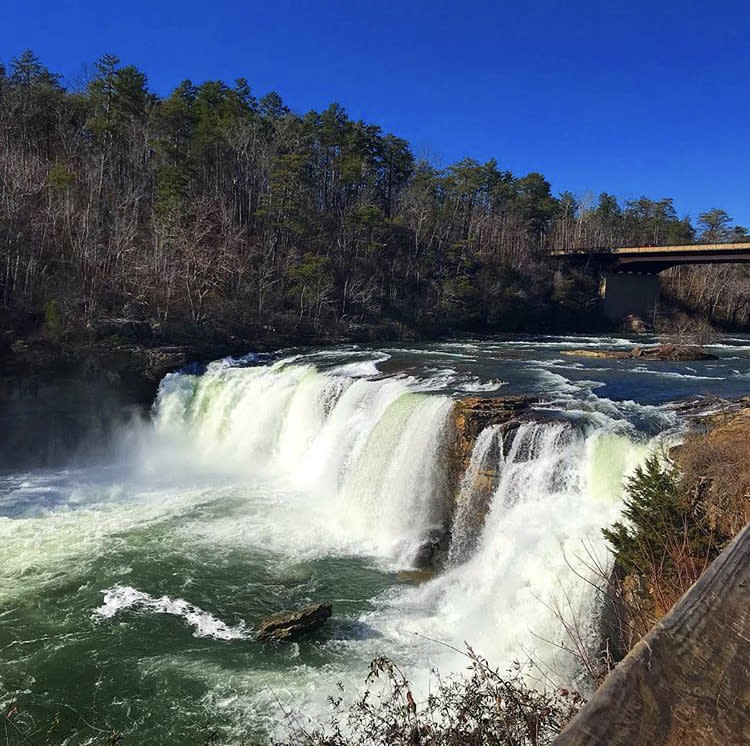 Tigers for Tomorrow
Oh, you will not be disappointed to make the trek to the middle of nowhere to see the magnificent creatures that call Tigers for Tomorrow home. Tigers for Tomorrow is a wild animal park and environmental education center that is home to over 130 animals. You will be able to get up close and personal with more than 70 big cats, wolves, and bears than ever before in a safe natural setting. Children can also interact with barnyard animals at their contact yard.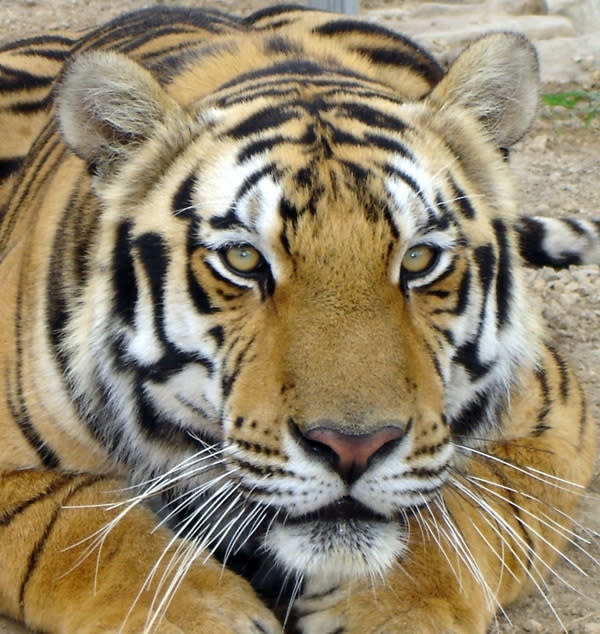 Scottsboro Area
Russell Cave National Monument
For hundreds of generations, Russell Cave provided shelter for the Southeastern Tribes of Indians. Today, you can hike around the cave and learn about the national significance of this archeological site, which is a National Park Service Unit. (photo by North Alabama Ambassador David Parham)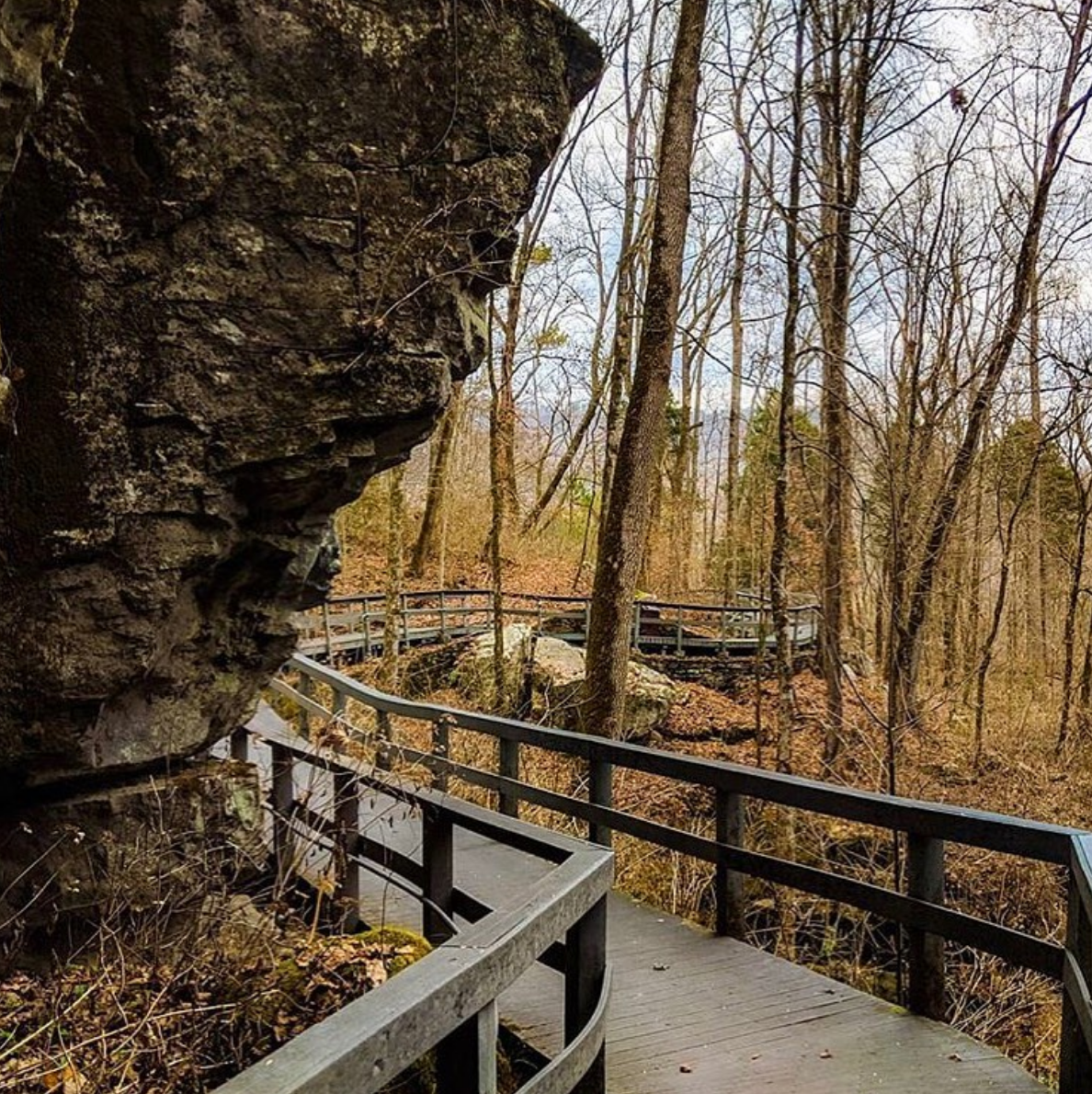 Stephen's Gap Cave
Stephen's Gap Cave is one of the most popular caves in north Alabama, and when you see it it's no wonder why! The 143-foot cave is a popular spot for pictures like the one below when the light comes in just right, which is anywhere from 10am-2pm. The cave is open to the public, but you do have to apply for a permit in order to hike or rappel in the cave. (photo by North Alabama Ambassador Amanda Bridges-Dunn)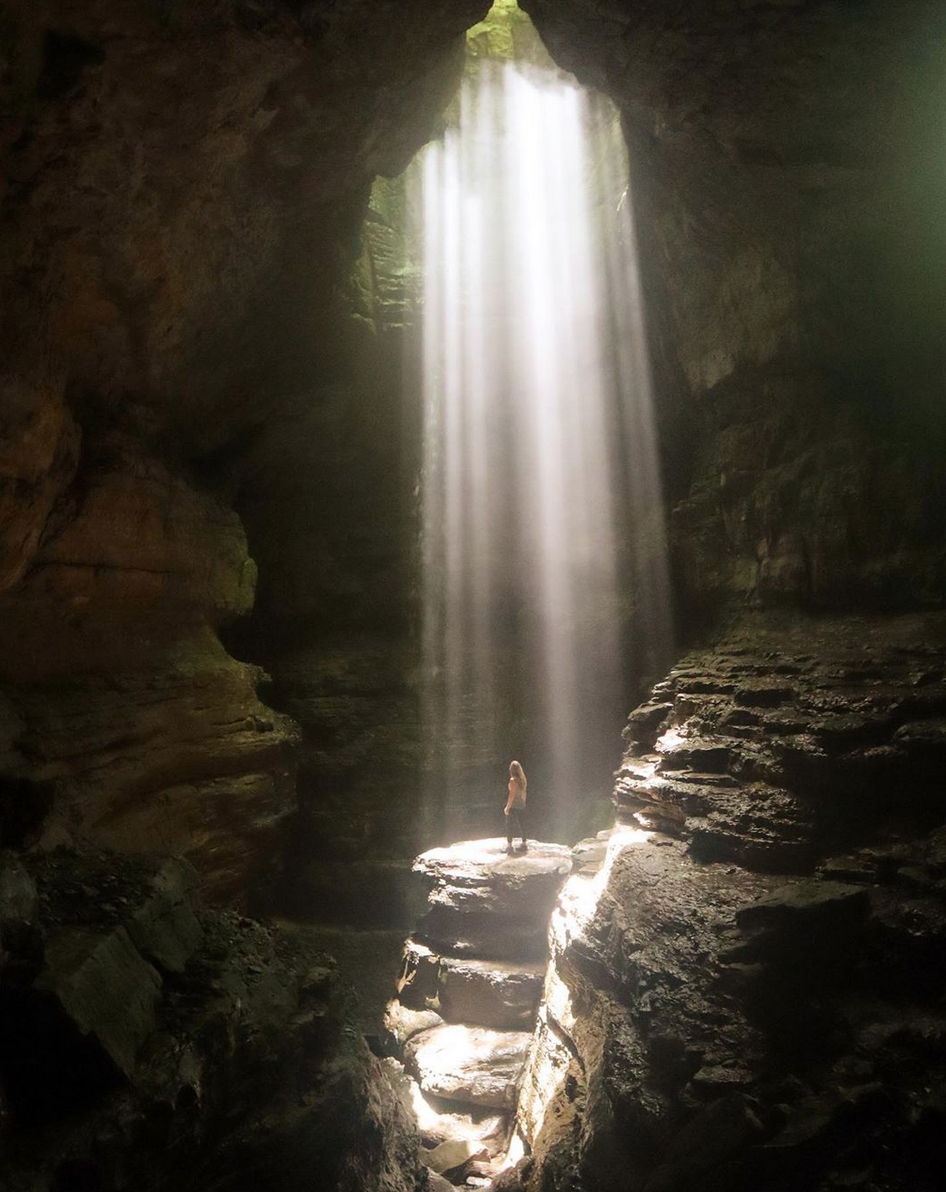 Scottsboro Depot and Bridgeport Depot
The Scottsboro Freight Depot is one of three remaining pre-Civil War depots in Alabama. Built by the Memphis and Charleston Railroad in 1861, the Scottsboro Depot saw active service for 132 years. On January 8, 1865, Union troops defended the building against siege by Confederate infantry and artillery. Damage from the skirmish is still visible.
The Bridgeport Depot Museum is home to railroad memorabilia and area historical records as well as Native American and Civil War artifacts. Items in the museum's collection date back to 1807. Constructed in 1917, today's depot is the fourth built on this site and is operated by the City of Bridgeport.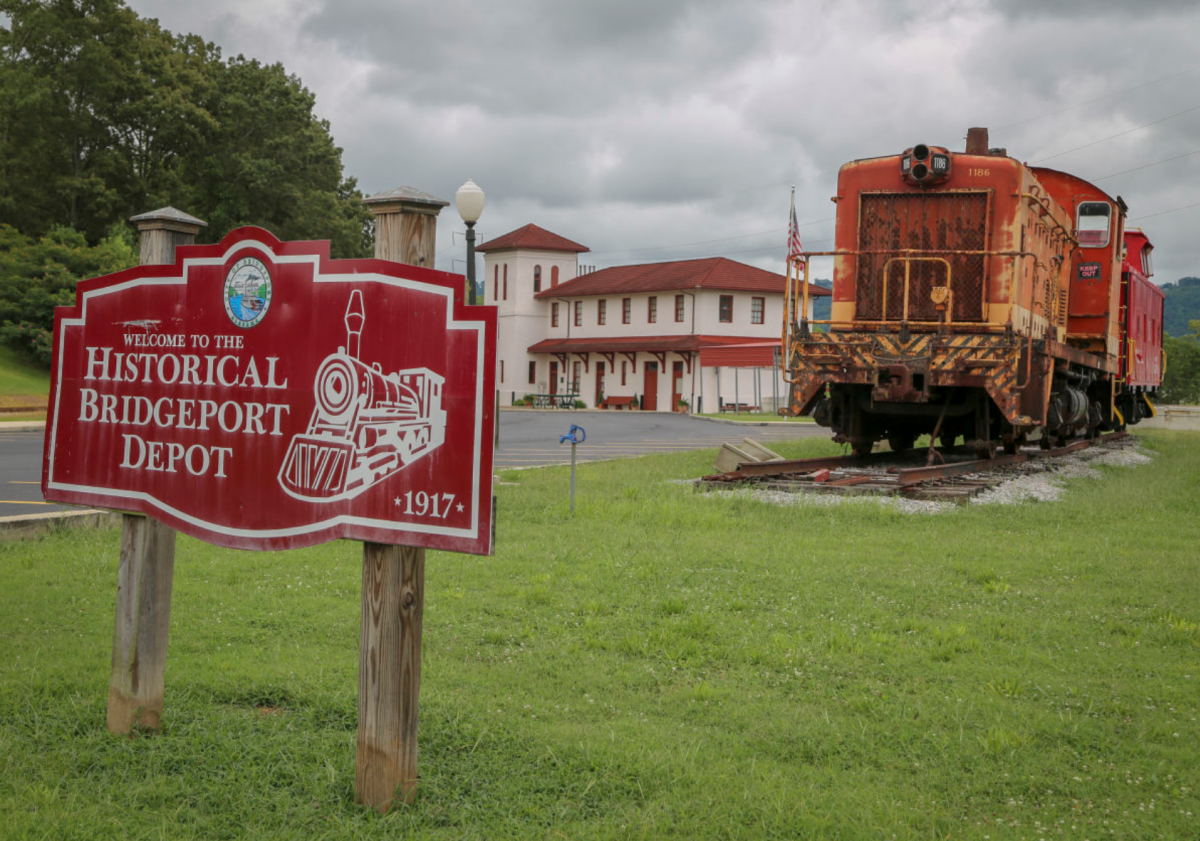 Unclaimed Baggage Center
Unclaimed Baggage Center has been in business for 47 years and all started when Doyle Owens went to Washington D.C. in a borrowed truck and a $300 loan. He originally sold the items at an old rented house, and it was a huge success. The rest, they say, is history. Today, you can find all kinds of items at Unclaimed Baggage, and you can take a break from the shopping and enjoy a delicious meal at Cups Cafe.
How it works: "Although over 99.5% of domestic airline's checked bags are picked up at the baggage carousel, lost luggage is an unfortunate part of airline travel. The airlines conduct an extensive three-month tracing process with the remaining .5% of unclaimed bags in an effort to reunite them with their owners, resulting in an astonishingly small fraction of a percent of bags that are ultimately orphaned. Claims are paid on these remaining lost bags and only then do the airlines sell the remaining unclaimed baggage property to Unclaimed Baggage Center. These purchasing agreements provide an important service to the airlines by giving a second life to unclaimed items."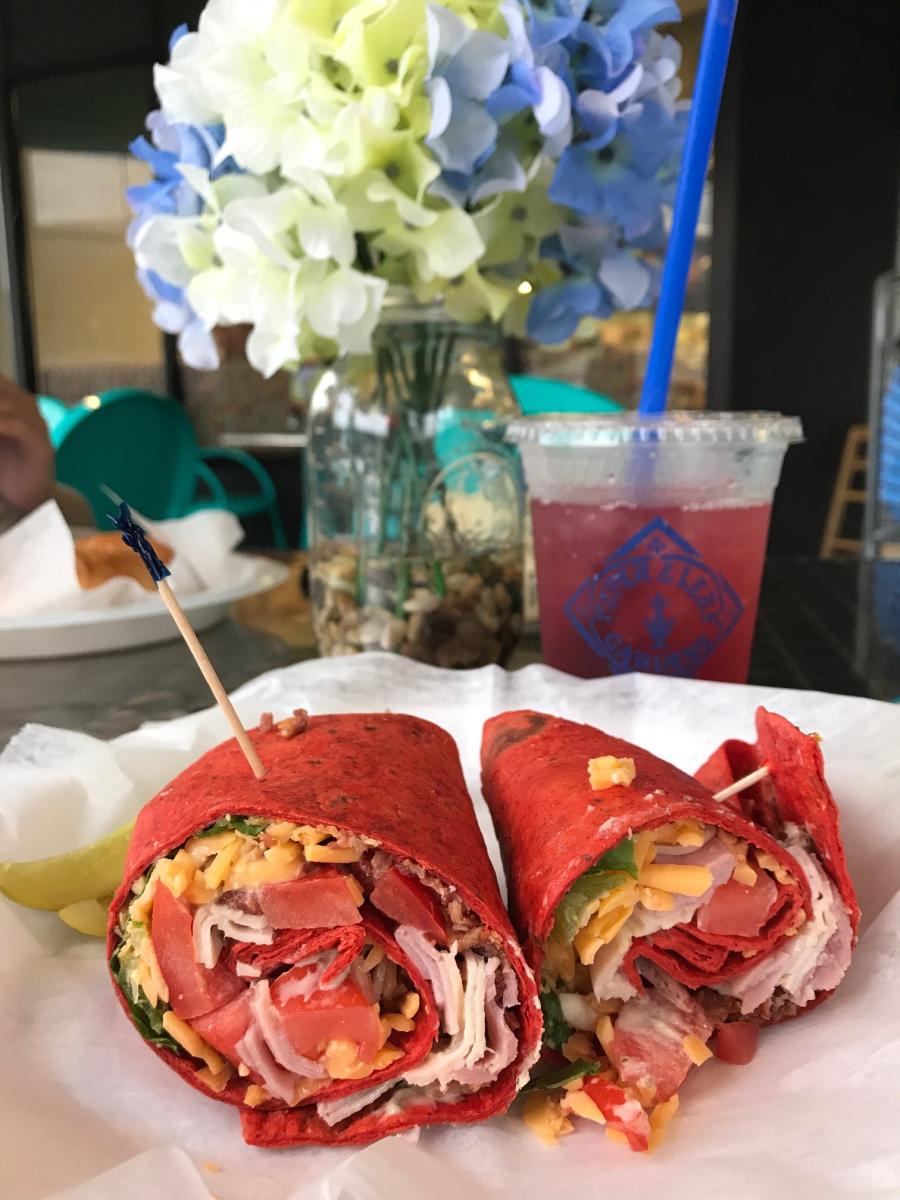 Guntersville Area
Buck's Pocket State Park
Buck's Pocket State Park has many hiking trails that lead to an amazing overlook - Point Rock scenic overlook. (photo by North Alabama Ambassador Robert Posey)
Cathedral Caverns State Park
Cathedral Caverns State Park is located down a winding road off of Highway 72 in the Woodville community. The Caverns is a massive cave that dates back to prehistoric times and has a stalagmite forest and frozen waterfall. A tour is a must!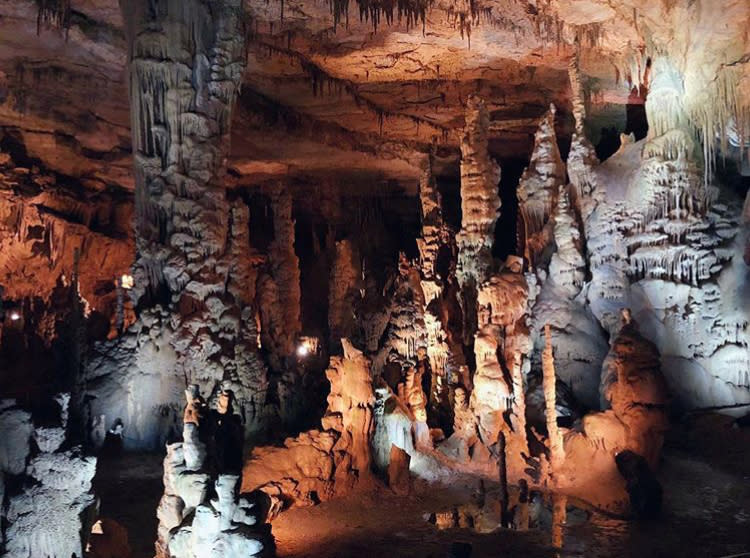 Lake Guntersville State Park
Lake Guntersville State Park is one of Alabama's most beautiful state parks! Located on Lake Guntersville, the park offers amazing fishing opportunities, a campground on the lake, a lodge, cabins, cottages, zip line, wildlife, and so much more. You can also catch some breathtaking sunsets on Lake Guntersville, too. (photo by North Alabama Ambassador Robert Posey)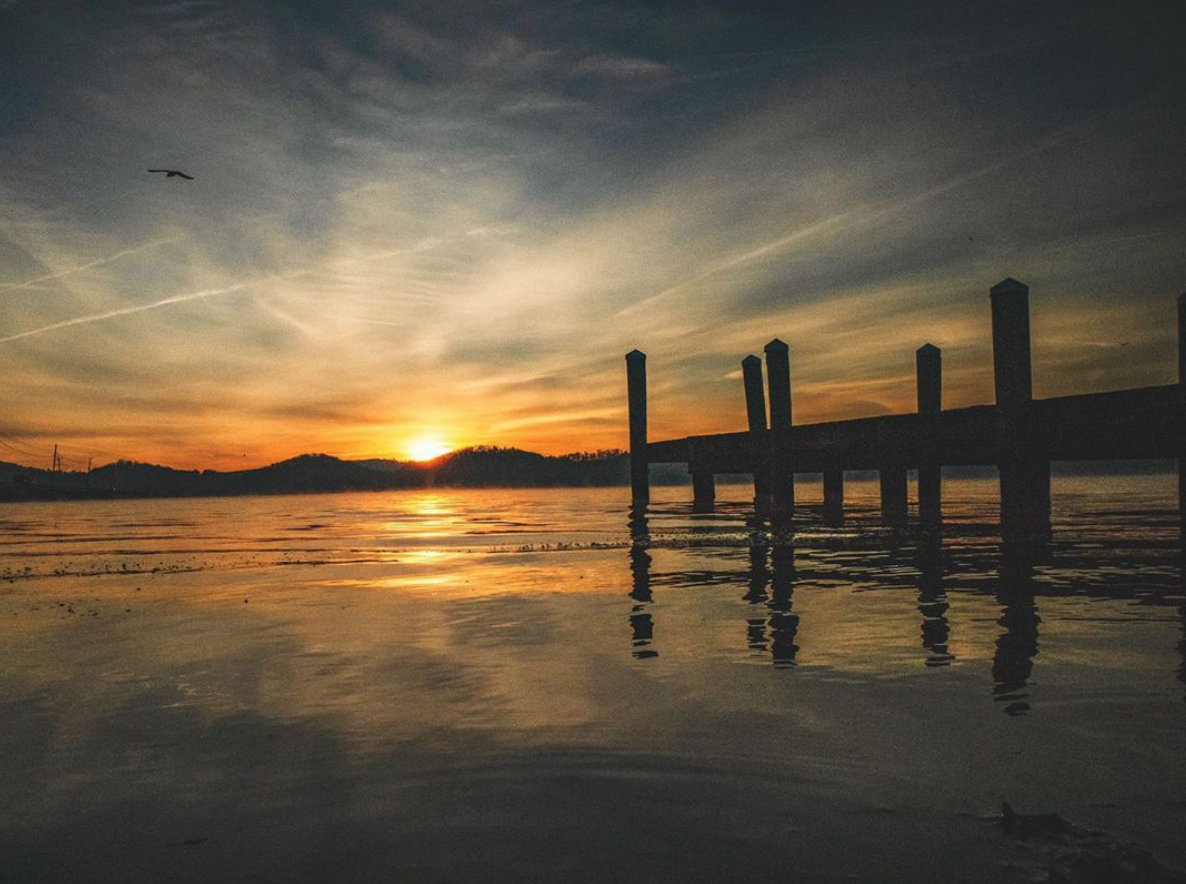 These are just some of the exciting things to do in these areas. We hope that you will look for more attractions, restaurants, festivals, and places to stay at www.northalabama.org, and we hope that you have found some places you'd love to explore once business returns to usual. We can't wait to explore with you!