We are partnering with 100 Alabama Miles Challenge to do a photo contest! The 100 Alabama Miles Challenge is "a statewide program designed to inspire all Alabamians to kick-start an active, healthy lifestyle while exploring our beautiful state and connecting with fellow participants. We challenge all Alabamians to walk, run, hike, bike, swim, paddle, ride or roll 100 miles each year and to do so by visiting Alabama's many wonderful parks, nature preserves, and rivers."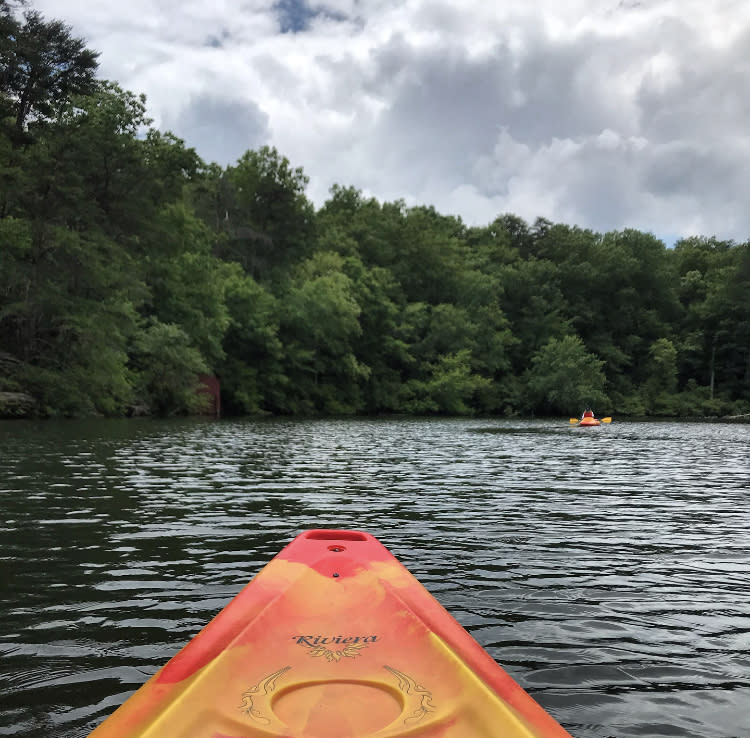 Each time you get out and walk, run, hike, bike, swim, paddle, you can log your miles on the 100 Alabama Miles Challenge website. It keeps track of all your miles, and the best part is - other than getting in shape, of course - you can earn virtual badges! You'll earn badges for the different activity milestones. For example, when you reach 25, 50, and 100 miles in each activity, you'll earn a badge. You can even earn badges at many different places all over Alabama. We've got a checklist of North Alabama badges you can earn at the end of this blog post.
How to Enter the Photo Contest
So, about that photo contest: to enter the contest, please upload your photo of you being active outdoors or the location where you're active in North Alabama in our photo collector below. Each week we'll choose a photo randomly from the collector to win a Sweet Home North Alabama t-shirt AND a 100 Alabama Miles Challege t-shirt. We'll also use your photos on our social media platforms, giving you credit, of course. This contest will last through September 14, 2020.
100 Alabama Miles Checklist
Here's a 100 Alabama Miles checklist you can download and mark off as you go. All locations aren't on the checklist. See below for a complete list.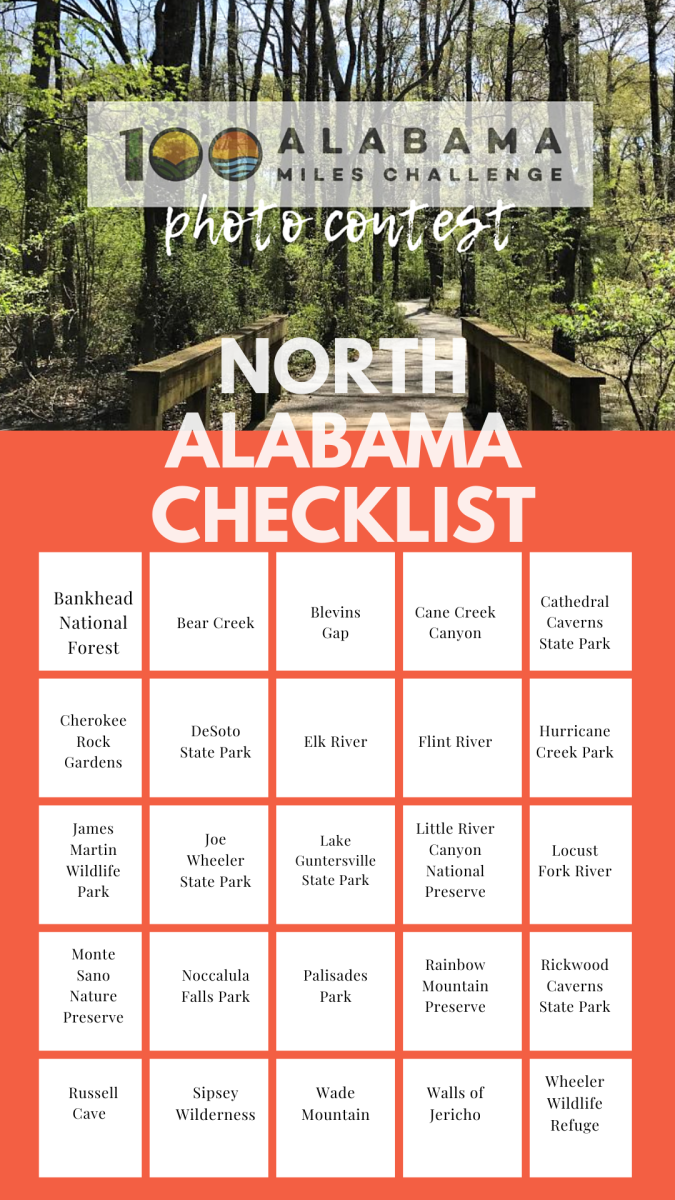 List of ALL the North Alabama Virtual Badges You Can Earn
Bankhead National Forest
Bear Creek
Blevins Gap Nature Preserve
Buck's Pocket State Park
Cane Creek Canyon Nature Preserve
Cathedral Caverns State Park
Certain Forever Wild Tract
Cherokee Rock Gardens
Cooley Cemetery Trail
Desoto State Park
Elk River (Limestone County Canoe & Kayak Trail)
Freedom Hills Wildlife Management Area
Flint River
Honeycomb Trail
Hurricane Creek Park
James D. Martin Wildlife Park
Joe Wheeler State Park
Lake Guntersville State Park
Little River Canyon National Preserve
Locust Fork River
Monte Sano Nature Preserve
Monte Sano State Park
Muscle Shoals Reservation
Noah Bike Trail
Noccalula Falls Park and Campground
Palisades Park
Rainbow Mountain Preserve
Richard Martin Trail
Rickwood Caverns State Park
Rock Bridge Canyon Equestrian Park
Russell Cave National Monument
Shoal Creek Preserve
Sipsey Fork of the Black Warrior
Sipsey River
Sipsey Wilderness (Bankhead National Forest)
Wade Mountain Nature Preserve
Walls of Jericho Forever Wild Tract
Wheeler National Wildlife Refuge
T-shirts You Can Win