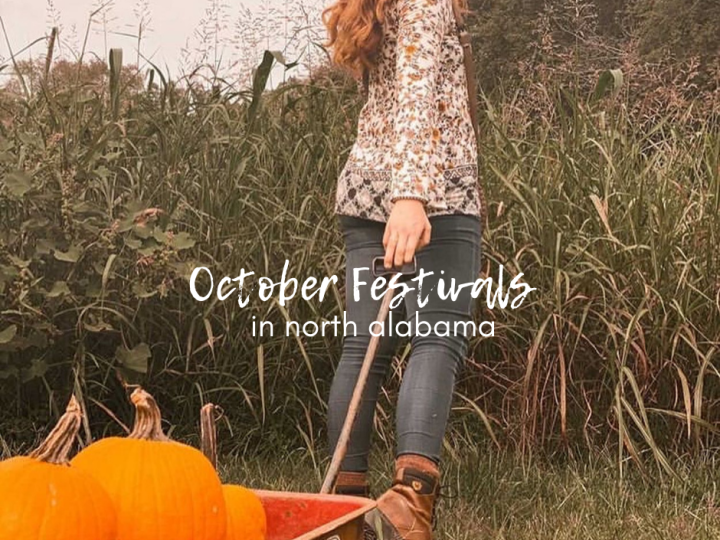 Anne of Green Gables said, "I'm so glad I live in a world where there are Octobers." So are we, Anne.
October has a different feel to it: crisp air, colorful foliage, pumpkins, festivals, and the list goes on. It also has a spooky edge to it as well, and there are several haunted walking tours across the region that tell of the paranormal activity in north Alabama. Here are several North Alabama October events you don't want to miss:
McGee Farm Pumpkin Patch
Located in Florence, McGee Farm Pumpkin Patch is now in its 25th year of opening the family farm for you to find the perfect carving or cooking pumpkin. You have a choice of picking your own orange treasure straight off the vine from the pumpkin patch or from a pile that have been pre-picked. Over 25 varieties of pumpkins are available to choose from, with some growing up to 200 pounds and some as small as a child's hand.
Along with pumpkins of all shapes and sizes, you will be treated to farm-life activities such as playing in hay, taking a scenic tractor-drawn wagon ride, a barnyard bounce, and feeding chickens.
If you want a piece of the autumn season to enjoy at home, fall decorations, such as straw bales, corn stalks and miniature gourds, will be available to purchase. In addition to pumpkins, McGee Farm grows all of the colorful mums that are for sale each year. You can pick from thousands of pots and many color variations.
After shopping for pumpkins, you are invited to stay and enjoy a bite to eat at The Kitchen at McGee Farm. Home-cooked country favorites such as white beans and cornbread, soups, muffins, homemade treats, pies, and more will be available. McGee Farm has a picnic area under a huge oak tree where you can have picnics or can sit and enjoy the scenic countryside. Homemade jams, jellies, and relishes will also be for sale to enjoy at home or to give as gifts for the upcoming holiday season. Open: October 1-31, Monday-Friday 3-6pm, Saturday 10am-6pm, Sunday 1-5pm.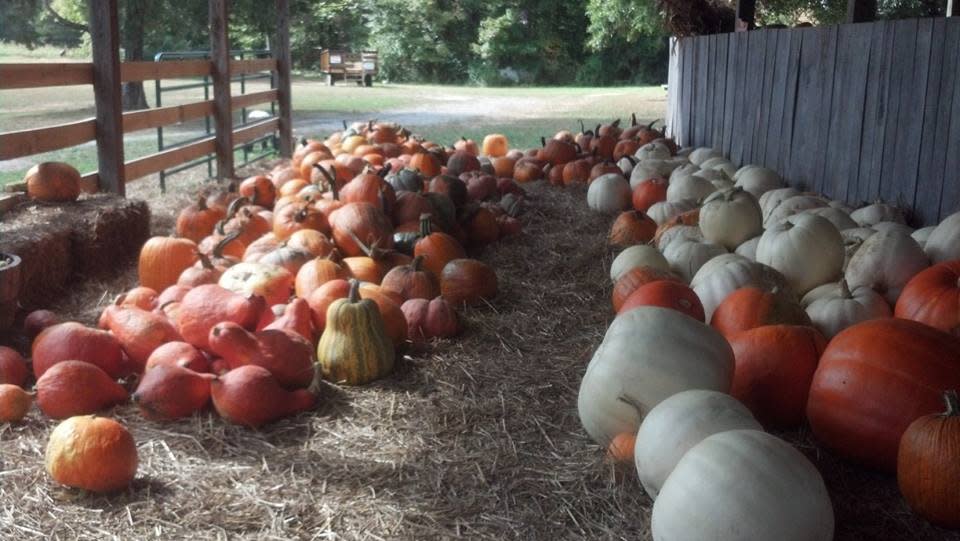 Belue Place Pumpkin Patch
Visit Belue Place Pumpkin Patch to visit a working family farm and find your perfect orange treasure to take home. Belue Place Pumpkin Patch, situated in the northwestern Alabama town of Lexington, is open weekends throughout October, is where families can experience a little bit of farm life and create an unforgettable experience picking pumpkins. Children can take a hayride to the pumpkin patch and pick their very own pumpkin to take home. Other activities include a hay loft jump, cow train rides, tire mountain, horse tire swings, corn crib play area, hay tunnels to wander through, pumpkin painting and storytelling.
Animals abound at the Belue Place and may be petted by the interested or simply observed by the curious. The petting zoo inhabitants include baby goats, miniature horses, rabbits, pigs, chickens, baby chicks, ducks and guineas.
Hours are Saturday 10am-5pm and Sunday 1pm-5pm. Guests are encouraged to practice social distancing and keeping a distance of six feet from anyone not in your immediate family. Admission is $12 per person and provides access to all areas of the pumpkin patch, which includes one pumpkin per person and all activities.
Belue Place Pumpkin Patch is located at 700 County Road 513 in Lexington, Ala. For more information, visit https://www.thebelueplace.com/ or call 256.366.6277.
Hidden Rivers Farm Pumpkin Patch
Picking the perfect pumpkin, getting lost in a maze and experience a bit of farm life are just a few of the activities lined up when you visit Hidden Rivers Farm.
This fall, take the family to visit Hidden Rivers Farm located in Hartselle. for a bounty of fun. The family-owned farm is open the public on Fridays, Saturdays and Sundays through October 31 and offers a variety of activities for people of all ages to enjoy. Activities include a themed maze, animal encounters, pony rides, a corn pit and new for this year are hiking through nature trails and climbing a tire mountain. Visitors to the farm can also take a piece of autumn home by picking their very own pumpkin from the pumpkin patch. For football fans, there will be a tailgate tent with two televisions, cornhole and seating areas, making it the perfect place to enjoy a day of tailgating while the kids play in a safe area. There will also be food trucks and grills available to rent.
Hours of operation are: Fridays 3-7pm and Saturdays and Sundays 10am-7pm. Hidden Rivers Farm is located at 295 Goose Pond Road in Hartselle.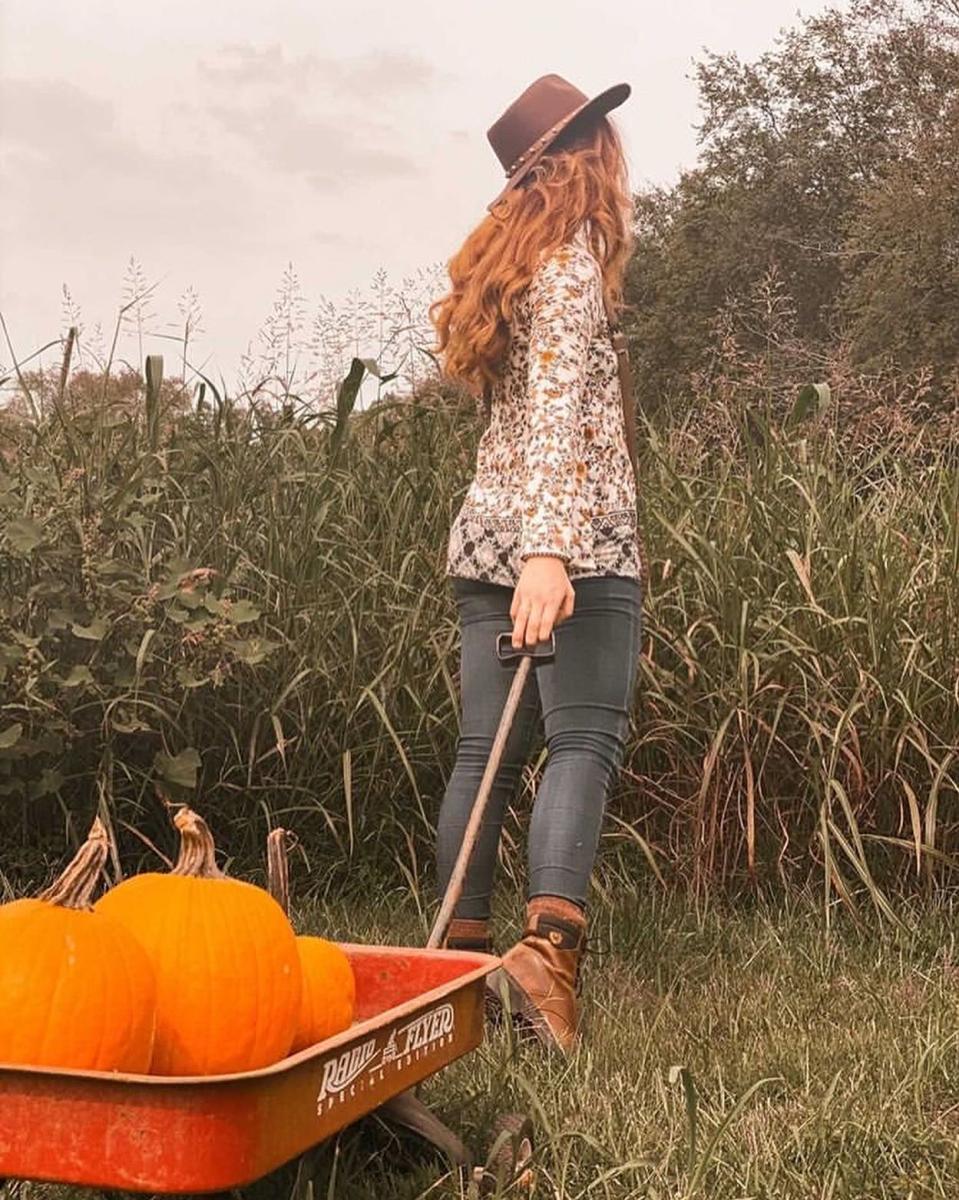 Cullman Oktoberfest
For over three decades, the town of Cullman has celebrated its German beginnings with a festival offering all things German. Set for September 30-October 2, the Cullman Oktoberfest will take place in the downtown area and along with themed activities, the family-friendly event offers authentic German food and live German music daily.
During Oktoberfest, over 80 activities will be offered during and leading up to the event. Local restaurants will be serving German meals daily and merchants will host nightly events featuring beer, brats and live music. 
Located adjacent to the Festhalle, the Cullman Oktoberfest Biergarten, featuring Oktoberfest beer, Alabama's craft beers and Alabama breweries, will be opened Thursday through Saturday. Music can be heard nightly from a variety of performers and activities and games for children will be offered nightly and all day Saturday.
A variety of competitive events, including a corn hole tournament, pickle eating contest, paper airplane contest, best German costume, longest beard and braid contest and stein hoist contest, will be held throughout the multi-day festival. Additional activities to take place include a wine tasting, cemetery tours, carriage rides, candlelight walking tours and a 5K and 10K run.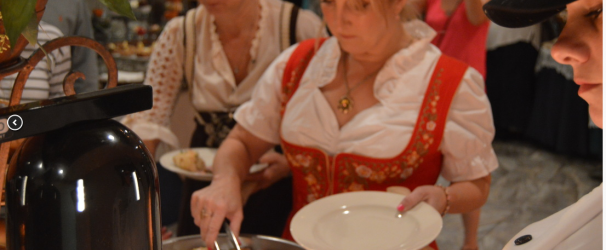 Tennessee Valley Old Time Fiddlers Convention
Each year, thousands of visitors and musicians make their way to the North Alabama town of Athens, Ala. in the fall for the "Granddaddy of Midsouth Fiddlers Conventions." The Tennessee Valley Old Time Fiddlers Convention is set to return to the campus of Athens State University and will run from September 30 through October 2, 2021. Along with the crowning of a new Tennessee Valley Old Time Fiddle champion, the three-day event offers concerts, food vendors and arts and crafts on a theme of authentic workmanship while celebrating traditional old time music.
The Tennessee Valley Old Time Fiddlers Convention attracts approximately 15,000 folk music fans and more than 200 musicians who will be vying for over $19,000 in prize money in 19 different categories of competition, including several fiddle and guitar categories, harmonica, mandolin, bluegrass banjo, dulcimer, old time singing, banjo and buck dancing. The Convention culminates in a "fiddle-off," between the top two fiddlers on Saturday evening and the winner is declared the Tennessee Valley Old Time Fiddle Champion. Competition gets underway Friday at 7 p.m. and resumes Saturday at 8:30 a.m. Finals are held on Alabama Farmers Cooperative Main Stage at Founders Hall beginning at 7 p.m.
Volume Five will perform on Thursday, September 30 at 7:00 p.m. during a free preview night to kick off the convention. The complimentary concert will take place on the Alabama Farmers Cooperative Main Stage and will be open to the public.
This year's headliners will perform back-to-back on Friday, October 1, starting with Gospel Music Association and Country Music Association Hall of Fame member, Jimmy Fortune, at 5:00 p.m. followed by the Rockstars of Bluegrass Dailey & Vincent, at 6:00 p.m. Both concerts will take place on the Alabama Farmers Cooperative Main Stage. Doyle Lawson & Quicksilver will wrap up the entertainment portion of the convention with a performance at 5:00 p.m. on Saturday, October 2 on the Alabama Farmers Cooperative Main Stage. Access to all Fiddlers Convention entertainment is included with the purchase of an admission ticket.
The convention also includes a variety of food vendors and approximately 150 old-fashioned juried arts and crafts booths offering an assortment of items from traditional artwork to coal-fired metal works with an emphasis on handmade creations.
Cost of admission is $15 per adult for Friday, $15 per adult for Saturday, or $20 per adult for a weekend pass. Children under 12 will be admitted free with a paid adult. Tickets can be purchased online at www.TVOTFC.org or www.eventbrite.com. In event of rain, the competition will be held in Carter Gymnasium with limited capacity. Pets and coolers are not allowed. Festivalgoers are encouraged to bring lawn chairs. For more information or to purchase tickets, visit http://www.tvotfc.org.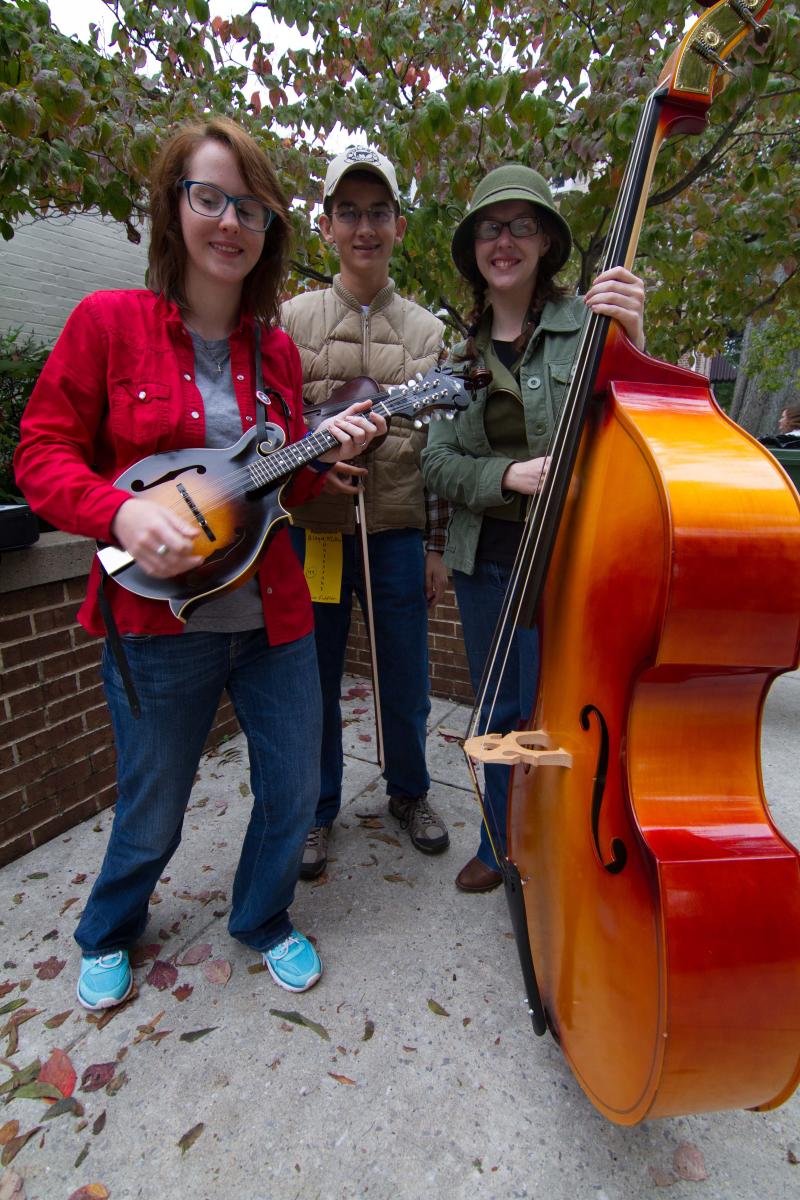 Boaz Harvest Festival
October is just around the corner and that means towns and communities are gearing up for their fall celebrations. Set for October 1-2, the Boaz Harvest Festival invites everyone to downtown Boaz for two days of family-friendly fun including music, arts and crafts, classic car and jeep show, corn hole competition, beauty pageant, and more.
Opening ceremonies begin Friday, Oct. 1 at 9:30am with the presentation of the Boaz Area Chamber of Commerce awards. Over 100 arts and crafts vendors will line Main Street for shoppers to find that one-of-a-kind item and throughout the day, there will be performances at the Old Mill stage including the Boaz Jazz Band and SSCC Street Singers, Traditions Rising, Country Case and Sweet Tea Trio. Chad Steed is set to perform at Courtyard on Main starting at 4:30pm and the cornhole tournament is set to begin at 6:30pm at Old Mill Park.
Saturday's activities include the Miss Harvest Festival Pageant and performances throughout the day by Sand Mountain Cheer, Just Dance Academy, Josh Bright Productions, Bloodline Gospel, and Alliance Quartet. Many of the shops located in the downtown area will have sidewalk sales and special offers in addition to the festivities.
The free event, now in its 57th year, takes place in downtown Boaz, from Bartlett Avenue to Old Mill Park and gets underway at 8am both days.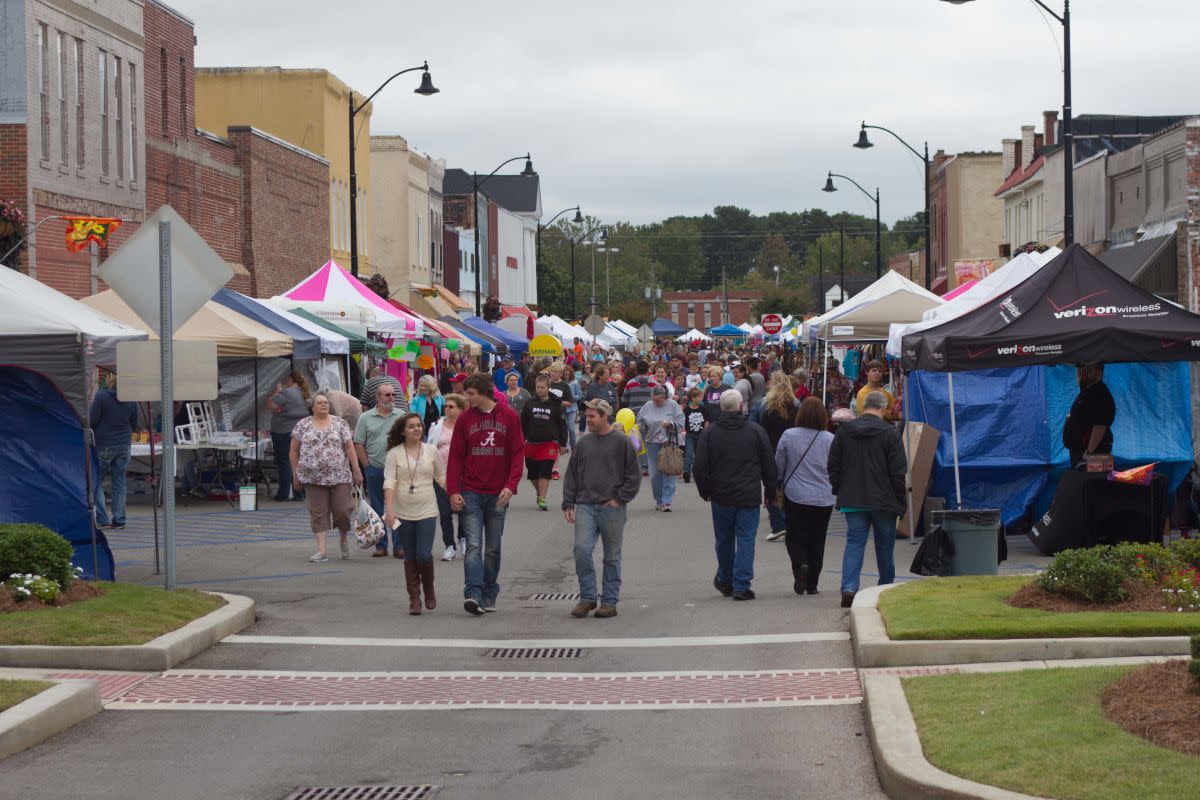 Festive Fall Gatherings in Downtown Gadsden
On Friday, October 1, DGI will hold its last First Friday street party for the 2021 season. From 6:00 to 9:00 p.m., Broad Street will be lined with classic cars, food vendors and live music performances from local and regional bands. Entertainment will include Little Elvis at ALFA, The Leftovers at 3rd and Broad, Matt Harvey Band at 4th and Broad and Southern FX at 5th and Broad. Broad Street will be closed to automobile traffic to allow festival goers to easily cross the street to enjoy the festivities.
On Saturday, October 16th, participating stores and restaurants in downtown Gadsden invite everyone to enjoy a day of shopping and dining for Shop Small This Fall. The event is designed to support local merchants and encourage business in advance of the upcoming holiday season. From fall décor and cozy sweaters to the perfect gift for a special occasion or a bottle of wine for date night, downtown stores will have seasonal items for sale. To keep shoppers fueled, downtown restaurants will serve up favorites from sushi to burgers.
Get ready to sip and celebrate with the return of Sunset Sips. On Tuesday, October 19th, the Broad Street Bridge will be transformed into a late afternoon gathering spot with stunning views to complement hors d'oeuvres and wine. Tickets are $40 per person and are available for purchase at DGI, The Stone Market and King's Olive Oil. Online sales are at https://downtowngadsden.com/sunset-sips/.
A spooky good time is coming to downtown Gadsden on Saturday, October 30th. From 11:00 a.m. to 1:00 p.m., DGI invites children and their parents to enjoy a fun time trick or treating with downtown merchants. Participating stores and restaurants will welcome little goblins to stop by for some candy. The event is targeted for those 12 years and younger, but everyone is welcome to join in the Halloween fun. Costumes are encouraged.
For more information, visit https://www.facebook.com/DowntownGadsden or call Downtown Gadsden Director Kay Moore at 256-547-8696.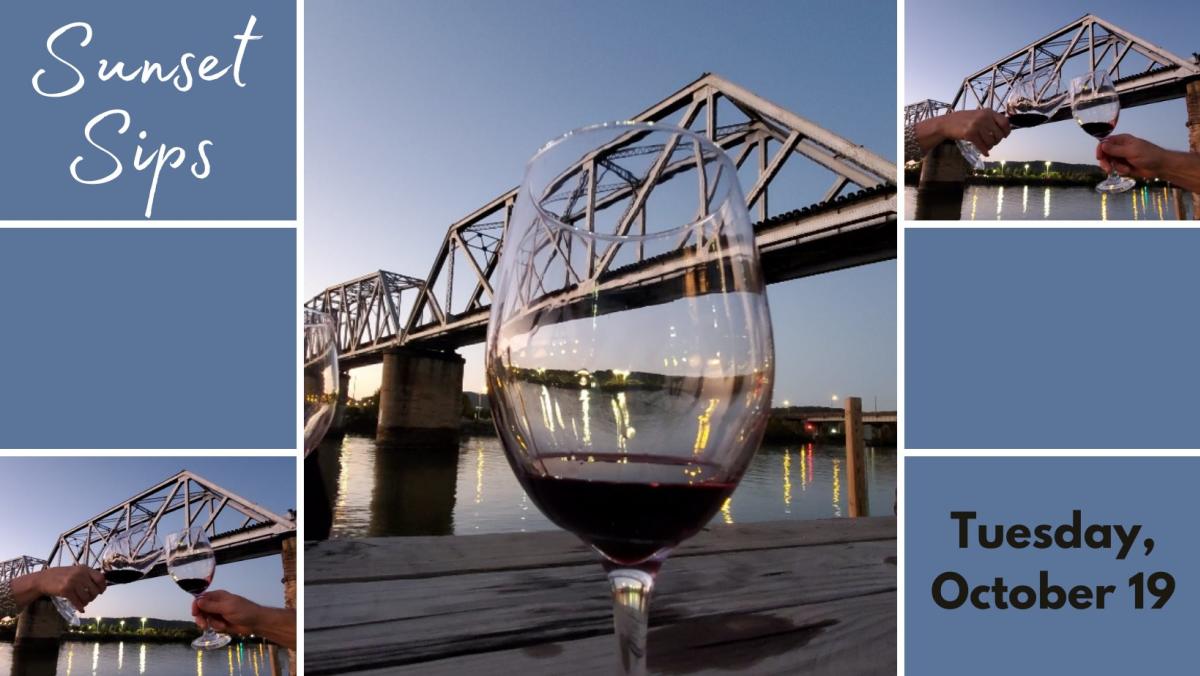 Historic Huntsville Guided Walking Tours
Just in time for Huntsville History Month, the Huntsville/Madison County Convention & Visitors Bureau (CVB)'s free, guided historic district walking tours return this weekend for the fall season. The two free walking tours take place October 2 and 9, and explore the Five Points Historic District (October 2) and Old Town Historic District (October 9). The tours are free, and no reservations are required. Tours begin at 10:00 a.m.
The Five Points walking tour will meet and depart from the corner of Wells Avenue and Maple Hill Drive (NW corner of Maple Hill Cemetery), with Jan Williams serving as the tour guide.
The Old Town walking tour meets at 122 Walker Avenue in Huntsville, and Mike and Cathy Self will serve as guides for this tour.
Among the city's several historic districts, the downtown Huntsville historic districts (Twickenham, Old Town and Five Points) are listed on the National Register of Historic Places. This official list contains places considered worthy of preservation for their significance in American history, architecture, archaeology, engineering and culture.
Free walking tours exploring Alabama's past were initiated by the Alabama Tourism Department in 2003, using Huntsville's walking tours as a model, to foster the exploration of Alabama's history and culture, especially in downtown areas.
The tours are two of several events happening as part of Huntsville History Month, a campaign spearheaded by the CVB highlighting Huntsville's history-centric events and activities happening throughout the month of October.
For more information, visit www.huntsville.org/WalkingTours or contact Kristen Pepper at kristen@huntsville.org or 256.551.2294.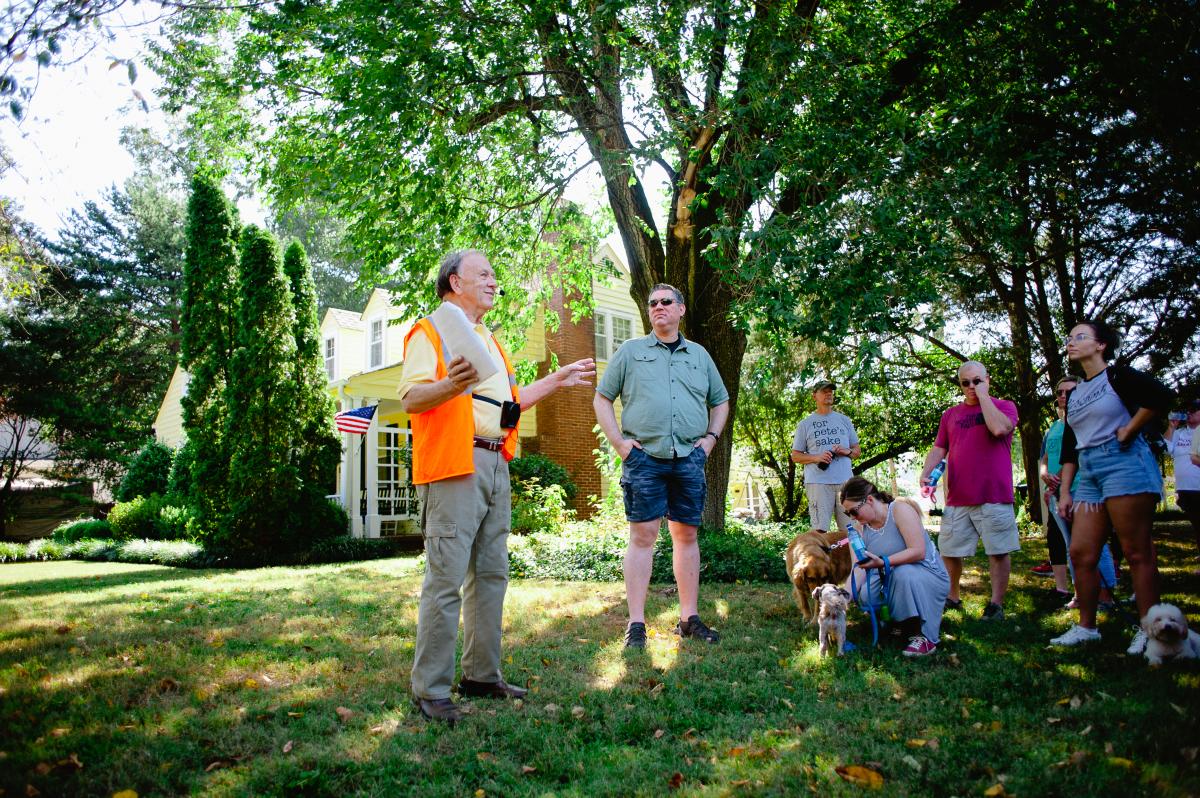 Athens Cemetery Stroll
On October 3rd, step into the former world of those who shaped our towns and county. The day of storytelling from yesteryear begins at 2:00 p.m. with tales woven from passed-down family history and speckled with tales of a burgeoning community; their successes, their struggles, and even the war. Each actor has diligently researched their "spirit" and their life in the days of old. This free public event will run until 4:00 p.m. on Sunday, October 3rd.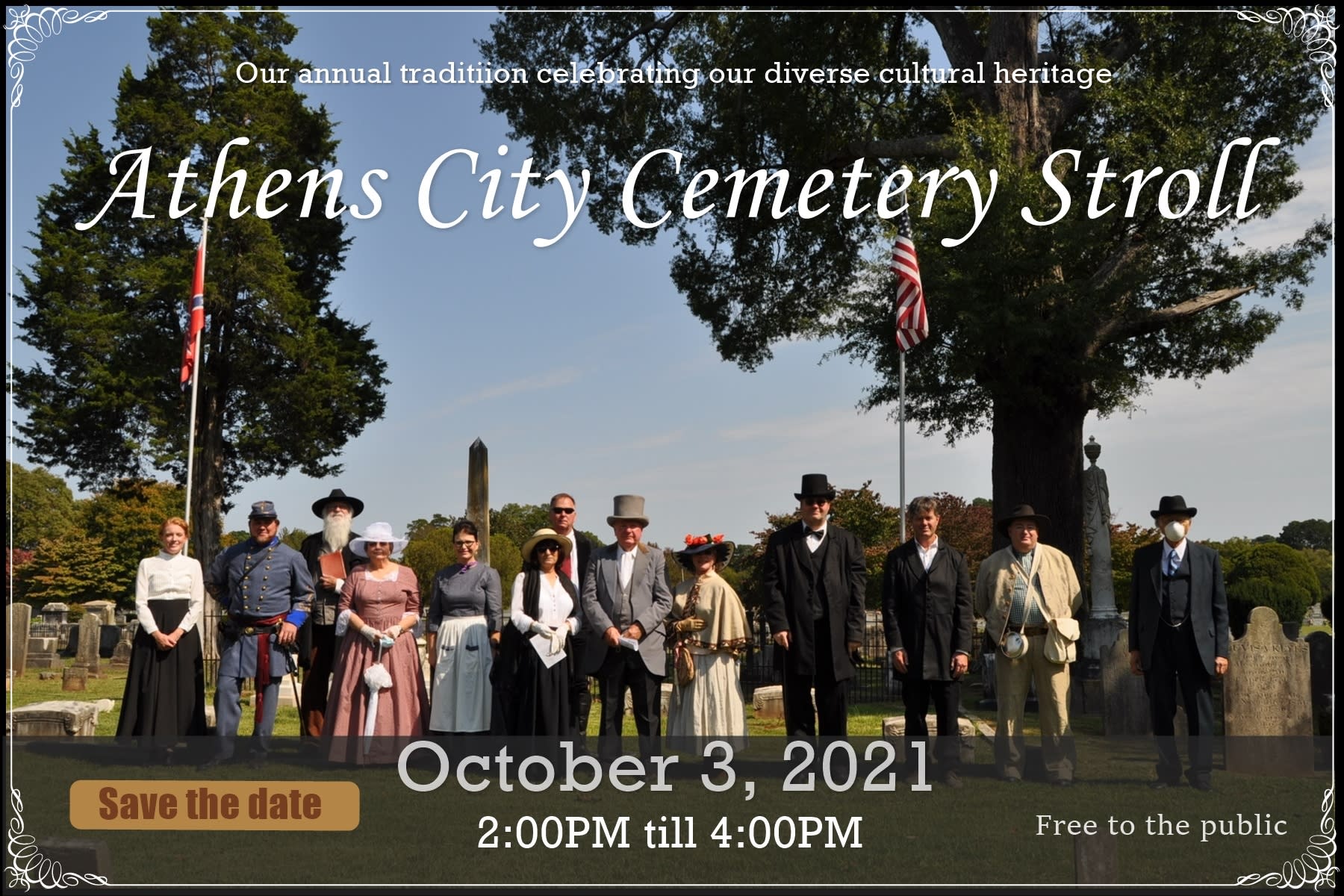 Scottsboro BBQ Festival
Scottsboro's picturesque downtown square will be the backdrop for the annual Scottsboro BBQ Festival, a one day event where award-winning pit masters and local barbeque gurus battle it out to see who has the best chicken, ribs, pulled pork and dessert while raising funds for a local charity. As the smell of barbeque fills the air, a variety of activities are offered to keep everyone entertained throughout the day.
Set for Saturday, Ocober 9, the Scottsboro BBQ Festival is a Kansas City Barbeque Society and an Alabama Barbeque Association sanctioned event and features several competitions. The backyard competition is for serious grill masters who are trying to become the grand champion and the people's choice competition is where festival goers can purchase a $10 ticket and sample up to 10 butts and up to 10 desserts and vote for their favorite. The Kids-Q is open to ages 7 to 12 years old to see who can grill the best burger.
Other activities include a Barq-Off dog parade with prizes for the best costume, best groomed and best performer, a certified Alabama Cornhole tournament, a car, truck and cycle show; pumpkin decorating contest; food vendors and art and craft vendors. The free kids fun zone on the northwest corner of the courthouse lawn allows the little ones to enjoy a day of activities including inflatables, games, climbing wall, pumpkin bowling face painting and more.
Introduced in 2019 as part of the festival, the Witches Ride is a fun bike ride to the downtown square to raise money for a local charity. Women dress up as witches, ride their brooms (bikes) and throw candy to the little monsters (kids) who are eagerly awaiting in the downtown square. Prizes will be awarded to best costume and best decorated bike. Proceeds from the ride benefit Sadye's Fund for Spreading Hope, a non-profit 501(c)3 organization that was created for the purpose to raise money to help families in northeast Alabama whose children have been diagnosed with cancer or other serious/terminal illnesses.
Festival hours are 9 a.m. to 7 p.m. and admission is free. All activities take place on the Downtown Square located at 316 S Broad Street in Scottsboro.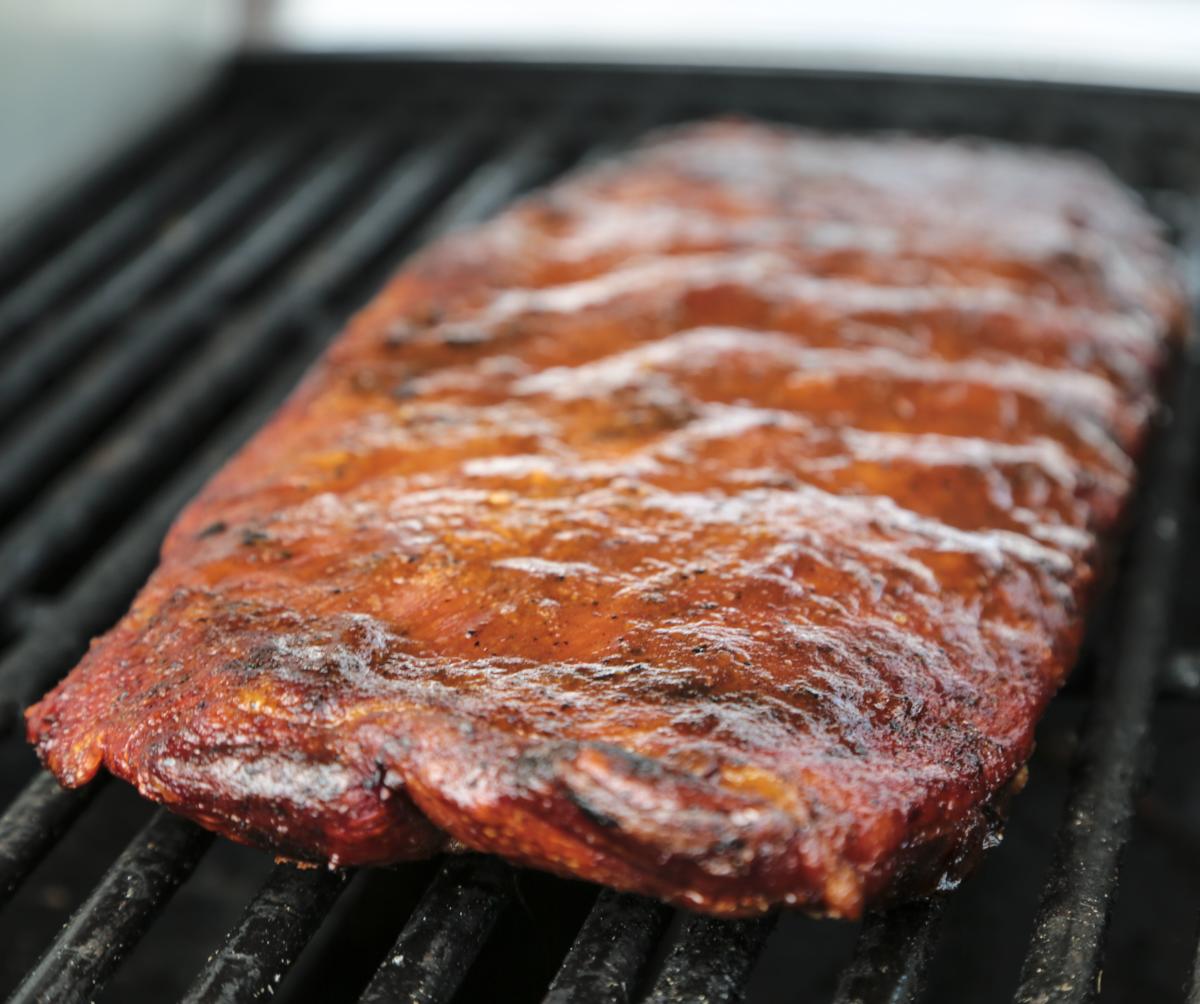 River Clay Fine Arts Festival
Set for October 16-17, 2021, Decatur's annual River Clay Fine Arts Festival returns with 58 local and national artists for a two-day celebration of the visual arts. In addition to the artist market, festival goers are treated to chalk art, student art exhibits, live music and more.
The juried art festival, featuring local and national artists exhibiting original works of art for sale to the public, made its debut in 2015. This year, the two-day event features artwork from talented artists from 10 different states who will be selling a variety of original works of art, including ceramics, drawings, glass, jewelry, metalwork, mixed media, paintings, photography, sculptures and wood. Food trucks will be on-site offering attendees the opportunity to picnic during festival hours and beer and wine will be available.
In addition to experienced artists, the festival celebrates up-and-coming artists from local schools. Festival goers will enjoy seeing the display of artwork representing students from public and private schools from across Decatur, Hartselle and Morgan County. Children of all ages are invited to take part in the children's art area where fun activities will allow them to express their creativity. 
River Clay will be held on the grounds of Decatur City Hall located at 402 Lee Street NE. Hours are 9:00 a.m. to 5:00 p.m. on Saturday, October 16, and 10:00 a.m. to 4:00 p.m. on Sunday, October 17. Admission is $5 per person for a weekend pass and free for children 12 years old and under (must be accompanied by an adult).
Tickets are available now for River Clay Rendezvous, an arts patron preview party, on Friday, October 15, from 5:00 to 9:00 p.m. Participants will check in at the River Clay Artist Market from 5:00 to 7:00 p.m. to receive their event pass and to preview and buy the artists' works while enjoying beverages and hors d'oeuvres. From 7:00 to 9:00 p.m. Rendezvous ticket holders and the artists are invited to the Rendezvous Social at the Alabama Center for the Arts to enjoy more food, beverages, entertainment and the art exhibit in the ACA Gallery. Additionally, the Rendezvous ticket includes weekend admission to the festival. River Clay Rendezvous tickets are $50 per person and may be purchased online at www.riverclay.org or by calling Jennifer Bunnell at the Alabama Center for the Arts at 256-260-4299. A limited number of tickets is available.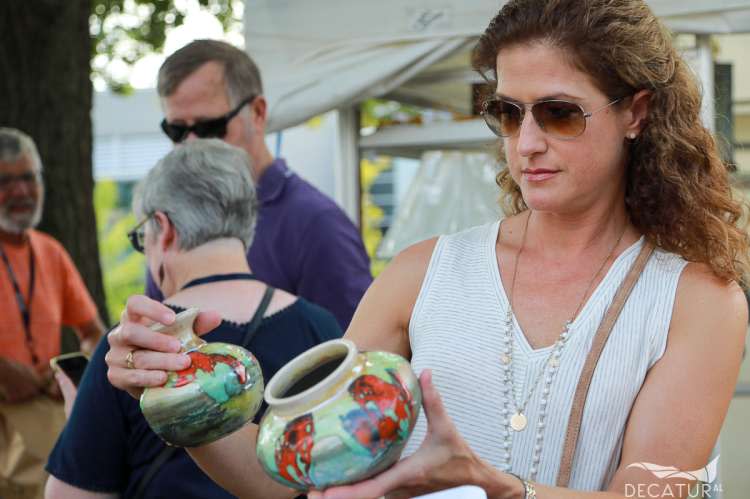 Southern Ghost Girls Tours and Paranormal Investigations
Go on a tour with the Southern Ghost Girls Tours this fall! They're exploring several places in north Alabama:
The Historic Lowry House October Halloween Ghost Hunt October 9:
www.eventbrite.com/e/october-haunted-halloween-ghost-hunt-the-lowry-house-huntsville-alabama-tickets-170385004134
Halloween Ghost Hunt at Decatur's Old State Bank - 2 Nights
Friday Oct. 22 www.eventbrite.com/e/decaturs-historic-1833-the-old-state-bank-interactive-halloween-ghost-hunt-tickets-168365558919
Saturday Oct 23 www.eventbrite.com/e/decaturs-historic-1833-the-old-state-bank-interactive-halloween-ghost-hunt-tickets-168368024293
Hartselle Haunted Halloween Ghost Walk and Paranormal Investigation October 28
https://www.eventbrite.com/e/hartselle-haunted-halloween-ghost-walk-and-paranormal-investigation-tickets-170395946864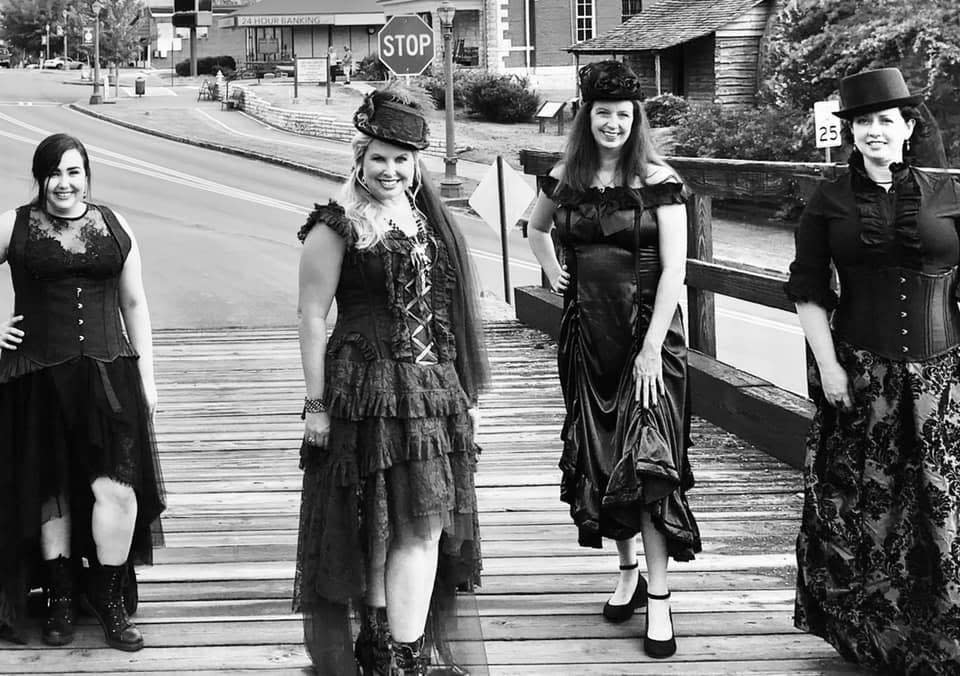 Athens Haunt Walks
In celebration of Halloween, Athens-Limestone County Tourism is offering haunted walking tours next month giving visitors and locals a chance to explore the town by night. Held every Tuesday and Thursday night in October, the Athens Haunts Walks takes guests on a spooky 90 minute walking tour that uncovers paranormal activity, ghoulish legends and hauntings in the historic downtown area.
During Athens Haunts Walk, experienced and entertaining tour guides tell spooky stories of paranormal activity at 13 local structures. Stories include the college student who fell to her death and is said to still roam the halls at Athens State University's Founders Hall and the great 1893 fire that burned the wooden buildings on Marion Street. Tours include a stop at Founders Hall where the students of the then-named Athens Female Institute watched Union and Confederate soldiers battle and the steps of the Houston Library where a crowd gathered on the night voters elected George Houston as the state's first governor after reconstruction.
Now in its 15th year, Athens Haunts Walk is suitable for adults and children in grades 4 and up. In the past, tour participants have included both believers of paranormal behavior and some skeptics of the supernatural. The tours are also a way to get to know more about Athens and its history and lore.
The tours take place every Tuesday and Thursday night in October with the first walk beginning at 6:30 p.m. followed by the second walk at 7 p.m. Leading the tours are Bill Ward, Shane Black, Garth Lovvorn and Will Weir. All tours depart from the Athens-Limestone County Tourism office located at Big Springs Memorial Park (100 N. Beaty Street). Guests are asked to arrive 10-15 minutes before scheduled tour time. Each walk is approximately 90 minutes and a one-mile walking distance. Please wear comfortable footwear.
Tickets are $10 per person 12 years old and over. Reservations by advanced purchase are required. Tickets are sold at the Athens-Limestone County Tourism office Monday through Friday from 8 a.m. to 5 p.m.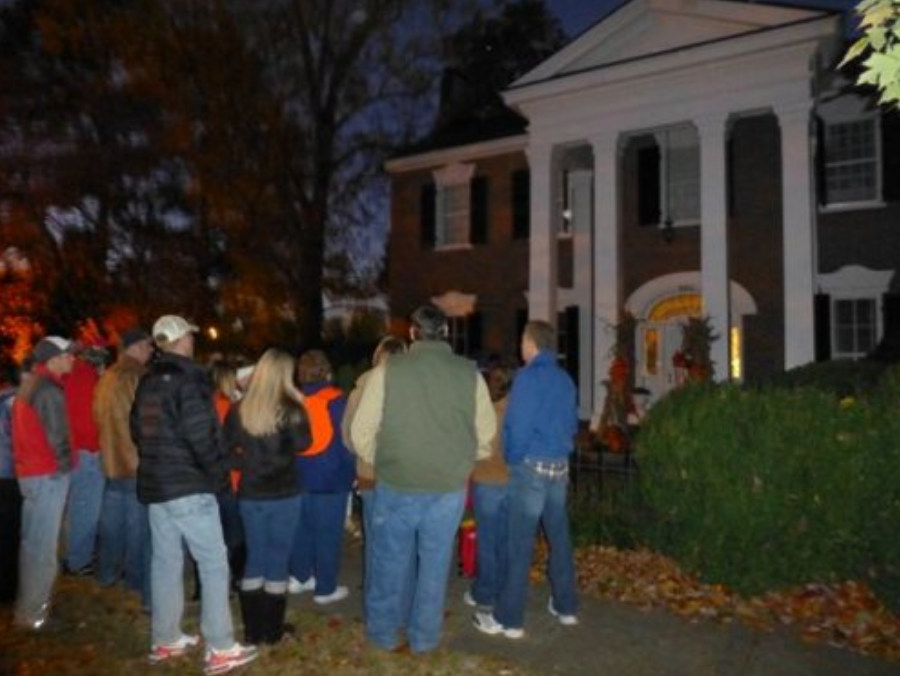 Blount County Covered Bridge Festival
With three covered bridges still in existence, Blount County carries the title of Covered Bridge Capital of Alabama. As a tribute to its roots, a one-day festival is held every year in downtown Oneonta. Set for Saturday, October 9, 2021, the Blount County Covered Bridge Festival offers plenty of family fun including a quilt show, arts and crafts, a rib cook-off, car show, live music, great food, self-guided covered bridge tours and more.
The highlight of the Covered Bridge Festival is the arts and crafts show located in downtown Oneonta's entertainment district. Throughout the day, festivalgoers can peruse the booths of vendors selling an assortment of homemade items, handmade jewelry, artwork, wood creations and more. Festival goers can also check out an assortment of makes and models of cars, trucks, farm tractors, first responder vehicles and motorcycles at the Cruise-In from 9:00 a.m. to 2:00 p.m.
New this year at the Covered Bridge Festival is a cookout for a cause. The Rib Rally, located next to the music stage, will see who can barbeque the best ribs. Grilling teams must present their ribs for judging by 12:30 p.m. and gates will open at 1:00 p.m. for the public to sample the ribs. All proceeds from the event go to the Oscar Bothwell Memorial Scholarship Fund. For more information on the Rib Rally or to register a team, call 205-353-8404 or email brothersq205@gmail.com.
No visit to Blount County would be complete without a stop at one or all of the covered bridges. Constructed in 1934, Horton Mill is the tallest historic covered bridge in the United States standing 70 feet above the water. The 220 foot long bridge crosses the Calvert Prong of the Little Warrior River about 5 miles north of Oneonta off Highway 75. Easley Covered Bridge was constructed in 1927 and is the smallest of Blount's remaining bridges. At just 95 feet long it crosses the Dub Branch, Calvert Prong of the Little Warrior River. It is located off of 231 North in Rosa. Constructed in 1933, Swann Covered Bridge is the longest of Blount's bridges. It spans 324 feet across the Locust Fork of the Black Warrior River. Swann is located in Cleveland.
Sponsored by the Blount County Quilters Guild, a quilt show is scheduled for October 8 and 9 at Palisades Park in Oneonta from 10 a.m. to 4 p.m. Admission is $5. For more information, visit www.blountcountyquiltersguild.com. 
Festival hours are 9:00 a.m. to 4:00 p.m. for the arts and crafts show and the live music and Rib Rally will continue on until 6 p.m. For more information on the Covered Bridge Festival, visit its Facebook page at www.facebook.com/CoveredBridgeFest or call the Chamber office at 205.274.2153.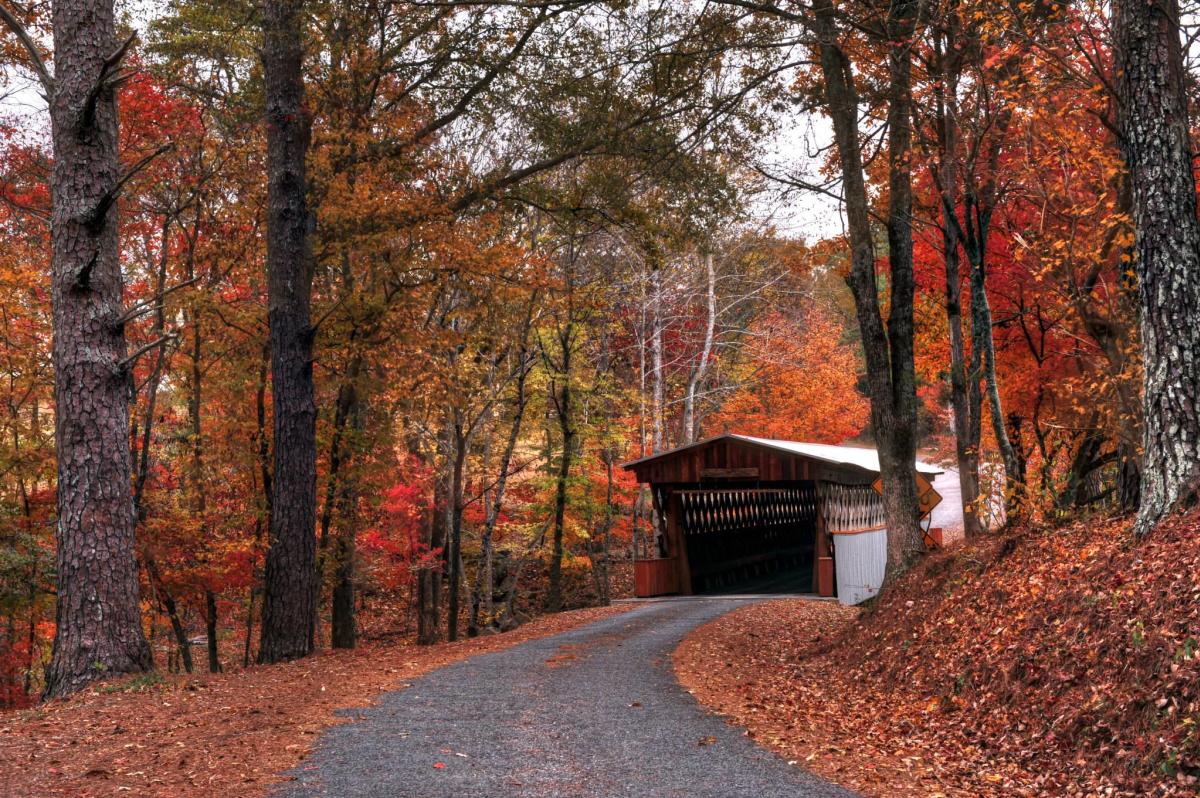 Huntsville Ghost Walks
The Huntsville Ghost Walks will begin another chilling season for Fridays and Saturdays in September and October. All tours begin at Harrison Brothers Hardware Store, located at 124 South Side Square, promptly at 6 p.m. In October, they also have walking tours on Saturday at 8:30 p.m. You choose one of three guided tours through the Twickenham District, the Old Town District, or the Downtown District. Hear stories from Huntsville's haunted past and learn why the spirits remain. Tickets are $10 for adults, $5 for children 12 and under. (from www.huntsvilleghostwalk.com)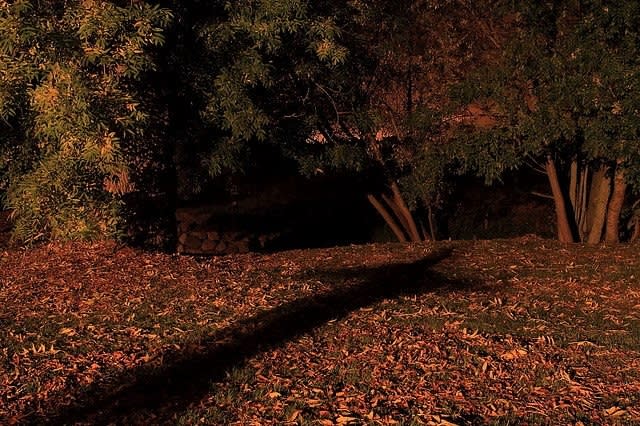 Alabama Gourd Show
An impressive display of unique creations, all handmade from gourds, will be on display the third weekend in October when the Alabama Gourd Show returns at its new location. The annual event is a two-day celebration centered on the beauty and versatility of gourds and features masterfully created works of art from hundreds of artisans, crafters and growers. Following the 2020 cancellation due to the Covid-19 pandemic, the 2021 event is set for October 15-16 at the Sparkman Civic Center in Hartselle and admission is free.  
Hosted by the Alabama Gourd Society, the Alabama Gourd Show offers the public an opportunity to mingle with gourd artisans and admire a variety of unique arts and crafts handmade from gourds. Artists will be demonstrating their gourd art techniques and children can decorate their own gourd to take home as a souvenir for free.
For those who want to get hands-on, classes taught by an experienced gourd artist will be offered (fee charged). Fifteen different gourd art crafting classes, where participants make their own handcrafted gourd, will be offered both days. For more details and to register for a class, go to www.alabamagourdsociety.org and click on classes.
Show hours are 9am-5pm both days. All activities take place at the Sparkman Civic Center, located at 406 Nance Ford Road SW in Hartselle. Admission is free. For more information, visit www.alabamagourdsociety.org or contact Show Chair Emmitt Westmoreland at gourdzilla@aol.com.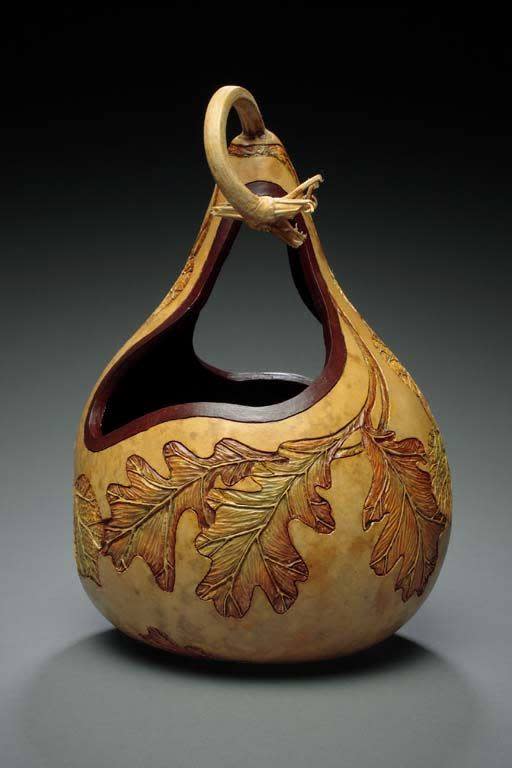 Athens Storytelling Festival
Imagine a crisp fall weekend spent listening to stories of adventure and excitement... a place where memories and magic are captured and spun into tales that make you laugh and cry. The Athens Storytelling Festival is October 20-23 in downtown Athens. You'll hear stories that tell of a time that used to be. Glimpse into the past and live the imaginary. Learn more about your parents, your children, yourself. 

Stories will be told on the courthouse square in Athens, Alabama within close proximity of an eclectic mix of shops offering a wide variety of antiques, gifts, gourmet foods, clothing, and hardware. The courthouse square boasts several warm and inviting restaurants, and food vendors will be present for a good old-fashioned festival fare.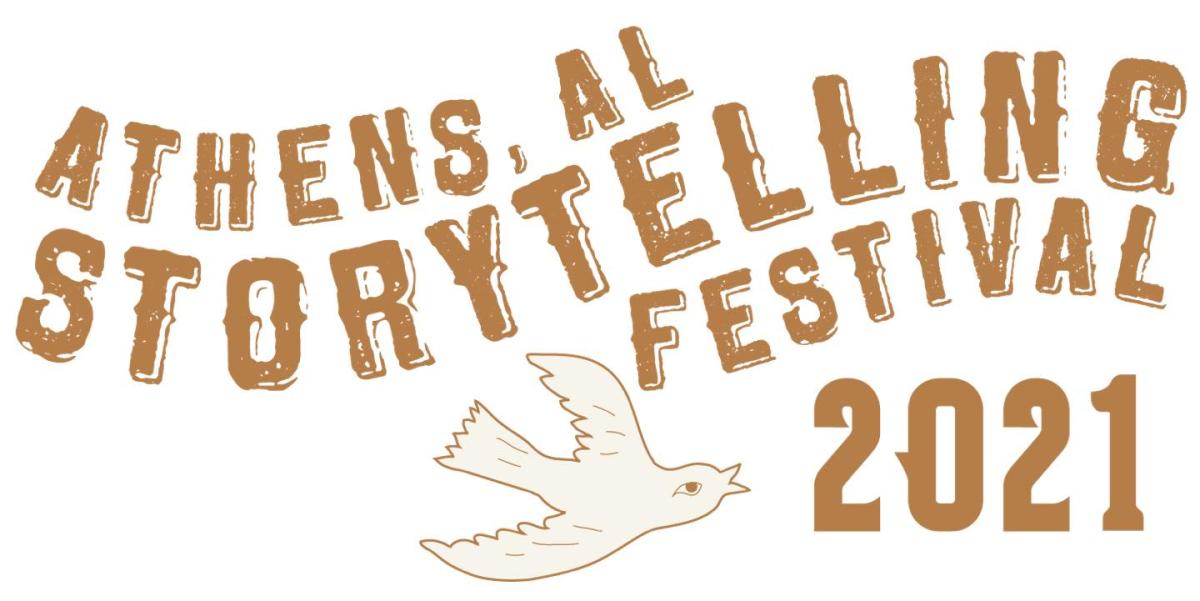 DeSoto State Park's Spookapalooza
 
Join the staff and volunteers of Alabama State Parks, JSU Field Schools, & the National Park Service for a weekend of fun events guaranteed to run shivers up and down your spine! Trick or treating, live animals, storytelling, and more are in store during this popular annual event. All events are free to the public & great for all ages! More details to come.
Date: October 29-31 
Where: DeSoto State Park in Fort Payne, Alabama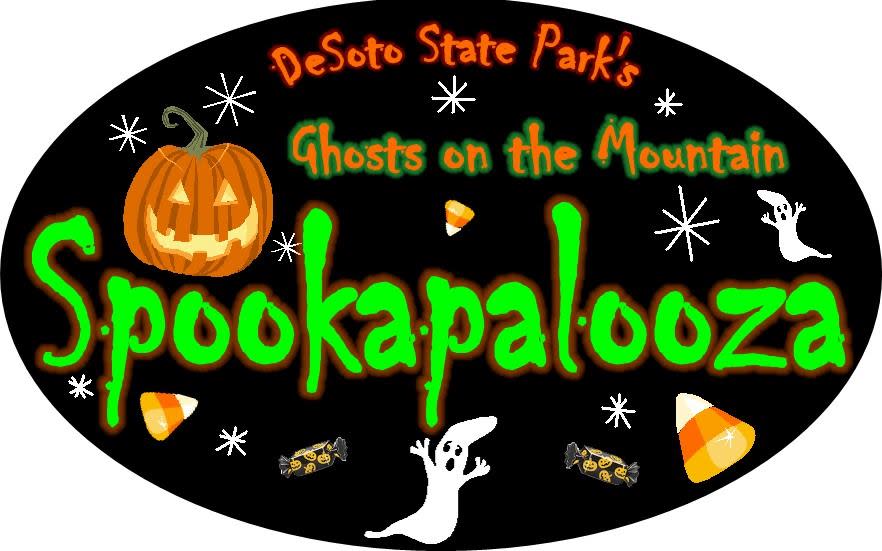 Buttahatchee River Fall Festival
Free family fun is coming to downtown Hamilton the last Saturday in October with the return of the Buttahatchee River Fall Festival. Set for October 30, the family-friendly event offers a day of arts and crafts, live music, motorcycle and car show, kids' area and more. Festival hours are 9 a.m. to 3 p.m. and admission is free.
As festivalgoers arrive for a full day of activities, they will be greeted by hundreds of vintage beauties lining the streets of downtown Hamilton for the motorcycle and car show. Children's activities and live music featuring gospel, country, bluegrass and rock will keep the crowd entertained throughout the day and shoppers can shop for special sales by local merchants and treasures among the arts and crafts vendors who will be selling a variety of items such as handmade traditional folk pottery, gourd art, bird houses, iron works, glass and handmade jewelry. Additional activities include a 5K and one mile run and the historical society will be serving beans and cornbread at the historic Hamilton-Sullins House for those who arrive with an empty stomach.
Hosted by the Hamilton Area Chamber of Commerce, the festival is held in Hamilton, in and around the Court Square of the Marion County Courthouse and throughout the downtown area. 1st, 2nd, 3rd and 4th avenues southwest and 1st and 2nd streets southwest will be closed for traffic. The Buttahatchee River Fall Fest is named after the Buttahatchee River, which zigzags its way through Hamilton and connects with the Tombigbee River in Mississippi.
For more information, visit www.brff.org or call 205.921.7786 or 205.952.9884.