Anne of Green Gables said, "I'm so glad I live in a world where there are Octobers." So are we, Anne.
October has a different feel to it: crisp air, colorful foliage, pumpkins, festivals, and the list goes on. It also has a spooky edge to it as well, and there are several haunted walking tours across the region that tell of the paranormal activity in north Alabama. Here are several North Alabama October events you don't want to miss:
McGee Farm Pumpkin Patch
Located in Florence, McGee Farm Pumpkin Patch is now in its 27th year of opening the family farm for you to find the perfect carving or cooking pumpkin. You have a choice of picking your own orange treasure straight off the vine from the pumpkin patch or from a pile that have been pre-picked. Over 25 varieties of pumpkins are available to choose from, with some growing up to 200 pounds and some as small as a child's hand.
Along with pumpkins of all shapes and sizes, you will be treated to farm-life activities such as playing in hay, taking a scenic tractor-drawn wagon ride, a barnyard bounce, and feeding chickens.
If you want a piece of the autumn season to enjoy at home, fall decorations, such as straw bales, corn stalks and miniature gourds, will be available to purchase. In addition to pumpkins, McGee Farm grows all of the colorful mums that are for sale each year. You can pick from thousands of pots and many color variations.
After shopping for pumpkins, you are invited to stay and enjoy a bite to eat at The Kitchen at McGee Farm. Home-cooked country favorites such as white beans and cornbread, soups, muffins, homemade treats, pies, and more will be available. McGee Farm has a picnic area under a huge oak tree where you can have picnics or can sit and enjoy the scenic countryside. Homemade jams, jellies, and relishes will also be for sale to enjoy at home or to give as gifts for the upcoming holiday season. Open: September 30 - October 31, Monday-Friday 3-6pm, Saturday 10am-6pm, Sunday 1-5pm.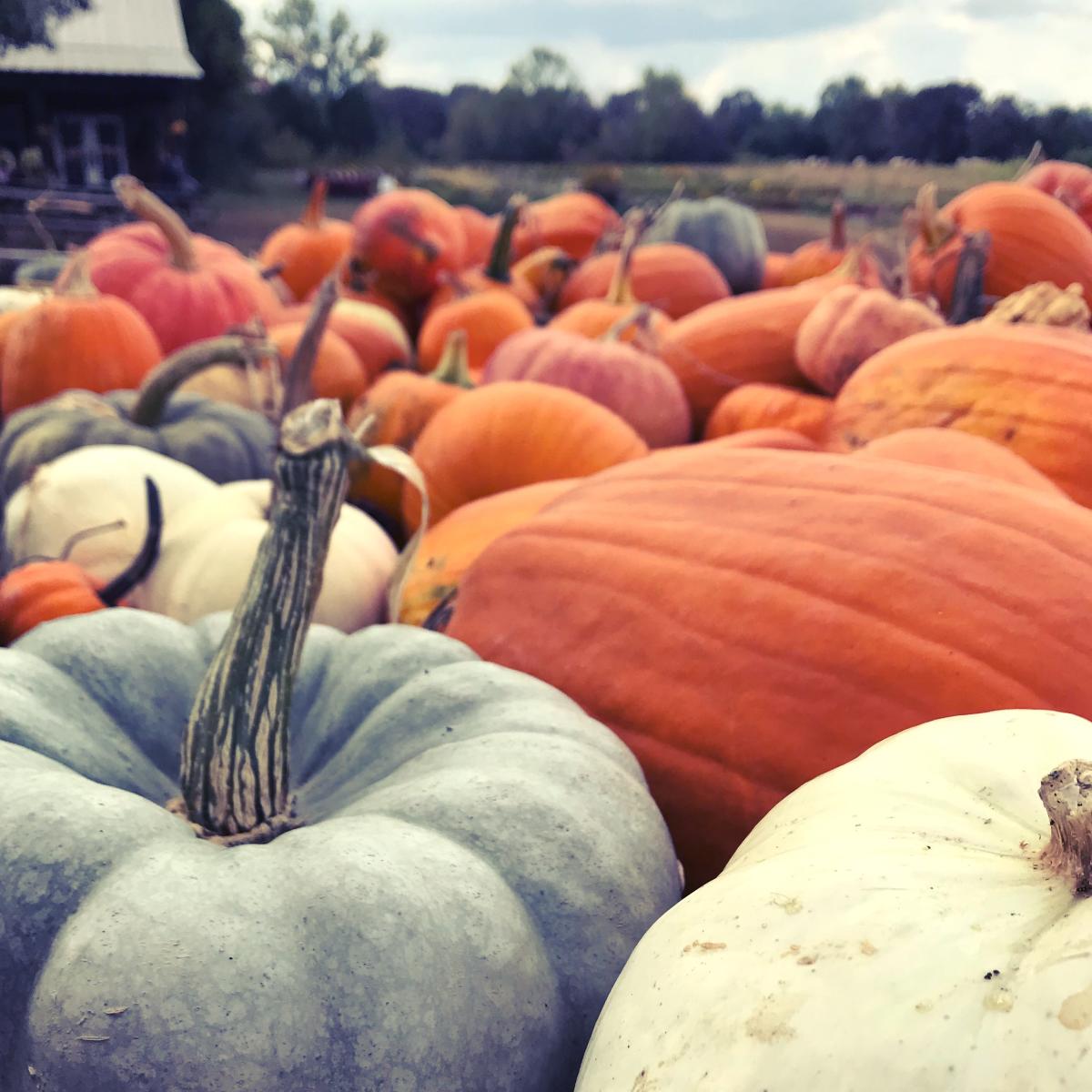 Belue Place Pumpkin Patch
Visit Belue Place Pumpkin Patch to visit a working family farm and find your perfect orange treasure to take home. Belue Place Pumpkin Patch, situated in the northwestern Alabama town of Lexington, is open weekends throughout October, is where families can experience a little bit of farm life and create an unforgettable experience picking pumpkins. Children can take a hayride to the pumpkin patch and pick their very own pumpkin to take home. Other activities include a hay loft jump, cow train rides, tire mountain, horse tire swings, corn crib play area, hay tunnels to wander through, pumpkin painting and storytelling.
Animals abound at the Belue Place and may be petted by the interested or simply observed by the curious. The petting zoo inhabitants include baby goats, miniature horses, rabbits, pigs, chickens, baby chicks, ducks and guineas.
Hours are Saturday 10am-5pm and Sunday 1pm-5pm. Guests are encouraged to practice social distancing and keeping a distance of six feet from anyone not in your immediate family. Admission is $15 per person and provides access to all areas of the pumpkin patch, which includes one pumpkin per person and all activities.
Belue Place Pumpkin Patch is located at 700 County Road 513 in Lexington, Ala. For more information, visit https://www.thebelueplace.com/ or call 256.366.6277.
Hidden Rivers Farm Pumpkin Patch
Picking the perfect pumpkin, getting lost in a maze and experience a bit of farm life are just a few of the activities lined up when you visit Hidden Rivers Farm.
This fall, take the family to visit Hidden Rivers Farm located in Hartselle. for a bounty of fun. The family-owned farm is open the public on Fridays, Saturdays and Sundays through October 30 and offers a variety of activities for people of all ages to enjoy. Activities include a themed maze, animal encounters, pony rides, a corn pit and new for this year are hiking through nature trails and climbing a tire mountain. Visitors to the farm can also take a piece of autumn home by picking their very own pumpkin from the pumpkin patch. For football fans, there will be a tailgate tent with two televisions, cornhole and seating areas, making it the perfect place to enjoy a day of tailgating while the kids play in a safe area. There will also be food trucks and grills available to rent.
Hours of operation are: Fridays 4-8pm and Saturdays and Sundays 10am-7pm. Hidden Rivers Farm is located at 295 Goose Pond Road in Hartselle.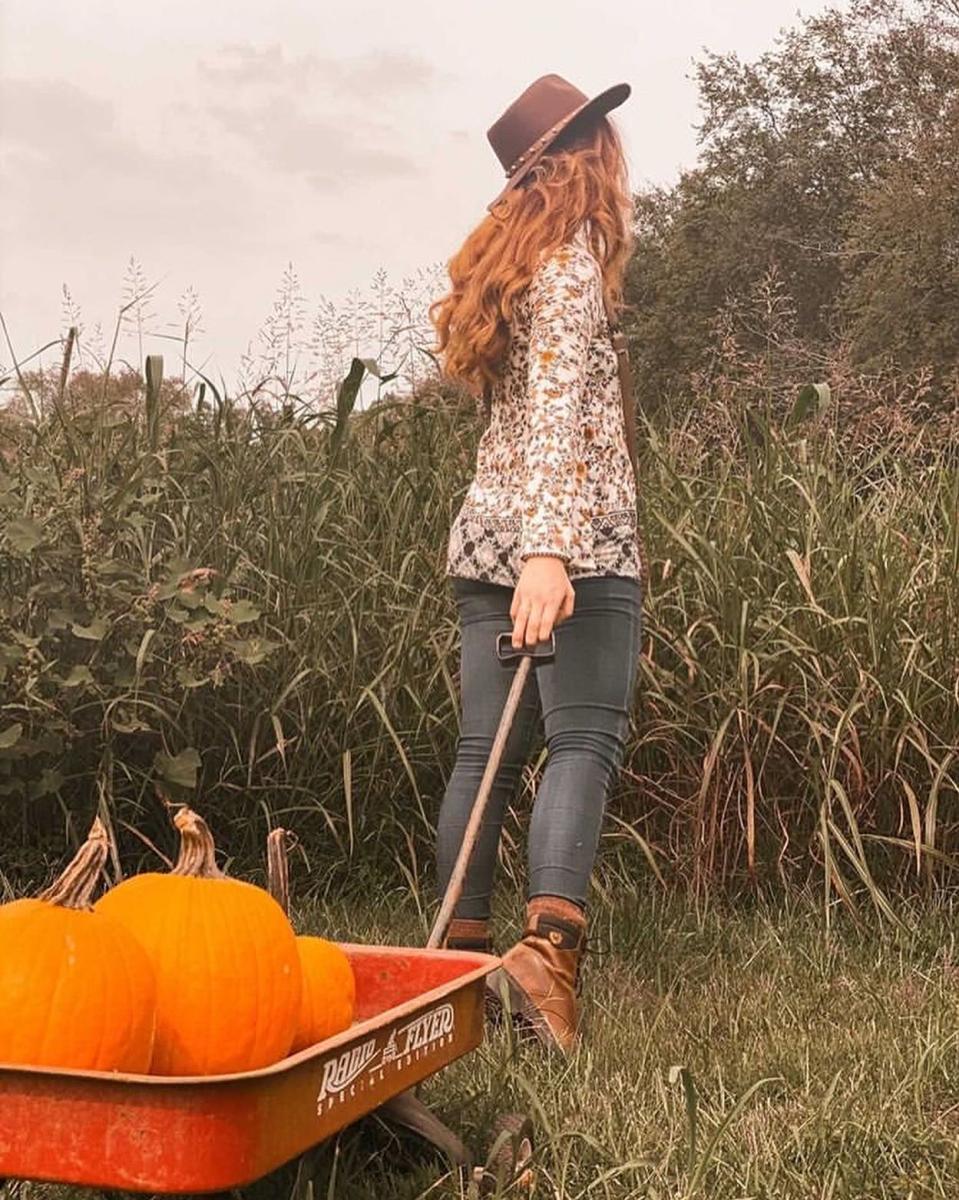 Cornutt Farms
For those in search of pumpkins or an amazing display of beautiful blooms, Cornutt Farms has both. The working crop and cattle farm in Boaz welcomes the public to its pumpkin and sunflower patch every Saturday until October 29.
This year, Cornutt Farms is combining the sunflower patch with their 15-acre pumpkin patch. Visitors are able to pick their own home-grown pumpkin straight off the vine and pick the most beautiful sunflower in the field. The fields will be full of sunflowers to enjoy and offer picturesque backgrounds for family photos. Along with picking pumpkins from the pumpkin patch and enjoying the beauty of the sunflower field, there will be on-the-farm activities for everyone to experience.
Admission to the pumpkin patch is $10 per person (cash) or $11 per person (credit card). Admission is free for children two years old and under. Admission includes one free pumpkin, five free sunflowers, hay ride to the pumpkin patch, petting zoo, corn cribs, tractor playground, big truck turbo slide, cow trains, bouncy house and some other new attractions. Hours are 9 a.m. to 5 p.m. on Saturdays from Sept. 24 to Oct. 29, 2022. For more information, visit www.cornuttfarms.com or call 256-572-6347.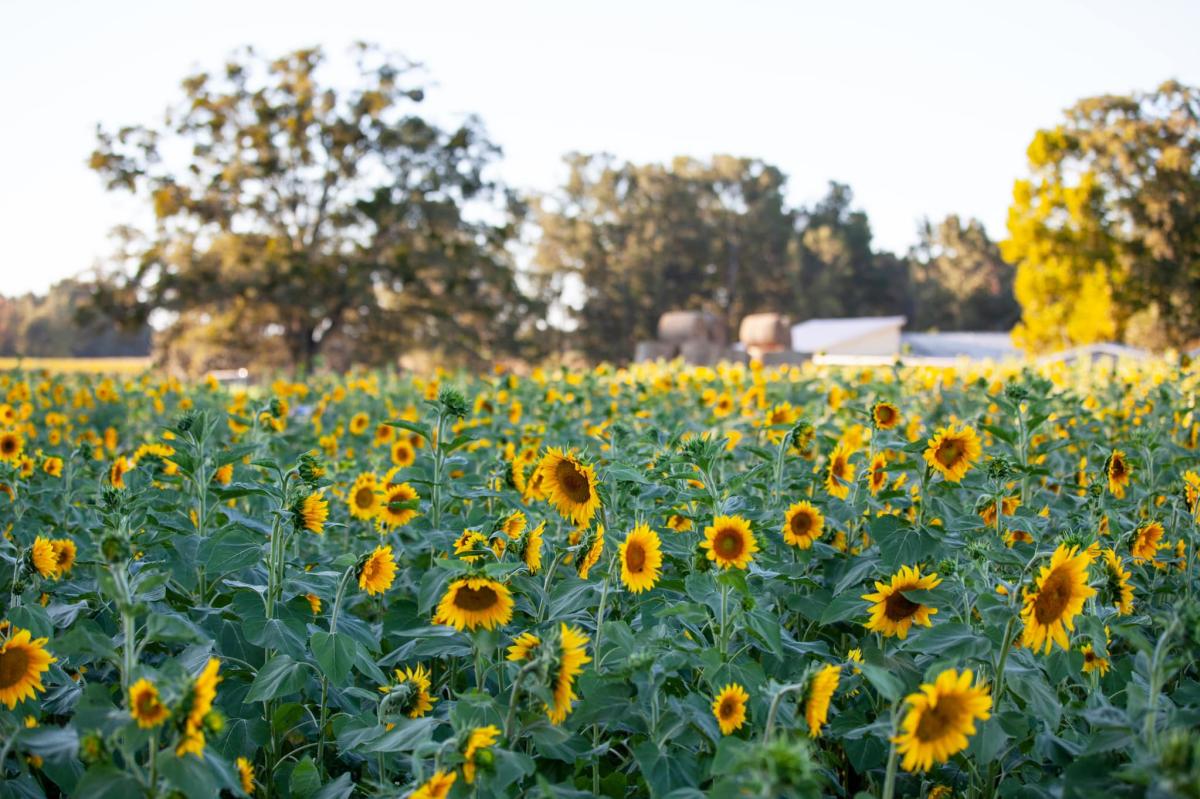 Festifall at Huntsville Botanical Garden
Nothing says FALL quite like Festifall at the Huntsville Botanical Garden! Their two-month celebration of the changing seasons features pumpkins, scarecrows, campouts, nature hikes, and more. As the air turns crisp and the leaves begin to change color, there's no better place to connect with nature and enjoy the beauty of autumn.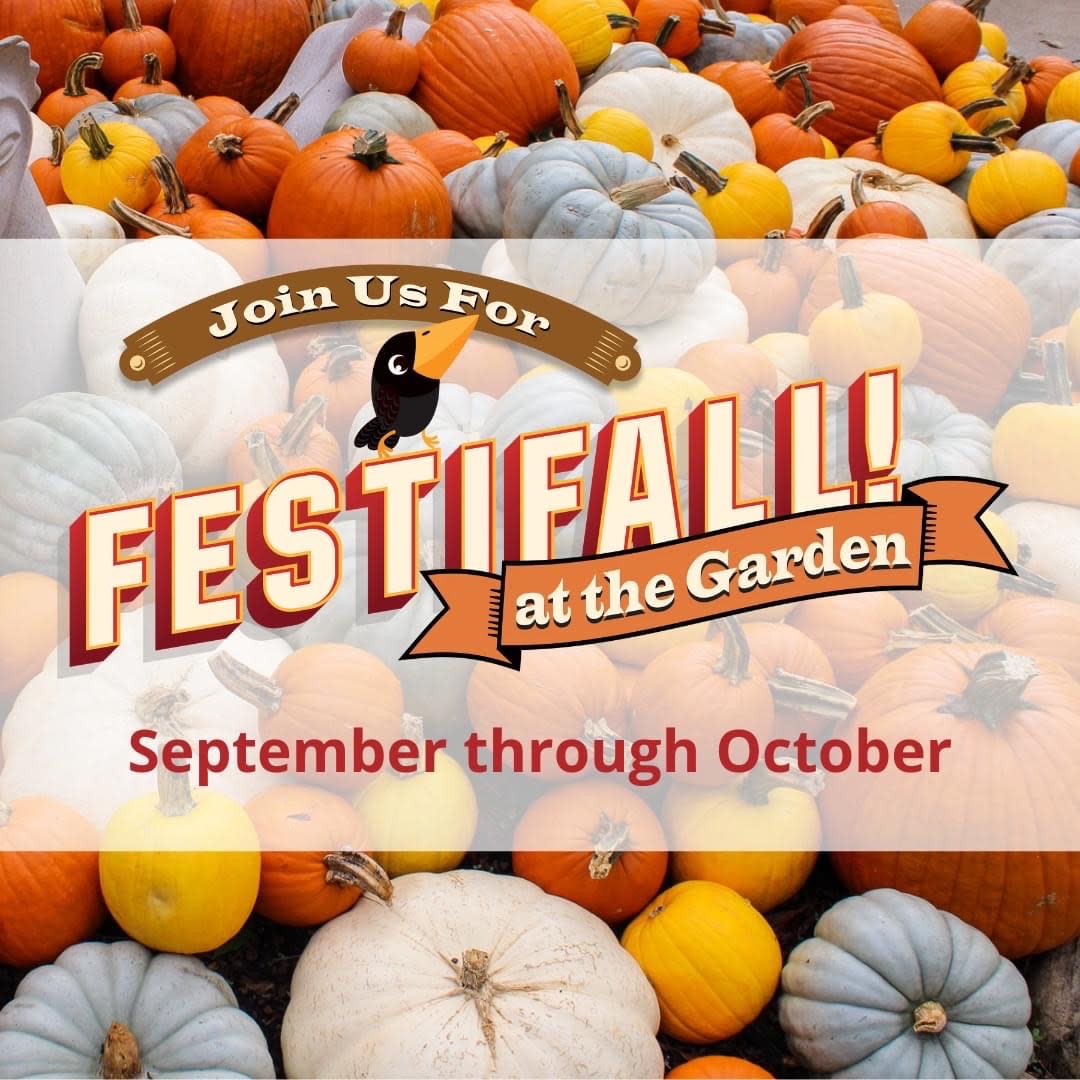 Athens Haunt Walks
In celebration of Halloween, Athens-Limestone County Tourism is offering haunted walking tours next month giving visitors and locals a chance to explore the town by night. Held every Tuesday and Thursday night in October, the Athens Haunts Walks takes guests on a spooky 90 minute walking tour that uncovers paranormal activity, ghoulish legends and hauntings in the historic downtown area.
During Athens Haunts Walk, experienced and entertaining tour guides tell spooky stories of paranormal activity at 13 local structures. Stories include the college student who fell to her death and is said to still roam the halls at Athens State University's Founders Hall and the great 1893 fire that burned the wooden buildings on Marion Street. Tours include a stop at Founders Hall where the students of the then-named Athens Female Institute watched Union and Confederate soldiers battle and the steps of the Houston Library where a crowd gathered on the night voters elected George Houston as the state's first governor after reconstruction.
Now in its 15th year, Athens Haunts Walk is suitable for adults and children in grades 4 and up. In the past, tour participants have included both believers of paranormal behavior and some skeptics of the supernatural. The tours are also a way to get to know more about Athens and its history and lore.
The tours take place every Tuesday and Thursday night in October at 7pm and 7:30pm. Tours are $15 for adults and $10 for kids. Wagon Tours are at 6:30pm and are $25. All tickets are advance purchase from www.Eventbrite.com.
All tours depart from the Athens-Limestone County Tourism office located at Big Springs Memorial Park (100 N. Beaty Street). Guests are asked to arrive 10-15 minutes before scheduled tour time. Each walk is approximately 90 minutes and a one-mile walking distance. Please wear comfortable footwear.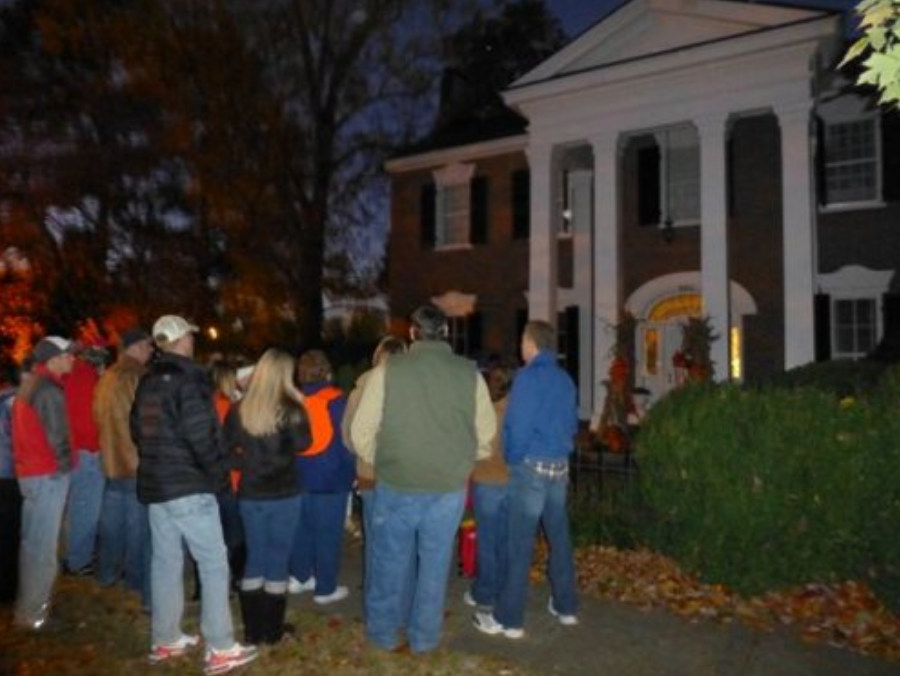 Tennessee Valley Old Time Fiddlers Convention
Thousands of visitors and musicians will make their way to the North Alabama town of Athens next month for the "Granddaddy of Midsouth Fiddlers Conventions." The Tennessee Valley Old Time Fiddlers Convention is set to return to the campus of Athens State University and will run from October 4-7. Along with the crowning of a new Tennessee Valley Old Time Fiddle champion, the three-day event offers concerts, food vendors and arts and crafts on a theme of authentic workmanship while celebrating traditional old time music.
The Tennessee Valley Old Time Fiddlers Convention attracts approximately 15,000 folk music fans and more than 200 musicians who will be vying for over $47,000 in prize money in 19 different categories of competition, including several fiddle and guitar categories, mandolin, bluegrass, banjo, old time singing and Appalachian buck dancing. The Convention culminates on Saturday evening when the new Tennessee Valley Old Time Fiddle champion is announced. Competition gets underway Friday at 7pm and resumes Saturday at 9:30am. Finals are held on the Founders Hall stage beginning at 7pm.
In addition to the competitions, the Fiddlers Convention features concerts, some with free admission. All concerts will take place on the main stage at Founders Hall. The concert line-up includes:
Wednesday, October 4 at 7 p.m. – Appalachian Roadshow (special gospel concert) *Free admission.
Thursday, October 5 at 6:30 p.m. – Clearview Bluegrass *Free admission.
Thursday,  October 5 at 7 p.m. - Appalachian Roadshow (bluegrass concert) *Free admission.
Friday, October 6 at 6 p.m. – The Grascals
Saturday, October 7 at 7:30 p.m. – The Dan Tyminski Band
The convention also includes a variety of food vendors and approximately 150 old-fashioned juried arts and crafts booths offering an assortment of items from traditional artwork to coal-fired metal works with an emphasis on handmade creations will be open for business during festival hours.
Cost of admission is $20 per adult for Friday, $20 per adult for Saturday, or $25 per adult for a weekend pass. Children under 12 will be admitted free with a paid adult. Tickets can be purchased at the gate or online at https://www.tvotfc.org/guests/. In event of rain, the competition will be held in Carter Gymnasium with limited capacity. Pets and coolers are not allowed. Festivalgoers are encouraged to bring lawn chairs. For more information, visit http://www.tvotfc.org.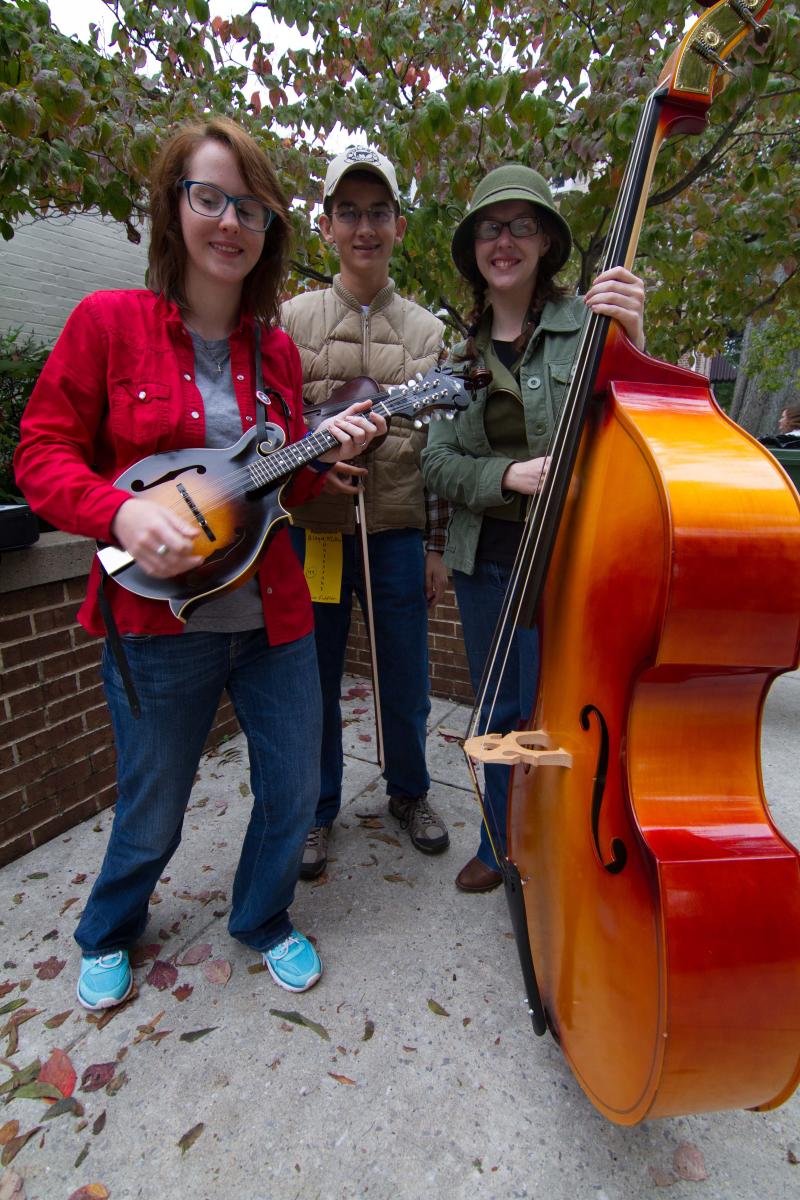 Boaz Harvest Festival
October is knocking on the door which means towns and communities across North Alabama are gearing up for their fall celebrations. Set for October 6-7, the Boaz Harvest Festival invites everyone to downtown Boaz for two days of family-friendly fun including live music, arts and crafts, contests, car show, beauty pageant and more.
Cooler temperatures are a welcoming sign for taking to outdoor activities. During the Harvest Festival, there will be an assortment of arts and crafts vendors for shoppers to find that one-of-a-kind item as gospel, country and bluegrass music fills the air. Additional activities to enjoy include a classic car, truck and jeep show, a cornhole tournament, pumpkin contest and there will be food trucks to please everyone's appetite. On Saturday, the car, truck, jeep, motorcycle and tractor show will be set up from 8am-12pm and the Miss Harvest Festival pageant gets underway at 9am at the Old Mill Park. Many of the shops located in the downtown area will have sidewalk sales and special offers in addition to the festivities.
The free event, now in its 59th year, takes place in downtown Boaz, from Bartlett Avenue to Old Mill Park and gets underway at 8am and concludes at 6pm both days. For more information on the Harvest Festival, call the Boaz Area Chamber of Commerce at 256.593.8154.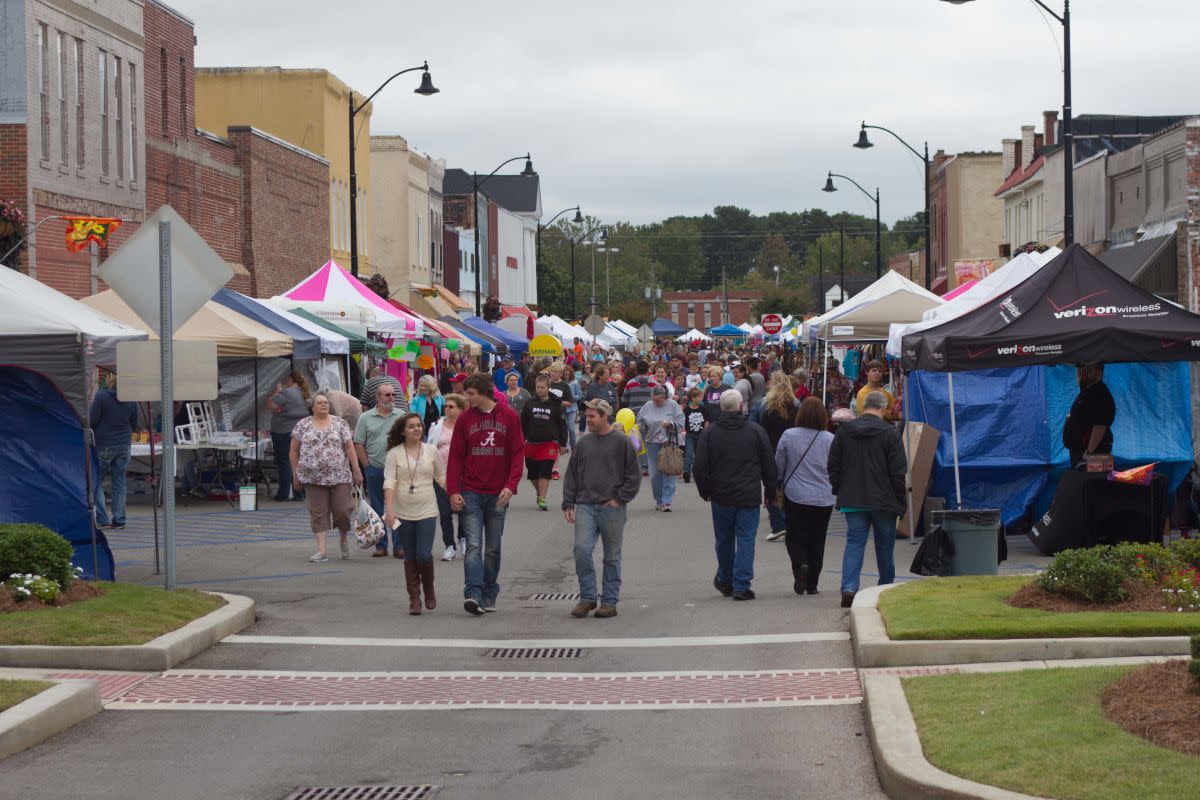 Cruise and Croon
Downtown Oneonta welcomes the return of its outdoor celebration of cars, music, shopping and dining beginning next month on the first Saturday through October in 2023. Presented by the All American Cruisers, Cruise and Croon rolls into town for the first time in 2023 on April 1, bringing with it free entertainment for locals and visitors.
Cruise and Croon welcomes locals and visitors to the downtown area for an evening of classic cars and music. Car owners from the surrounding area will bring their classic cars to show off and merchants will extend their business hours so eventgoers can shop and mingle. A DJ will fill the air with plenty of good tunes as everyone enjoys an evening of free family fun.
Set for Apr. 1, May 6, June 3, July 1, Aug. 5, Sept. 2 and Oct. 7, Cruise and Croon will be set up along 1st Avenue East in downtown Oneonta and hours are from 5:00 to 8:00 p.m. The event is free and open to the public and is held rain or shine. Everyone is encouraged to bring lawn chairs and blankets and enjoy an evening with family and friends. Downtown shops and eateries will be open and there will be food trucks scattered throughout to satisfy any appetite.
For more information, visit the All American Cruisers Facebook page for the latest information.​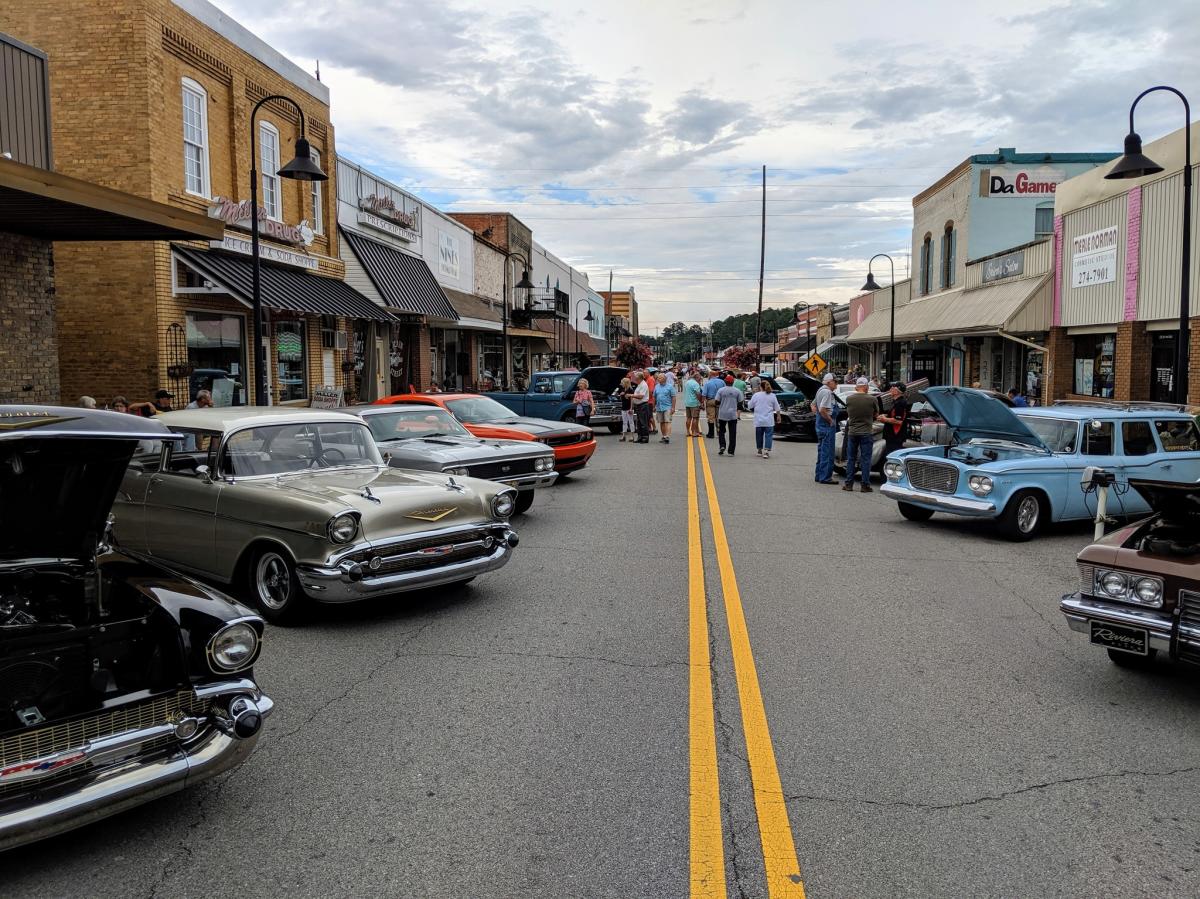 Scottsboro BBQ Festival
The aroma of slow-cooked barbeque fills the air around the picturesque downtown square of Scottsboro the second Saturday in October when the annual Scottsboro BBQ Festival sets up. The one day event welcomes award-winning pit masters and local barbeque gurus who battle it out to see who has the best chicken, ribs, pulled pork and dessert while raising funds for a local charity. Along with the barbeque competition, a variety of activities are offered to keep everyone entertained throughout the day.
Set for Saturday, October 14, the Scottsboro BBQ Festival is a Kansas City Barbeque Society and an Alabama Barbeque Association sanctioned event and features three competitions. The backyard competition is for serious grill masters who are trying to become the grand champion and the people's choice competition is where festivalgoers can purchase a $10 ticket and sample up to 10 butts and up to 10 desserts and vote for their favorite. The Kids-Q is open to ages 7 to 12 years old to see who can grill the best burger.
Other activities include a Barq-Off dog parade with prizes for the best costume, best groomed and best performer, an official Alabama cornhole tournament, a car, truck and cycle show; a beer garden, food vendors and art and craft vendors. A free kids fun zone allows the little ones to enjoy a day of activities including inflatables, games, climbing wall, pumpkin bowling, face painting and more.
Festival hours are 9am-7pm and admission is free. All activities take place on the Downtown Square located at 316 S Broad Street in Scottsboro. For more information, visit http://scottsborobbqcookoff.com/.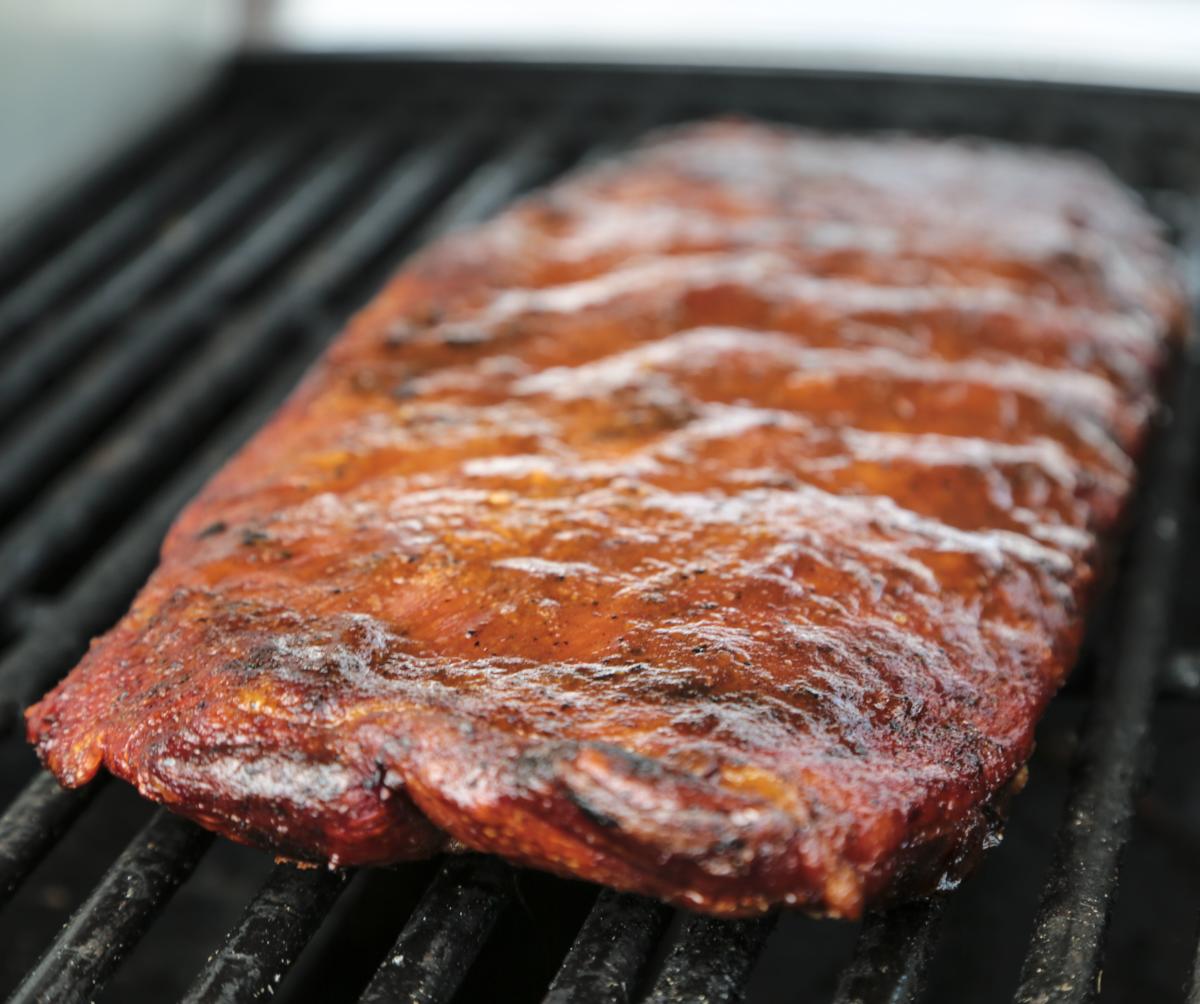 River Clay Fine Arts Festival
Set for October 21-22, River Clay Fine Arts Festival welcomes 70 local and national artists who will bring their works of art and unique creations to the River City for a celebration of the visual arts. In addition to the artist market, festivalgoers are treated to chalk art, student art exhibits, live music and more.
The juried art festival made its debut in 2015 as a way to bring artists and art lovers together. This year, the two-day outdoor art festival features artwork from talented artists from 13 different states who will be selling a variety of original works of art, including ceramics, drawings, fiber, glass, jewelry, metalwork, mixed media, paintings, photography, printmaking, sculptures and wood. Children of all ages are invited to take part in the children's art area through fun activities to express their creativity. 
Along with experienced artists, the festival celebrates up-and-coming artists from local schools. Festivalgoers will enjoy seeing the display of artwork representing students from public and private schools from across Decatur City, Hartselle City and Morgan County school systems.
Attendees can look forward to the annual RiverChalk art competition where competitors create elaborate works throughout the weekend event. Past RiverChalk winners include Decatur native Adam Stephenson and Sonia Summers of Knoxville, Tenn. The winner will be announced Sunday afternoon.
In addition to purchasing one-of-a-kind creations, festivalgoers have an opportunity to connect with the artists and to learn more about them. Food trucks will be on-site, offering festivalgoers the opportunity to picnic and beer and wine will be available to purchase.
River Clay is held on the grounds of Decatur City Hall located at 402 Lee Street NE in downtown Decatur. Hours are 9am-5pm on Saturday, October 21, and 10am-4pm on Sunday, October 22. Admission is $5 per person for a weekend pass. Children 12 years old and under get in free and must be accompanied by an adult.
A limited number of tickets is available for River Clay Rendezvous to be held Friday, October 20, from 5-9pm for those who wish to preview the works offered by the selected artists. Guests will check in at the River Clay Artist Market between 5 and 7 p.m. to receive their event pass and to preview and buy the artists' works while enjoying beverages and hors d'oeuvres. From 7-9pm, Rendezvous ticket holders and the artists are invited to the Rendezvous Social at the Alabama Center for the Arts (ACA) to enjoy more food, beverages, entertainment and the art exhibit in the ACA Gallery. Additionally, the Rendezvous ticket includes weekend admission to the festival. River Clay Rendezvous tickets are $60 per person and may be purchased online at www.riverclay.org or by calling Jennifer Bunnell at the Alabama Center for the Arts at 256-260-4299. For more information on the River Clay Fine Arts Festival, including a list of participating artists, visit www.riverclay.org.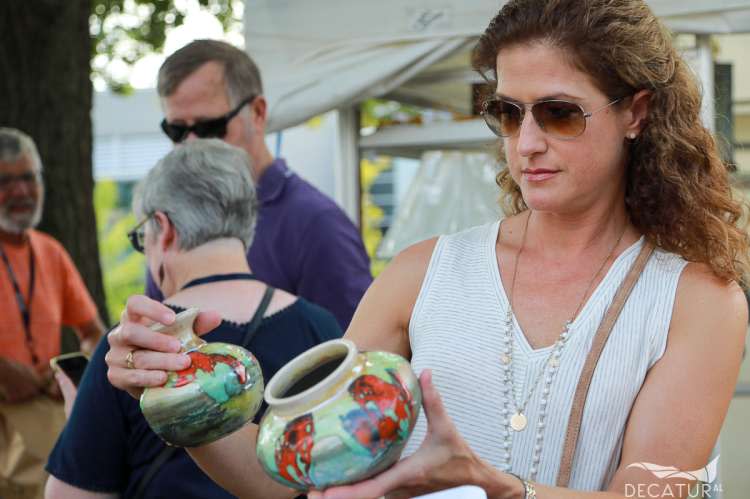 Blount County Covered Bridge Festival
With three covered bridges still in existence, Blount County carries the title of Covered Bridge Capital of Alabama, and as a tribute to its roots, a one-day festival is held every year in downtown Oneonta. Set for Saturday, October 14, the Blount County Covered Bridge Festival offers plenty of family fun including a quilt show, arts and crafts, a rib cook-off, car show, live music, great food, self-guided covered bridge tours and more.
The highlight of the Covered Bridge Festival is the arts and crafts show located in downtown Oneonta's entertainment district. Throughout the day, festivalgoers can peruse the booths of vendors selling an assortment of homemade items, handmade jewelry, artwork, wood creations and more. Festival goers can also check out an assortment of makes and models of cars, trucks, farm tractors, first responder vehicles and motorcycles at the Cruise-In from 9 a.m. to 2 p.m.
The second annual Rib Rally, now sanctioned by the Kansas City Barbecue Association, returns to the Covered Bridge Festival and determines who can barbeque the best ribs. Kids ages 10 to 18 years old can participate by competing in the first ever burger cookoff. Grilling teams must present their ribs for judging by 12 p.m. and gates will open at 12:30pm for the public to sample the ribs. Cost is $2 per rib to sample. All proceeds from the event go to the Oscar Bothwell Memorial Scholarship Fund. For more information on the Rib Rally or to register a team, call 205-353-8404 or email brothersq205@gmail.com.
Before heading to the festival, stop by the pancake breakfast at Lester Memorial United Methodist Church, benefiting the Children's Center, from 7-10am. Tickets are $5 per person.
Festival hours are 9am-4pm. Admission is free. For more information on the Covered Bridge Festival, visit its Facebook page at www.facebook.com/CoveredBridgeFest or call the Chamber office at 205.274.2153.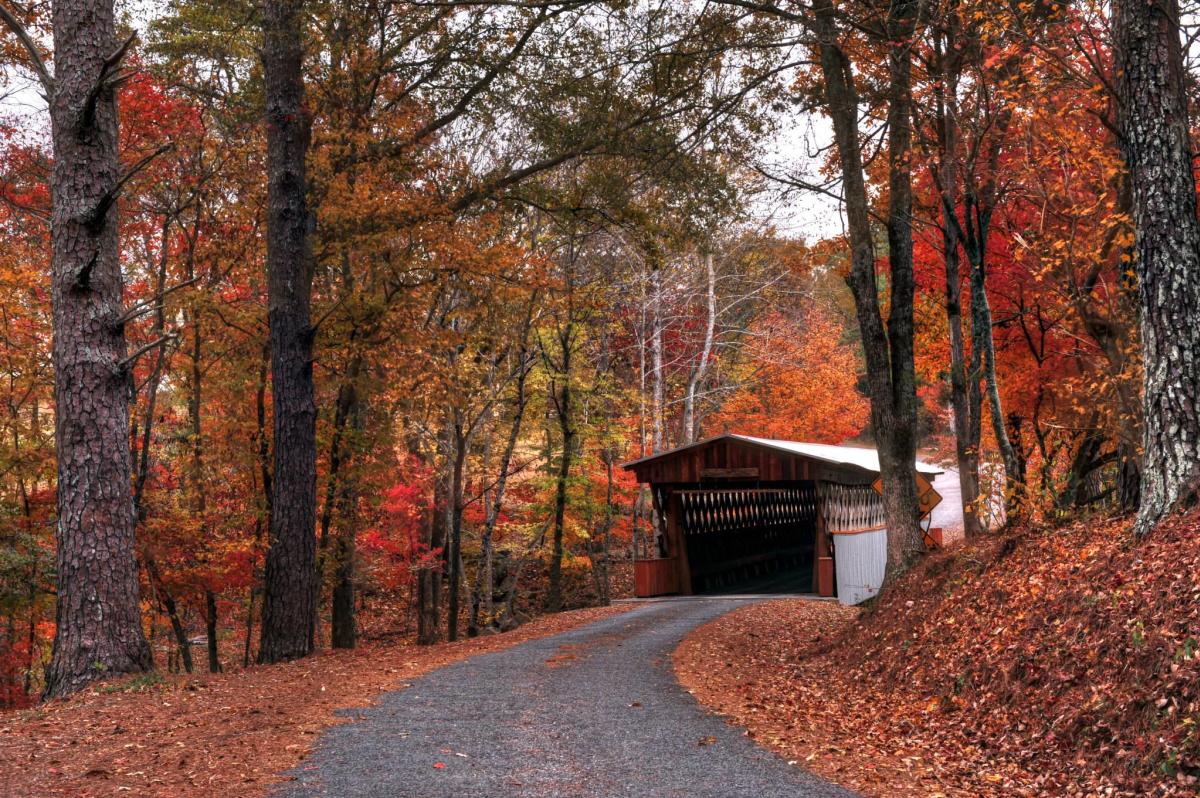 Downtown Decatur 3rd Friday
Downtown Decatur 3rd Friday invites locals and visitors to explore the downtown area through an evening of family-friendly entertainment. During the monthly street party, antique cars are parked on Second Avenue between Lee and Moulton streets, line dancers can be seen performing in the intersection of Moulton Street and children are treated to a variety of activities in the kid's zone located in the block from Johnston Street to Grant Street. 
Festival goers are encouraged to bring lawn chairs, or they may want to check out the front porch offered by Merit House which also will have a wonderful view of last year's popular attraction, the mechanical bull, which will be located in front of Absaroka. Festivalgoers can try their luck on the mechanical bull for $5/ride. For those arriving hungry, festivalgoers have the choice of one of several locally owned restaurants and food trucks will be set up on Grant Street with tables and chairs available for patrons to sit and enjoy their food.
In addition, festivalgoers can catch store specials, giveaways and discounts at select downtown merchants and browse and purchase unique items from artists, craft vendors and artesian goods vendors selling handmade items in the area of Second Avenue from Moulton Street to Johnston Street. 
3rd Friday is concentrated in the 2nd Avenue area only (including Holly Street, Moulton Street, Johnston Street and Grant Street). Beginning at 4:30 p.m. streets will begin to be blocked and will be closed to traffic from 5:30 until 8:30 p.m. Second Avenue from Gordon Drive to Lee Street and Moulton Street from First Avenue to Goody 2 Shoes will be closed. The cross streets, Johnston and Grant streets will be closed before the intersections at Second Avenue in order for guests to have access to the public parking lots.
For more information on 3rd Friday, visit www.facebook.com/3rdfridaydowntown/.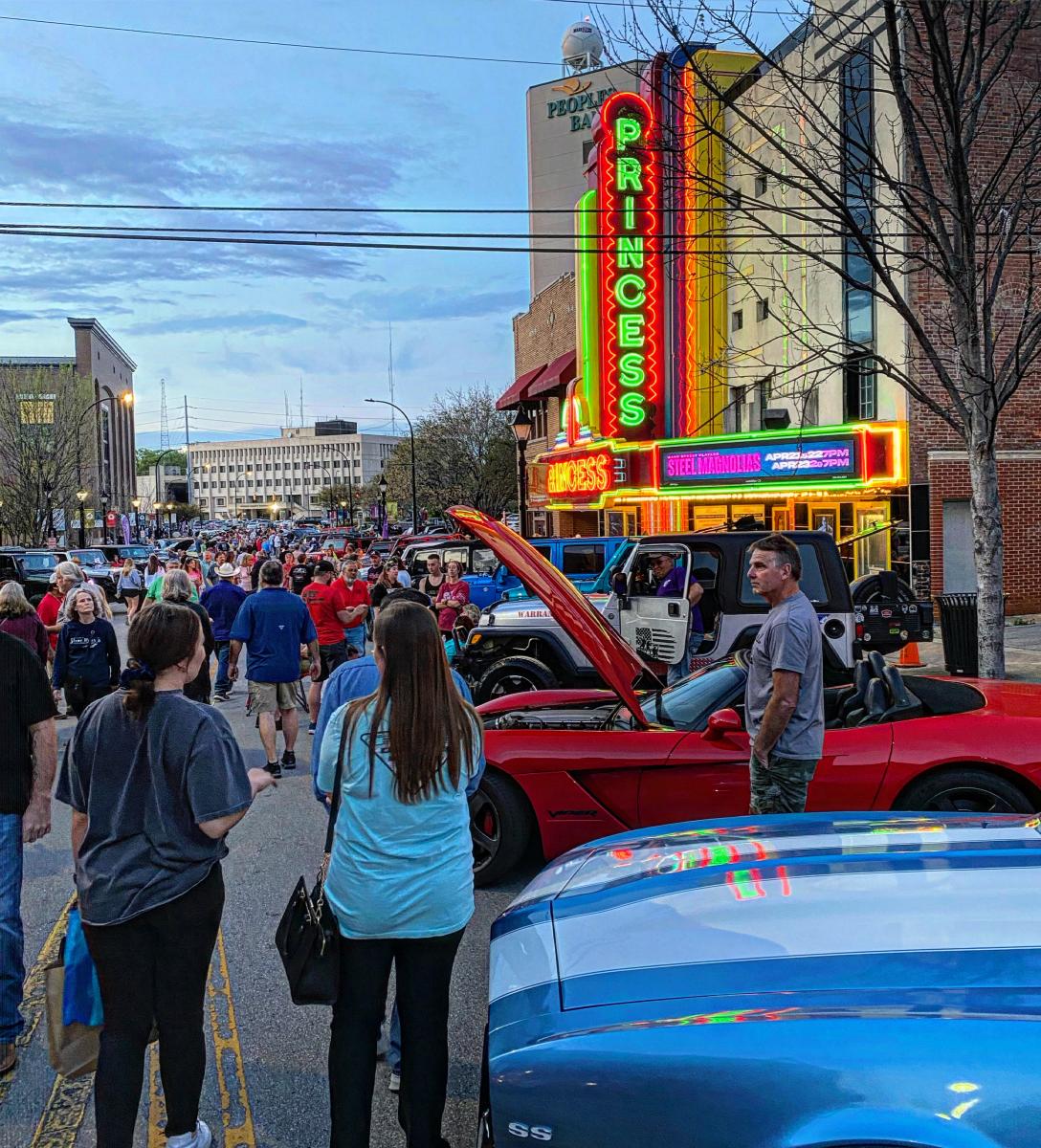 Alabama Gourd Show
An impressive display of unique creations, all handmade from gourds, will be on display next month when the Alabama Gourd Show returns to Hartselle. Set for October 20-21 at the Sparkman Civic Center in Hartselle, the annual event is a two-day celebration centered on the beauty and versatility of gourds and features masterfully created works of art from hundreds of artisans, crafters and growers. While it may not be winter yet, the theme for the 2022 Alabama Gourd Show, "I'm Dreaming of a Gourd Christmas," will have festivalgoers in the holiday spirit, offering an opportunity to shop for beautiful, unique pieces of art just in time for the upcoming holiday season.
Hosted by the Alabama Gourd Society, the Alabama Gourd Show offers the public an opportunity to mingle with gourd artisans and admire a variety of unique arts and crafts handmade from gourds. Artists will be demonstrating their gourd art techniques and children can decorate their own gourd to take home as a souvenir for free.
For those who want to get hands-on, classes taught by an experienced gourd artist will be offered (fee charged). Nine different gourd art crafting classes, where participants make their own handcrafted gourd, will be offered both days. For more details and to register for a class, go to www.alabamagourdsociety.org and click on classes.
Show hours are 9am-5pm both days. All activities take place at the Sparkman Civic Center, located at 406 Nance Ford Road SW in Hartselle. Admission is free. For more information, visit http://www.alabamagourdsociety.org/html/2022_show.html or contact Show Chair Emmitt Westmoreland at gourdzilla@aol.com.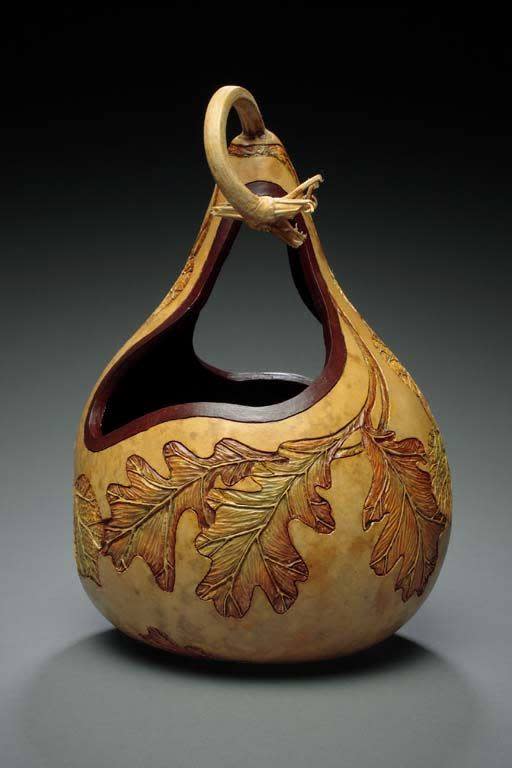 Athens Storytelling Festival
Some of the nation's most highly acclaimed storytellers will make their way to North Alabama next month for the city of Athen's annual celebration of storytelling, tall tales, and readings. Now in its seventeenth year, the Athens Storytelling Festival returns to campus of Athens State University October 24-28, 2023, bringing with it stories of adventure and excitement.
The Athens Storytelling Festival kicks off on Tuesday evening, Oct. 24 at 6:30 p.m. with a Student Tellers Olio. Admission is free. Thursday, beginning at 7:30 p.m., enjoy the energetic musical stylings of award-winning swing band, Three on a String. Admission is $25/adult and $15/child.
Slated to appear on Friday and Saturday are many of the favorite performers from previous years including author Donald Davis, National Storytelling Festival favorite Bil Lepp, highly accomplished old-time bluegrass and swing musician Josh Goforth, 2022 West Virginia Folk Artist of the Year Adam Booth and former teachers Randy Evensen and Carol Cain.
Stories will be told under the big tent on the campus of Athens State University by Brown Hall, located at 300 N. Beaty Street, five blocks from downtown Athens. Hours are 9 a.m. to 8:50 p.m. Friday and 9 a.m. to 8:55 p.m. Saturday. In addition, food vendors, local restaurants and an eclectic mix of shops offering a wide variety of antiques, gifts, gourmet foods, clothing and hardware will be open just a short walk from the festivities. A complimentary shuttle from the festival tent grounds to downtown Athens will also be provided.
Ticket price for admission to all events (excluding school days) are $90/adult and $50/child (16 years and younger). Tickets for any combination of events or daily admission are also available. Tickets may also be purchased at UG White Mercantile located on the square in downtown Athens. All ticket holders must stop by the Ticket Office to pick up their swatches, which will allow them entrance to the tent during their ticketed times. The Ticket Office opens 1 hour prior to festival events.
For complete ticket pricing, a biography on each storyteller and a schedule of events, visit www.athensstorytellingfestival.com.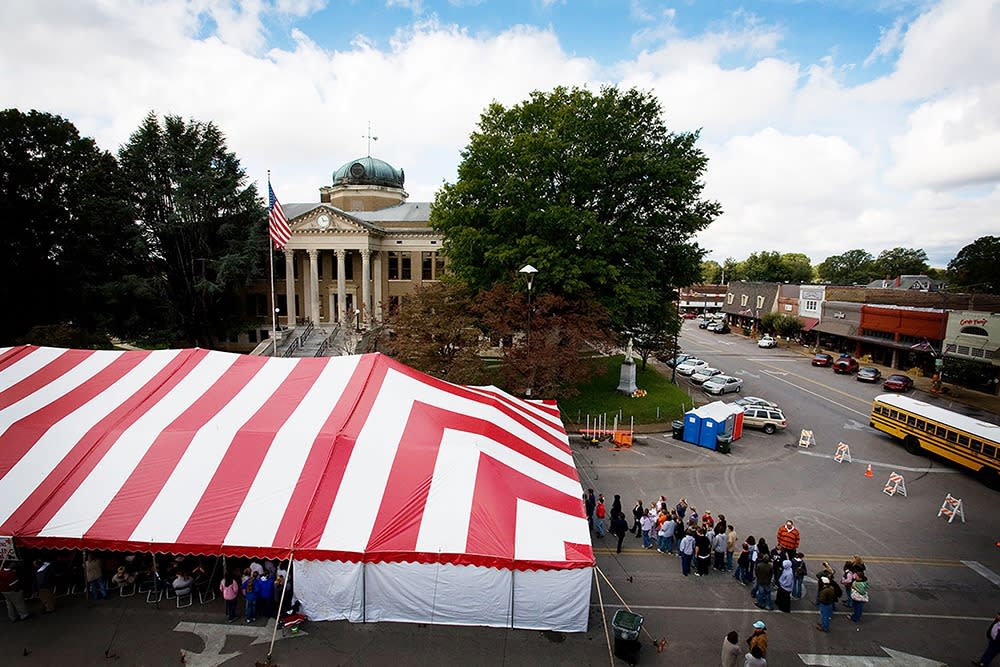 Buttahatchee River Fall Festival
Everyone is invited to join the Hamilton Area Chamber of Commerce for some free family fun in downtown Hamilton the last Saturday in October. The Buttahatchee River Fall Festival is a family-friendly event offering a day of arts and crafts, music, classic cars, kids' area and more. The seventeenth annual festival is set for Oct. 28, 2023, and hours are 9 a.m. to 3 p.m.
As festivalgoers arrive for a day of activities, they will be greeted by hundreds of vintage beauties lining the streets of downtown Hamilton for the car show. Children's activities and live music will keep the crowd entertained throughout the day and shoppers can shop for special sales by local merchants and treasures among the arts and crafts vendors who will be selling a variety of items such as handmade traditional folk pottery, gourd art, bird houses, iron works, glass and handmade jewelry. The motorcycle benefit ride takes to the streets at 10 a.m. (weather permitting). Registration for the ride is $20 per bike and will be from 8:30 to 10 a.m.
Hosted by the Hamilton Area Chamber of Commerce, the festival is held in Hamilton, in and around the Court Square of the Marion County Courthouse and throughout the downtown area. 1st, 2nd, 3rd and 4th avenues southwest and 1st and 2nd streets southwest will be closed for traffic. Admission is free. The Buttahatchee River Fall Fest is named after the Buttahatchee River, which zigzags its way through Hamilton and connects with the Tombigbee River in Mississippi.
For more information, visit www.brff.org or call 205.921.7786 or 205.952.9884.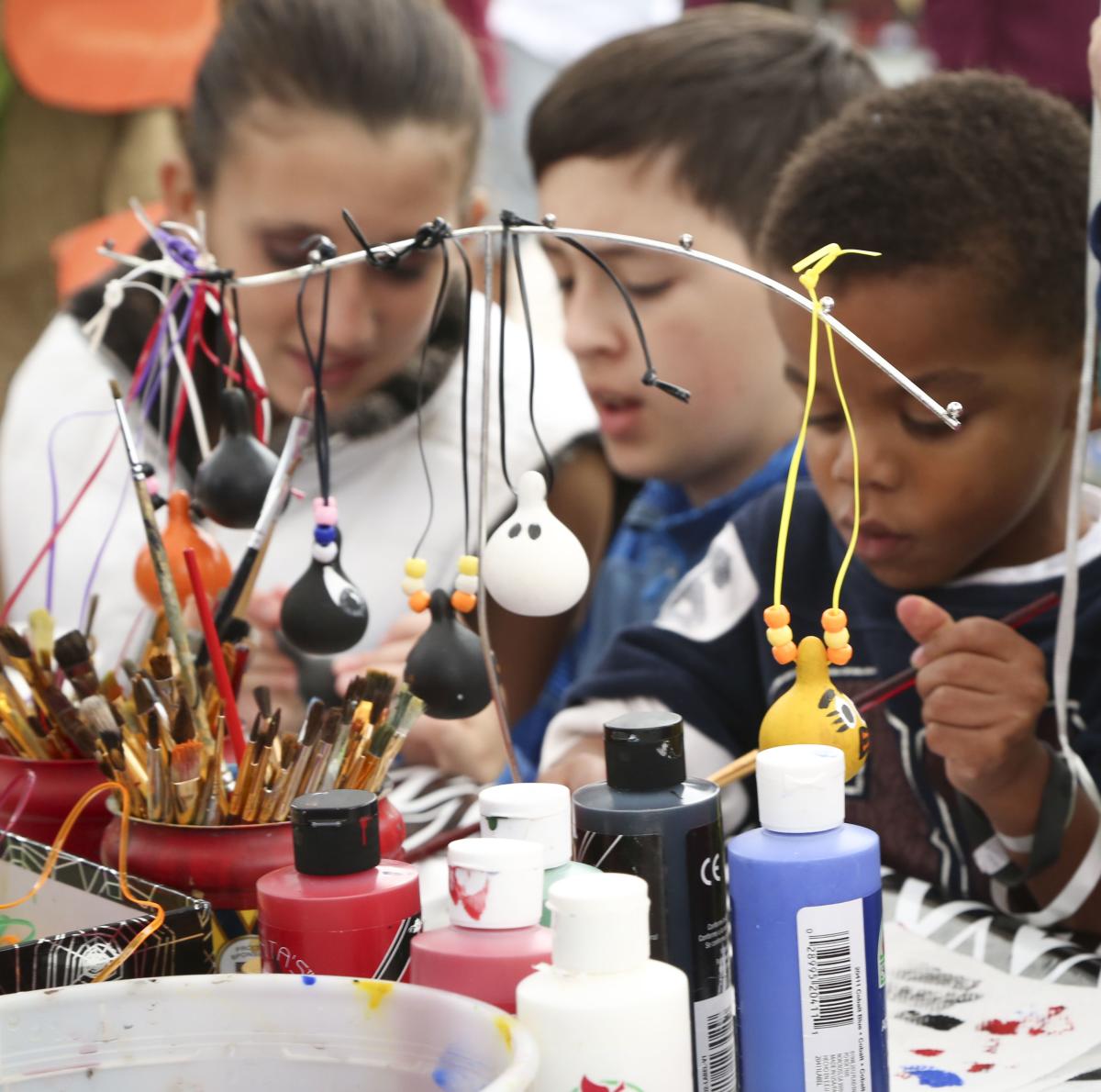 Huntsville Ghost Walks
The Huntsville Ghost Walks will begin another chilling season for Fridays and Saturdays in September and October. All tours begin at Harrison Brothers Hardware Store, located at 124 South Side Square, promptly at 6pm. In October, they also have walking tours on Saturday at 8:30pm. You choose one of three guided tours through the Twickenham District, the Old Town District, or the Downtown District. Hear stories from Huntsville's haunted past and learn why the spirits remain. Tickets are $10 for adults, $5 for children 12 and under. (from www.huntsvilleghostwalk.com)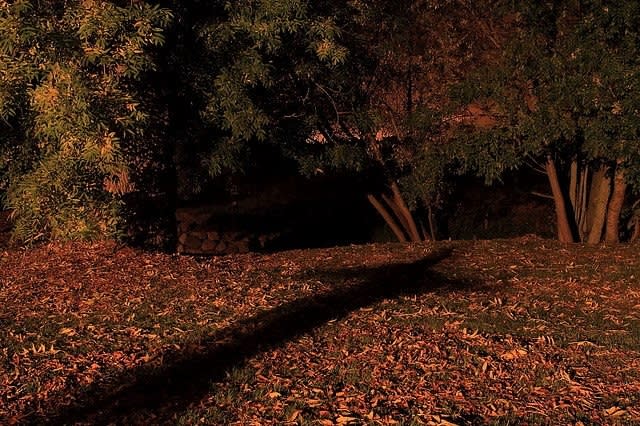 DeSoto State Park's Spookapalooza
DeSoto State Park will host the 12th annual Spookapalooza Pumpkin Carving Contest Oct. 23-28, 2023. Entries will be judged on overall appearance, creativeness, neatness and originality and can have any theme or design, i.e., Halloween, nature, fall season, etc. All ages are encouraged to enter. Entries must be turned in no later than 12 p.m., Saturday, Oct. 28 at DeSoto's Country Store on County Road 89 (table will be set up on porch). Winners will be announced on Sunday, Oct. 29th via DeSoto's Facebook and Instagram pages (#desotostatepark).
Campers in DeSoto State Park have been decorating their campsites with Halloween decorations for years and this year, there will be a campsite decorating contest. The Spookapalooza Spooktacular Campsite Contest will award the best decorated sites with great prizes like free camping, and there will be a 1st, 2nd and 3rd place winners, as well as most creative to boost the competitive atmosphere. Winners will be announced Sunday, Oct. 29th via DeSoto's Facebook and Instagram pages (#desotostatepark).
For information on additional things to do on and around Lookout Mountain in DeKalb County, contact DeKalb Tourism at 888.805.4740 or visit www.VisitLookoutMountain.com. For accommodation needs, visit www.visitlookoutmountain.com/where-to-stay-dekalb-county.