October has a different feel to it: crisp air, colorful foliage, pumpkins, festivals, and the list goes on. It also has a spooky edge to it as well, and there are several haunted walking tours across the region that tell of the paranormal activity in north Alabama.
Anne of Green Gables said, "I'm so glad I live in a world where there are Octobers." So are we, Anne.
Here are several North Alabama October events you don't want to miss:
McGee Farm Pumpkin Patch - through October 31
Located in Florence, Ala., McGee Farm is now in its 23rd year of opening the family farm for visitors to find the perfect carving or cooking pumpkin. Visitors have a choice of picking their orange treasure straight off the vine from the pumpkin patch or from a pile that have been pre-picked. Over 25 varieties of pumpkins are available to choose from, with some growing up to 200 pounds and some as small as a child's hand.
Along with pumpkins of all shapes and sizes, visitors are treated to farm-life activities such as playing in hay, taking a scenic tractor-drawn wagon ride, a barnyard bounce and feeding chickens.
For those who want a piece of the autumn season to enjoy at home, fall decorations, such as straw bales, corn stalks and miniature gourds, will be available to purchase. In addition to pumpkins, McGee Farm grows all of the colorful mums that are for sale each year. Visitors can pick from thousands of pots and many color variations.
After shopping for pumpkins, guests are invited to stay and enjoy a bite to eat at The Kitchen at McGee Farm. Home-cooked country favorites such as white beans and cornbread, soups, muffins, homemade treats, pies and more will be available to purchase. McGee Farm has a picnic area under a huge oak tree where guests can have picnics or can sit and enjoy the scenic countryside. Homemade jams, jellies, and relishes will also be for sale for visitors to enjoy at home or to give as gifts for the upcoming holiday season.
McGee Farm is open to the general public and group tours Monday through Friday 3 to 6 p.m., Saturday 10 a.m. to 6 p.m., and Sunday 1 to 5 p.m. beginning September 28 until October 31, 2019. Admission to the farm is free. Cost for the tractor-drawn wagon ride is $3 per person. School tour and group tour rates and reservations are available upon request. Pumpkin prices begin at $1, with larger pumpkins sold at 45 cents per pound. Birthday parties are also available upon request.
McGee Farm is a working family farm located at 8221 County Road 7 in Florence. For more information, visit www.mcgeefarm.com or follow them on Facebook. To make a reservation for a group tour, contact Amy McGee at 256.766.2725.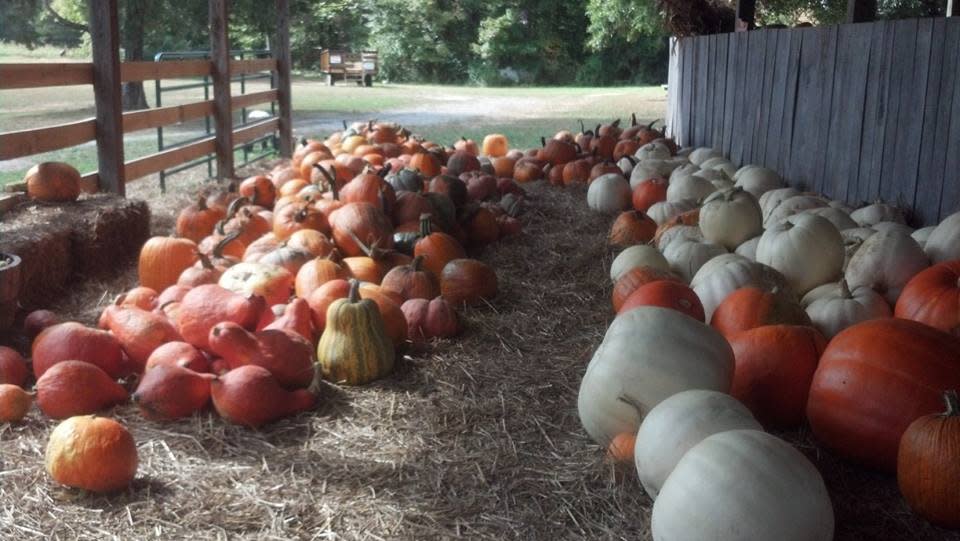 Belue Place Pumpkin Patch - Saturdays and Sundays in October
This fall take the family to visit a working family farm in Lexington, Ala. for a bounty of fun at the Belue Place Pumpkin Patch.
Visitors are invited to the Belue Place, a working farm situated in northwestern Alabama. The Farm is opened to the public Saturdays and Sundays in October for families and the young at heart to enjoy a little bit of farm life. Children can take a hayride to the pumpkin patch and pick their very own pumpkin to take home. Other activities include a hay loft jump, cow train rides, tire mountain, horse tire swings, corn crib play area, hay tunnels to wander through, pumpkin painting and storytelling.
Animals abound at the Belue Place and may be petted by the interested or simply observed by the curious. The petting zoo inhabitants include baby goats, miniature horses, rabbits, pigs, chickens, baby chicks, ducks and guineas.
The corn maze is a relatively new addition to Belue Place. Visitors enjoy the challenge and fun exploring the maze, and ongoing games like the corn maze crossword puzzle can make the experience even more enjoyable.
The Belue Place Pumpkin Patch is open Saturdays and Sundays in the month of October. Hours are Saturday 10 a.m. to 5 p.m. and Sunday 1 p.m. to 5 p.m.
Admission is $12 per person and provides access to all areas of the pumpkin patch, which includes corn maze admission, one pumpkin per person and all activities.
Belue Place Pumpkin Patch is located at 700 County Road 513 in Lexington, Ala. For more information, visit https://www.thebelueplace.com/ or call 256.366.6277.
Cullman Oktoberfest - October 2-5
For over three decades, the town of Cullman has celebrated its German beginnings with a festival offering all things German. Set for October 2-5, the Cullman Oktoberfest will take place in the downtown area and along with themed activities, the family-friendly event offers authentic German food and live German music daily.
During Oktoberfest, over 80 activities will be offered during and leading up to the event. Local restaurants will be serving German meals daily and merchants will host nightly events featuring beer, brats and live music. Opening ceremonies for Oktoberfest are slated for 6 p.m., Wednesday, Oct. 2. The evening will be filled with a variety of family-friendly activities and live German music provided by Terry Cavanagh and the Alpine Express.
Located adjacent to the Festhalle, the Cullman Oktoberfest Biergarten, featuring Oktoberfest beer, Alabama's craft beers and Alabama breweries, will be opened Wednesday through Saturday. Music can be heard nightly from a variety of performers and activities and games for children will be offered nightly and all day Saturday. Thursday, Oct. 3 from 10 a.m. to 2 p.m. is designated Senior Day. Terry Cavanaugh and the Alpine Express will provide entertainment.
On Saturday, Oct. 5, the festivities get underway at 8 a.m. Festivalgoers can peruse for unique treasures at the popular arts and crafts show from 8 a.m. to 8 p.m. at Depot Park. From 9 a.m. to noon on Saturday, K-9's For A Kause will host special activities for furry, four-legged friends (all dogs must be on a leash at all times). The popular charity bed race takes to the streets at noon and those up for a food contest will want to check out the bratwurst-eating contest set for 12:30 p.m.
A variety of competitive events, including a corn hole tournament, pickle eating contest, paper airplane contest, best German costume, longest beard and braid contest and stein hoist contest, will be held throughout the multi-day festival. Additional activities to take place include a wine tasting, cemetery tours, carriage rides, candlelight walking tours and a 5K and 10K run.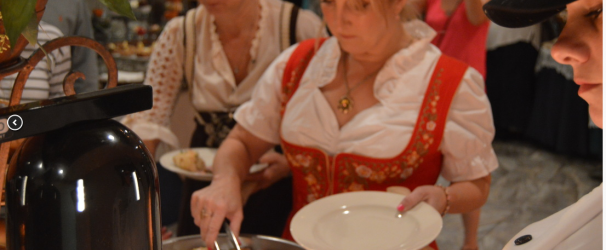 Belle Mont Quilt Show - October 2-26
The annual Belle Mont Quilt Show will be presented at historic Belle Mont Mansion, 1569 Cook Lane, Tuscumbia,  Wednesdays – Saturdays,  October 2-26.  Each Friday, during October, at 1:00 p.m. quilt collector Glenn Rikard will give a presentation, including the opportunity for participants to "show and tell" examples from their personal collections  Regular admission rates apply. ($6 adults,  $5 seniors, students, and military, $3 children ages 6-18).  Special group rates will be available, and advance booking by groups is required.  For more information: 256-381-5052 or www.bellemontmansion.org.
Tennessee Valley Old Time Fiddlers Convention - October 3-5
Each year, hundreds of fiddlers and thousands of visitors make their way to the North Alabama town of Athens, Ala. in October for the "Granddaddy of Midsouth Fiddlers Conventions." The Tennessee Valley Old Time Fiddlers Convention is set for October 3-5, on the campus of Athens State University in Athens, Ala., and during the three day event a new Tennessee Valley Old Time Fiddle champion will be crowned. Along with the competition, the event offers concerts, food vendors and arts and crafts on a theme of authentic workmanship while celebrating traditional old time music.
Now in its 53rd year, the Tennessee Valley Old Time Fiddlers Convention attracts approximately 15,000 folk music fans and more than 200 musicians who will be vying for over $18,000 in prize money in 19 different categories, including several fiddle and guitar categories, harmonica, mandolin, bluegrass banjo, dulcimer, old time singing, banjo and buck dancing. The Convention culminates in a "fiddle-off," between the top two fiddlers on Saturday evening. The winning fiddler is declared the Tennessee Valley Old Time Fiddle Champion. Competition gets underway Friday at 7 p.m. and resumes Saturday at 8:30 a.m. Finals are held on Alabama Farmers Cooperative Main Stage at Founders Hall beginning at 8 p.m.
Michael Cleveland and Flamekeeper will perform Thursday, Oct. 3 at 7 p.m. during a free preview night to kick off the convention. The complimentary concert will take place on the Alabama Farmers Cooperative Main Stage and will be open to the public. Bluegrass legend, Ricky Skaggs and Kentucky Thunder, will take over the Alabama Farmers Cooperative Main Stage for a second straight year and will perform shows at 4 p.m. and 6 p.m. Friday, Oct. 4. With a career that spans over 50 years, Skaggs has racked up 15 Grammys and 12 #1 hits, making him one of the greatest bluegrass artists of all time. Athens, Alabama native, Bradley Walker and the Lonesome River Band, will wrap up the entertainment portion of the convention with a performance at 6 p.m. Saturday, Oct. 5 on the Alabama Farmers Cooperative Main Stage.
The convention also includes a variety of food vendors and approximately 150 old-fashioned juried arts and crafts booths offering an assortment of items from traditional artwork to coal-fired metal works with an emphasis on handmade creations.
Cost of admission is $15 per adult for Friday, $15 per adult for Saturday, or $20 per adult for a weekend pass. Children under 12 will be admitted free with a paid adult. Tickets can be purchased online or are available from the Athens State Business Office located in Founders Hall at 300 North Beaty Street. Gates open at 6 p.m. on Thursday, 8 a.m. on Friday and 7:30 a.m. on Saturday. In event of rain, the competition will be held in Carter Gymnasium with limited capacity. Pets and coolers are not allowed. Festivalgoers are encouraged to bring lawn chairs.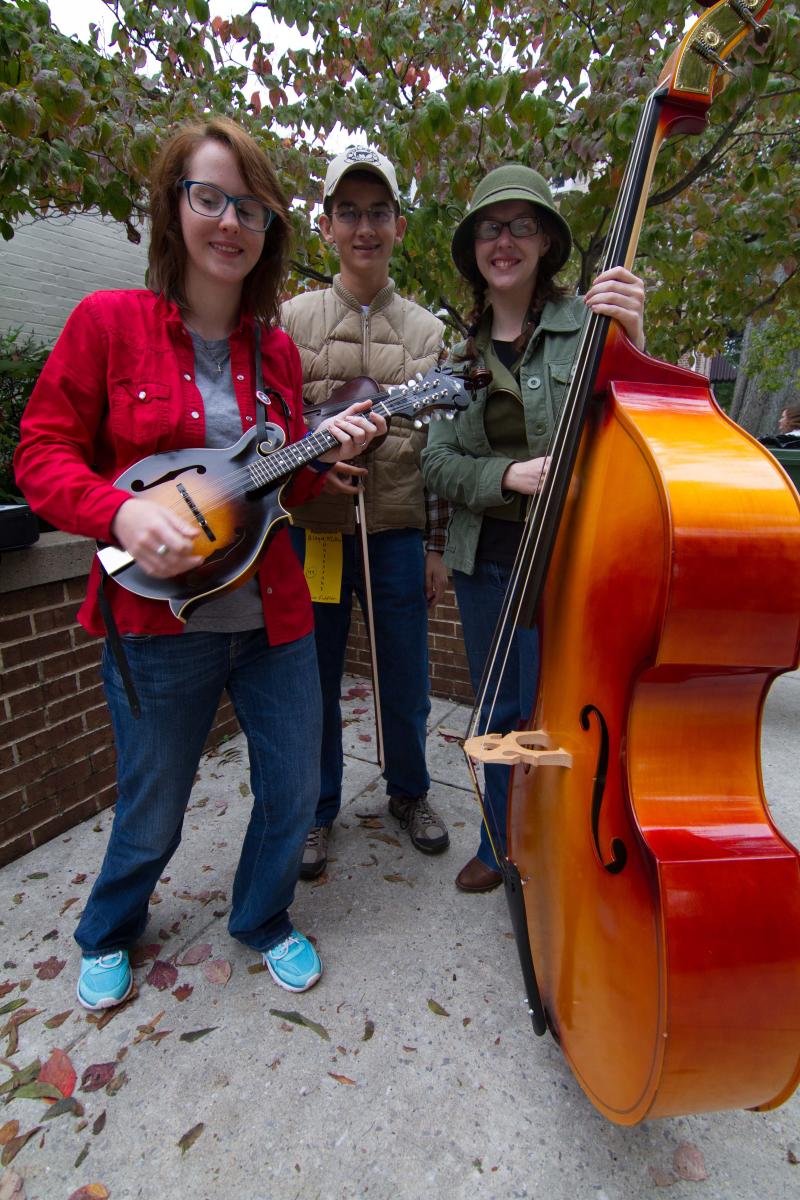 Boaz Harvest Festival - October 4-5
Autumn and its cooler temperatures are around the corner and the north Alabama town of Boaz is gearing up for its fall festival. Returning for the 55th year, the October Harvest Festival is set for October 4-5, bringing with it two days of music, arts and crafts, classic car show, corn hole competition and other family-friendly fun.
During the October Harvest Festival, over 200 arts and crafts vendors will line Main Street for shoppers to find that one-of-a-kind item. Children will be entertained throughout the day with a free inflatable play area with rides and games (tickets required for a nominal fee). A splash pad and playground will also be open at the new Old Mill Park. Additional activities include a Friday night corn hole competition, live music, a huge antique car show with muscle cars, trucks, motorcycles and the Miss Harvest Festival Pageant where a one-year tuition scholarship to Snead State Community College will be awarded to the upper division winner.
The free event takes place in historic downtown Boaz, located along Highway 168 just off US Highway 431. Hours are 8 a.m. to 8 p.m. on Friday and 8 a.m. to 5 p.m. on Saturday.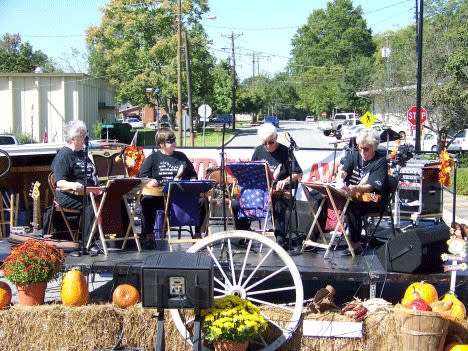 Athens Haunts Walks - Tuesdays & Thursdays in October
In celebration of Halloween, Athens-Limestone County Tourism is offering haunted walking tours next month giving visitors and locals a chance to explore the town by night. Held every Tuesday and Thursday night in October, the Athens Haunts Walk takes guests on a spooky 90 minute walking tour that uncovers paranormal activity, ghoulish legends and hauntings in the historic downtown area.
During Athens Haunts Walk, experienced and entertaining tour guides tell spooky stories of paranormal activity at 13 local structures. Stories include the college student who fell to her death and is said to still roam the halls at Athens State University's Founders Hall and the great 1893 fire that burned the wooden buildings on Marion Street. Tours include a stop at Founders Hall where the students of the then-named Athens Female Institute watched Union and Confederate soldiers battle and the steps of the Houston Library where a crowd gathered on the night voters elected George Houston as the state's first governor after reconstruction.
Now in its fourteenth year, Athens Haunts Walk is suitable for adults and children in grades 4th and up. In the past, tour participants have included both believers of paranormal behavior and some skeptics of the supernatural. The tours are also a way to get to know more about Athens and its history and lore.
The tours take place every Tuesday and Thursday night in October with the first walk beginning at 6:30 p.m. followed by the second walk at 7 p.m. Leading the tours are Bill Ward, Shane Black, Garth Lovvorn and Will Weir. All tours depart from the Athens-Limestone County Tourism office located at Big Springs Memorial Park (100 N. Beaty Street). Guests are asked to arrive 10-15 minutes before scheduled tour time. Each walk is approximately 90 minutes and a one-mile walking distance. Please wear comfortable footwear.
Tickets are $10 per person 12 years old and over. Reservations by advanced purchase are required. Tickets are sold at the Athens-Limestone County Tourism office Monday through Friday from 8 a.m. to 5 p.m.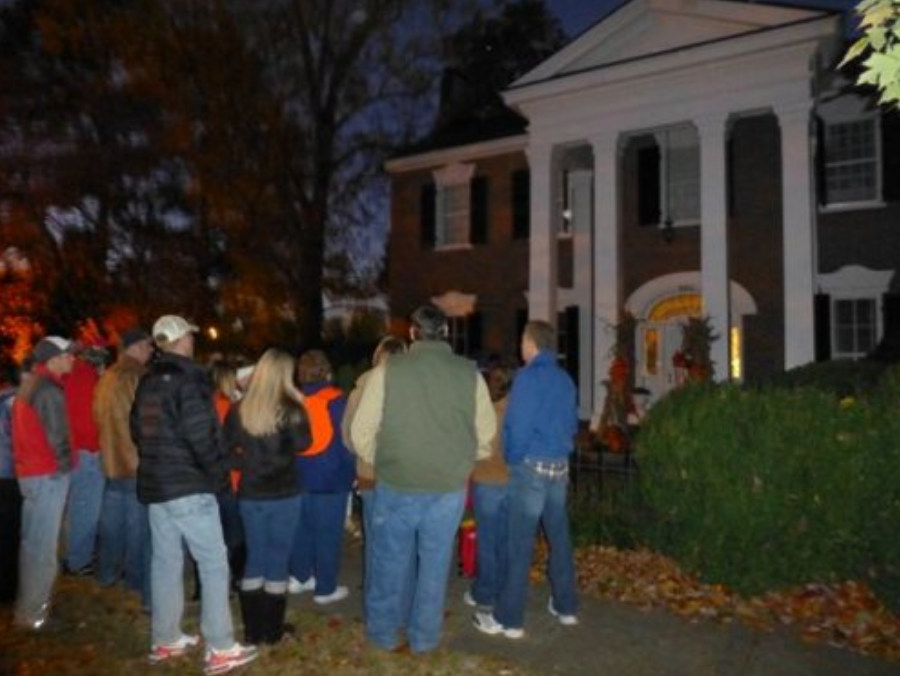 Decatur Ghost Walks - Saturdays @ 6pm
Explore Decatur streets to hear about the ghosts that remain long after the Civil War, the shadowy murders of dark alleys and an obligatory cemetery. These stories, and many more, reveal secrets of Decatur's haunted past. Tours leave promptly at 6 p.m. from the Old State Bank at 925 Bank Street in Decatur, Alabama. For more information, call (256) 509-3940 or (256) 783-2065. No reservations needed. Tickets are $10 for adults and $5 for kids 12 and under. Tickets are sold 20 minutes before the tour starts in front of the Old State Bank. No credit or debit cards.

Huntsville Ghost Walks - Fridays and Saturdays in October @ 6pm
The Huntsville Ghost Walk will begin another chilling season on Saturday, September 6. All tours begin at Harrison Brothers Hardware Store, located at 124 South Side Square, promptly at 6 p.m. In October, we also have walking tours on Saturday at 8:30 p.m. You choose one of three guided tours through the Twickenham District, the Old Town District, or the Downtown District. Hear stories from Huntsville's haunted past and learn why the spirits remain. Tickets are $10 for adults, $5 for children 12 and under. (from www.huntsvilleghostwalk.com)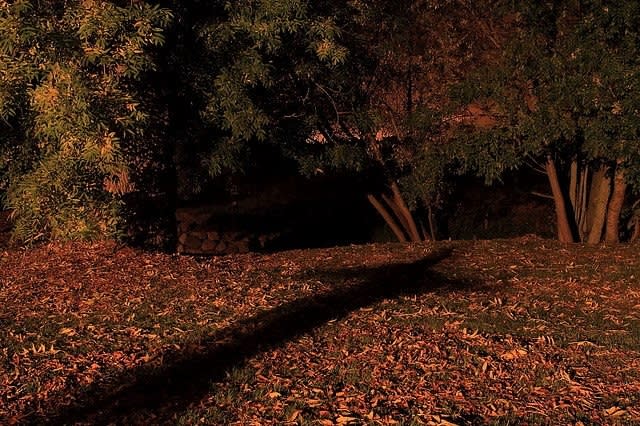 Danceebottoms Antique Show - October 10-12
Twenty plus vendors displaying true Americana, antiques, Southern furniture, Early American Folk Art, Painted & decorated furniture, glassware, jewelry, timeless collectibles, in a beautiful setting with live music! October 10-12.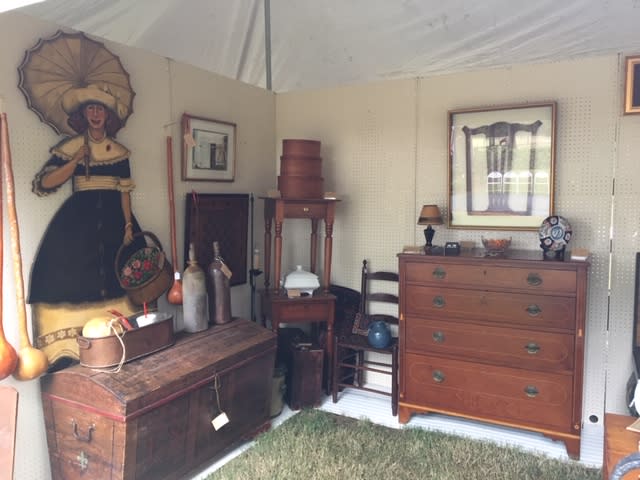 Haunted Cave Tours at Cathedral Caverns State Park - October 12, 19, & 26
Tour a haunted Cathedral Caverns this October. You'll see it like you've never seen it before. (Not recommended for small children.)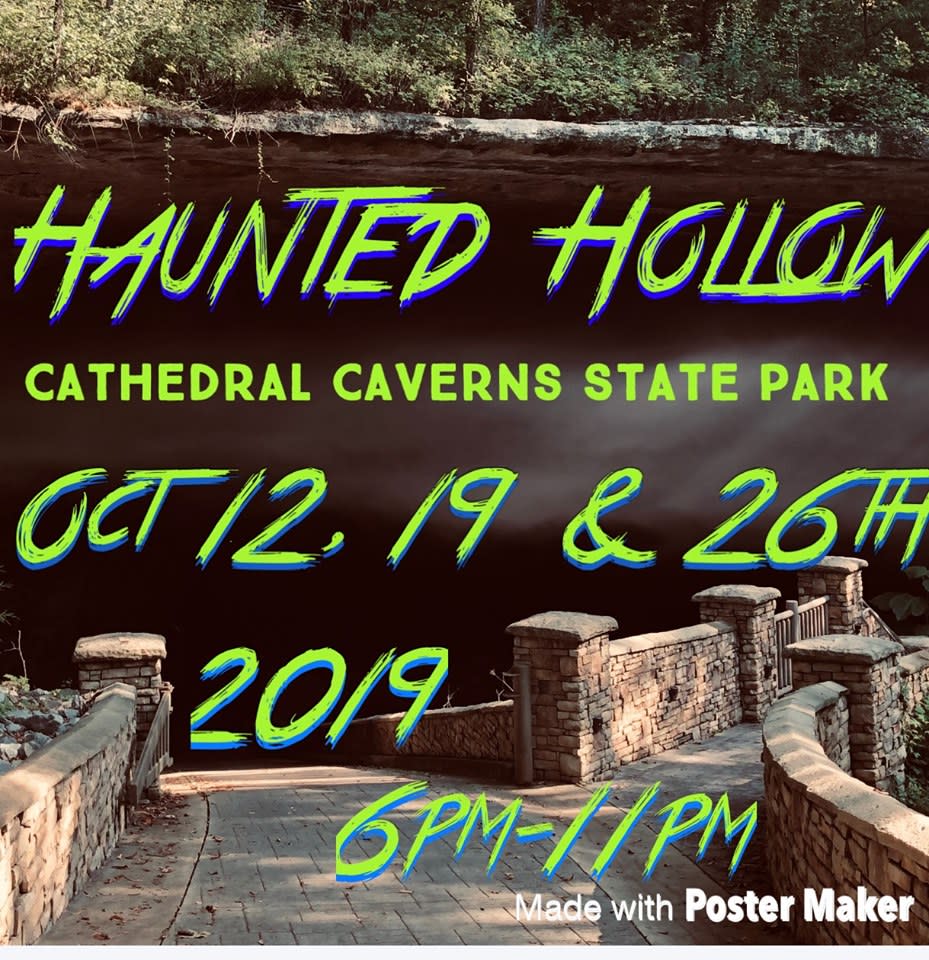 Alabama Gourd Show - October 18-19
An impressive display of unique creations, all handmade from gourds, will be on display in Cullman the third weekend in October during the Alabama Gourd Show. The annual event is a two-day celebration centered on the beauty and versatility of gourds and features masterfully created works of art from hundreds of artisans, crafters and growers. With a theme of Sweet Gourd Home Alabama in celebration of the Alabama Bicentennial, the 2019 event is set for October 18-19 at the Cullman Civic Center and admission is free. 
Hosted by the Alabama Gourd Society, the Alabama Gourd Show offers the public an opportunity to mingle with gourd artisans and admire a variety of unique arts and crafts handmade from gourds. Artists will be demonstrating their gourd art techniques and children can decorate their own gourd to take home as a souvenir for free.
For those who want to get hands-on, classes taught by an experienced gourd artist will be offered (fee charged). Eighteen different gourd art crafting classes, where participants make their own handcrafted gourd, will be offered both days at 9 a.m. and 1 p.m. For more details and to register for a class, go to www.alabamagourdsociety.org and click on classes.
Show hours are 9 a.m. to 5 p.m. both days. All activities take place in the Cullman Civic Center, located at 510 Fifth Street Southwest in Cullman. Admission is free.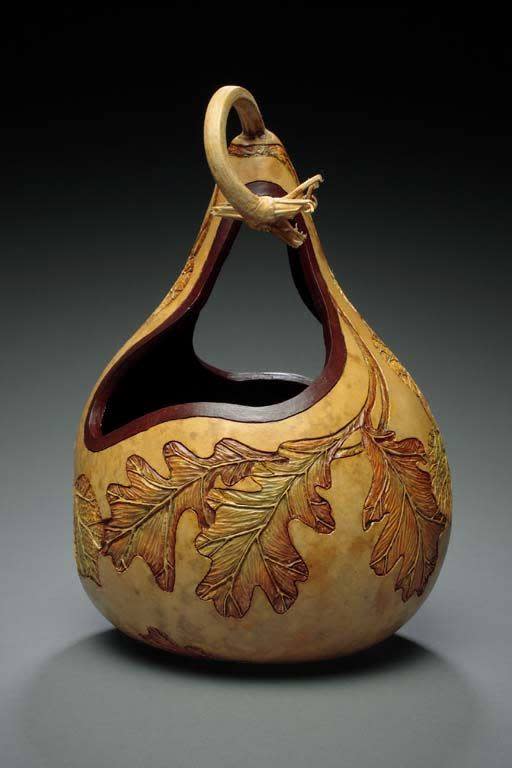 Athens Grease Festival - October 19
The streets of downtown Athens, Ala. will be filled with fried food, football, fun and extra crispy special sauce Oct. 19, 2019, with the highly anticipated Athens Grease Festival. The one-day event pays tribute to the Greek origin of the city's name while celebrating a love for fried food, and partygoers are asked to don their best toga and join the festivities.
The Athens Grease Festival brings food and fun to locals and visitors beginning at 11 a.m. and continuing until 7 p.m. The East Limestone Marching Band will kick off the opening parade at 11 a.m., and just after opening ceremonies, the Dubs Burger eating contest gets underway. Always popular with festivalgoers are the quirky games, especially the frozen turkey toss. Participate in the games for a chance to win toga bucks that can be spent in shops and restaurants in downtown Athens.
The festival will include music from up and coming, nationally recognized Lamont Landers. Other popular musical acts slated to perform include The Redeemers, Trippin' Dixie, Kaledioscope, Lindsey Hinkle, Seeking Babylon and The Prescriptions.
A wide range of fried food is on the menu from many vendors. Already committed to participate are The Spud Truck, Our Little Kitchen, Old Town Queing, New South Hotdogs, Eastern Point Bistro, Battered by the Bay, Hildegard's, Rita's, Dubs and several more. Organizers are not worried about encouraging others to indulge as long as everyone eats responsibly the other 364 days of the year.
Football fans will be taken care of at the Fan Zone presented by WOW!. The area will be filled with big screen TVs and cable hook ups tuned to SEC football teams and beer, wine and Pepsi products will be available to purchase.
All activities are held on The Square. Hours are 11 a.m. to 7 p.m. and admission is $5 for adults and $3 for children 3 to 12 years old ($1 off admission for toga wearers). Children 2 years and under get in free. The Athens Grease Festival is organized and hosted by Athens Main Street, a non-profit organization dedicated to the revitalization of Downtown Athens.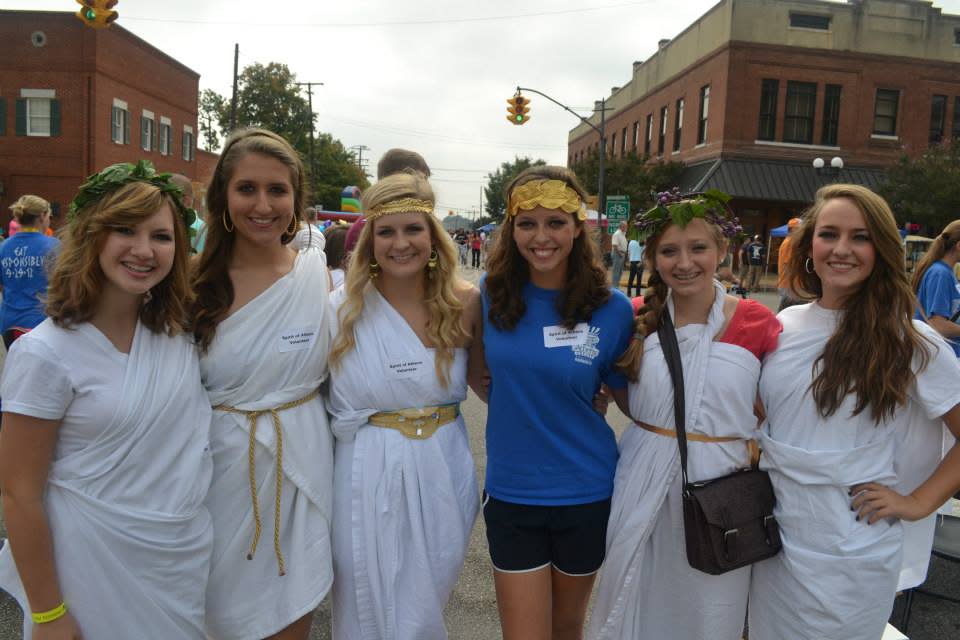 Athens Storytelling Festival - October 22-26
Some of the nation's most highly acclaimed storytellers will make their way to Athens in October for the city's annual celebration of storytelling, tall tales, and readings. Now in its thirteenth year, the Athens Storytelling Festival returns to the Limestone County Courthouse Square in downtown Athens October 22-26, 2019, and along with four award-winning performers, the event features an amateur night for locals to take the stage to unleash their own tall tales and stories.
The Athens Storytelling Festival kicks off on Tuesday evening, Oct. 22 at 6:30 p.m. with the Dan Williams Local Tellers Competition (amateur night). Admission at the gate is $5/adult and $3/child. The winner of this juried competition will get the stage again Thursday night, Oct. 24, to perform.
Wednesday, Oct. 23 and Thursday, Oct. 24 are designated school days. During school hours, performances by professional storytellers are open to all Tennessee Valley area schools and homeschoolers for students in third to twelfth grades. Seating is limited and reservations are required by contacting the festival at info@athensstorytellingfestival.com by Oct. 7.
For a sampling of what's to come, make plans to attend the Storytelling Olio on Thursday, Oct. 24 from 7:30 to 9:55 p.m. The Storytelling Olio brings all the tellers together for a wonderful medley of stories and the winner of the Local Tellers Competition will be presented. (Admission charged.)
Slated to appear on Friday and Saturday are many of the favorite performers from previous years including author Donald Davis, National Storytelling Festival favorite Bil Lepp, highly accomplished old-time, bluegrass, and swing musician Josh Goforth, and joining the stage this year is Kevin Kling, best known for his popular commentaries on National Public Radio's All Things Considered. Each teller will take the stage four times over the course of the weekend. Hours are 9 a.m. to 9:10 p.m. Friday and 9 a.m. to 9:20 p.m. Saturday.  
Stories will be told under the big tent on Marion Street, between Market and Washington. In addition, food vendors, local restaurants and an eclectic mix of shops offering a wide variety of antiques, gifts, gourmet foods, clothing and hardware will be open during the festivities.

DeSoto State Park's Spookapalooza 2019 - October 25-26
Join the staff and volunteers of Alabama State Parks, JSU Field Schools, & the National Park Service for a weekend of fun events guaranteed to run shivers up and down your spine! Trick or treating, live animals, storytelling, and more are in store during this popular annual event. All events are free to the public & great for all ages! More details to come.
Date: October 25th- 26th, 2019 (Halloween Weekend)
Where: DeSoto State Park in Fort Payne, Alabama

Tentative schedule:
Friday, Oct. 25th-Campfire Talk, Improved Campground 7:00 pm
Saturday, Oct. 26th-Trick or Treating, Improved Campground 3:00-5:30 pm
Saturday, October 26, 2019-Campfire Talk, Improved Campground 7:00 pm

Spookapalooza Pumpkin Carving Contest
DeSoto State Park is glad to host the 8th Annual Spookapalooza Pumpkin Carving Contest! Entries will be judged on overall appearance, creativeness, neatness, and originality. Entries can have any theme or design, i.e., Halloween, nature, fall season, etc. All ages may enter contest.
Date: Entries must be turned in no later than 12:00 noon on Saturday, October 26th to be judged. Turn in at the Nature Center, next to the Country Store. Winners will be announced at the Campfire Ring in the Improved Campground, 6:00 p.m. on Saturday, October 26th
All entries will be on display during DSP's Spookapalooza festivities.
Entries may be picked up at the DSP Country Store on Sunday, October 27th
Fee: Free and Open to all ages. Call 256.997.5025 for details

Trick or Treating
in DeSoto State Park's Improved Campground
Wear your favorite costume if you wish! Candy stations are located through-out the campground, where campers will be handing out candy. DeSoto State Park staff & volunteers will be at the campground pavilion with popcorn, candy, and prizes. Dress up your pets and bring them along! (Always on a leash) Parents must always accompany children.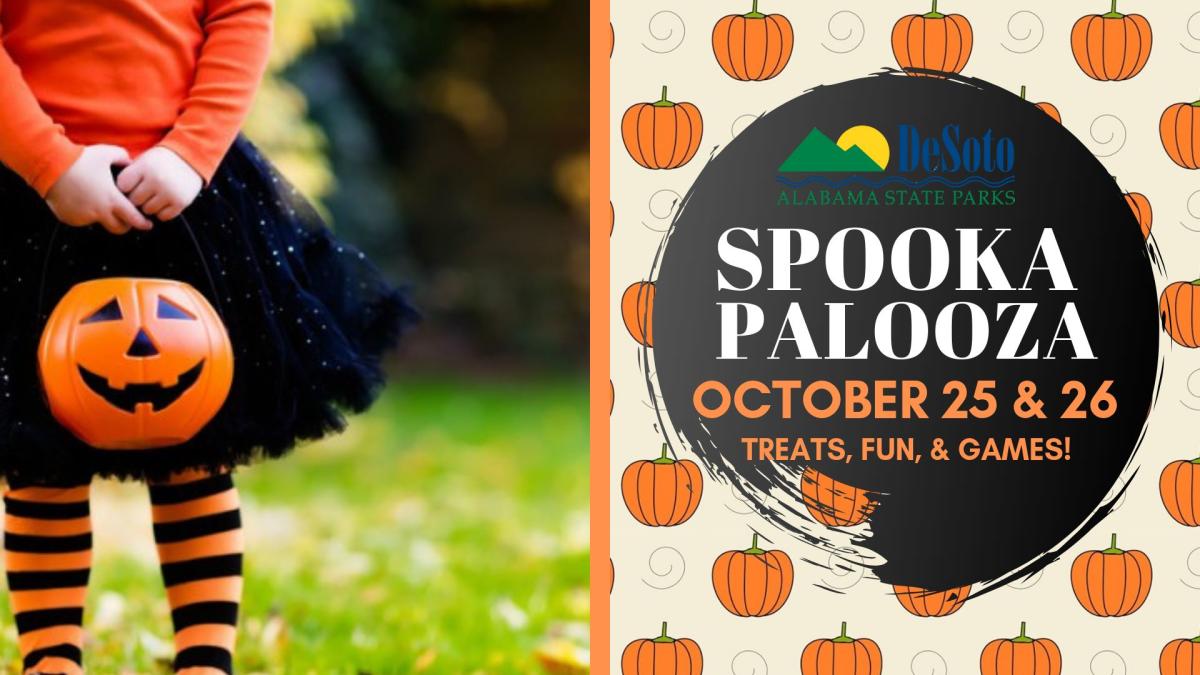 Buttahatchee River Fall Festival - October 26
Free family fun is coming to downtown Hamilton the last Saturday in October. The Buttahatchee River Fall Festival, set for October 26, 2019, offers a day of arts and crafts, live music, a motorcycle and car show, a kids' area and more. Festival hours are 9 a.m. to 3 p.m. and admission is free.
As festivalgoers arrive for the day full of activities, they will be greeted by hundreds of vintage beauties lining the streets of downtown Hamilton for the motorcycle and car show. Children's activities and live music featuring gospel, country, bluegrass and rock will keep the crowd entertained throughout the day and shoppers can shop for special sales by local merchants and treasures among the arts and crafts vendors who will be selling a variety of items such as handmade traditional folk pottery, gourd art, bird houses, iron works, glass and handmade jewelry. Additional activities include a 5K and one mile run and the historical society will be serving beans and cornbread at the historic Hamilton-Sullins House.
Hosted by the Hamilton Area Chamber of Commerce, the festival is held in Hamilton, in and around the Court Square of the Marion County Courthouse and throughout the downtown area. 1st, 2nd, 3rd, and 4th avenues and 1st and 2nd streets will be closed for traffic. The Buttahatchee River Fall Fest is named after the Buttahatchee River, which zigzags its way through Hamilton and connects with the Tombigbee River in Mississippi.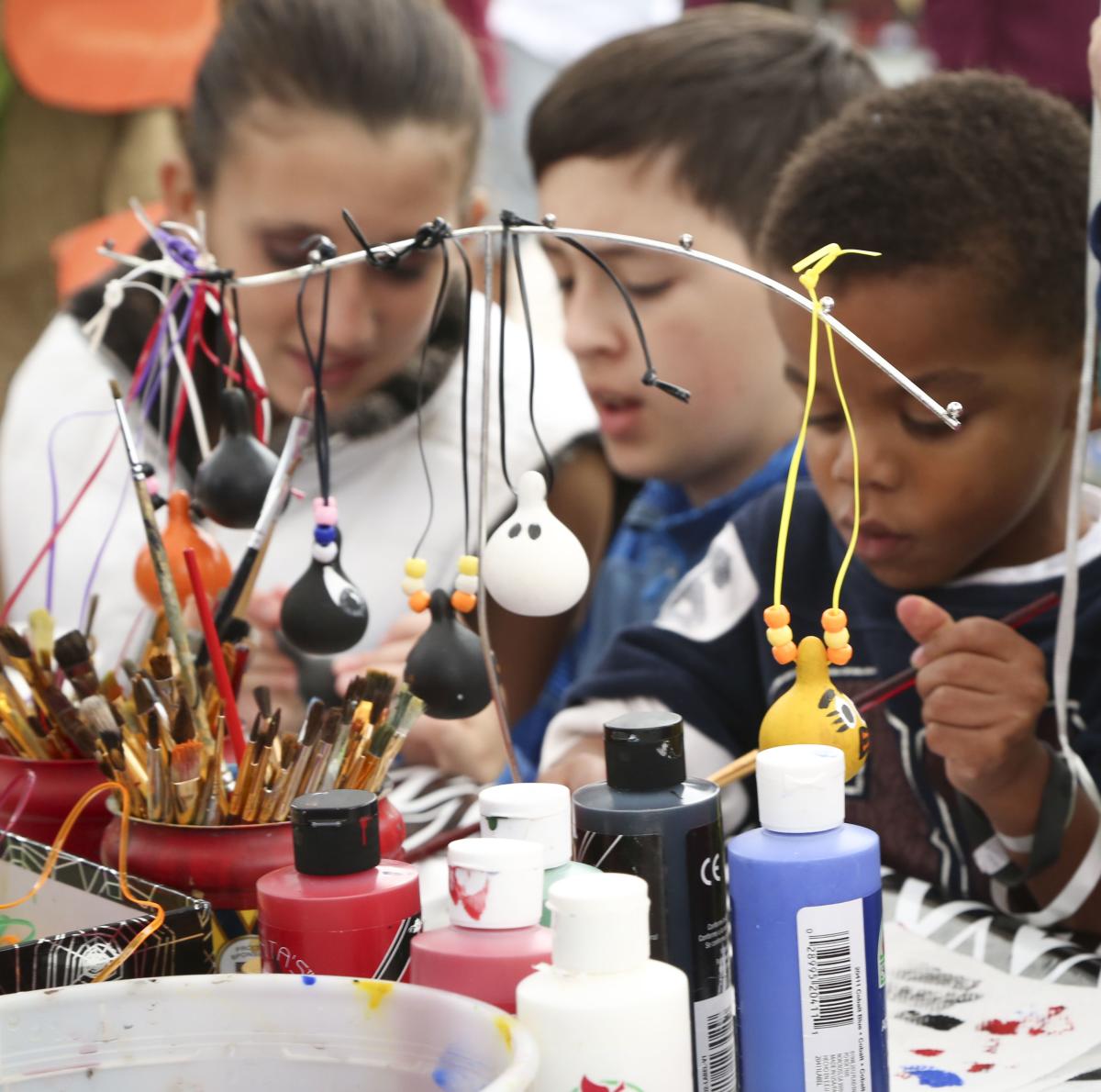 Blount County Covered Bridge Festival - October 26
With three covered bridges still in existence, Easley, Horton Mill, and Swann Covered Bridges, Blount County carries the title of Covered Bridge Capital of Alabama. As a tribute to its roots, a one-day festival is held every year in Oneonta. Set for October 26, 2019, the Covered Bridge Festival offers free family fun including a guided river walk, covered bridge tours, a pancake breakfast, quilt show, arts and crafts, kid's activity tent, car show, live music, great food and more.
The highlight of the Covered Bridge Festival is the arts and crafts show located in downtown Oneonta's entertainment district. Throughout the day, festivalgoers can peruse the booths of vendors selling an assortment of homemade items, handmade jewelry, artwork, wood creations and more.
Additional entertainment slated throughout the day include a car show, live music and a kid's activity tent with plenty of activities including balloon art and face painting for the young ones to enjoy. For the early risers, the Blount County Children's Center will host its annual pancake breakfast from 7 to 10 a.m. at Lester Memorial United Methodist Church, located at 108 Third Avenue East.
On the day of the Covered Bridge Festival in downtown Oneonta, the Blount-Oneonta Chamber of Commerce and the Blount County Memorial Museum will be partnering to offer guided tours of Blount County's three historic covered bridges. The tour van will depart the festival in downtown Oneonta from Regions Bank at 10:00 a.m., 12:30 p.m. and 2:30 p.m. and tours are expected to take 1 1/2 hours. Passengers should check in at the Chamber booth located at the Regions Bank intersection.  A guide who is knowledgeable about the covered bridges and Blount County's history will accompany each tour. There is a limit of 13 passengers per tour, and the cost is $10 per person. With limited seating, advance reservations are suggested and seat may be purchased in advance by calling the Chamber at 205.274.2153.
Sponsored by the Blount County Quilters Guild, a quilt show is scheduled for October 25 and 26 at Palisades Park in Oneonta from 10 a.m. to 4 p.m. Admission is $5. For more information, visit www.blountcountyquiltersguild.com.
In conjunction with the Covered Bridge Festival, the Friends of the Locust Fork River will lead its annual River Walk on October 26 beginning at 9:30 a.m. The guided hike travels from Swann Covered Bridge to Powell Falls and back. The hike is of moderate difficulty and takes about three hours round trip. For more information, call Stephen Guesman at 205.909.6231or visit www.friendsofthelocustforkriver.org.
Festival hours are 9 a.m. to 4 p.m. For more information on the Covered Bridge Festival, visit its Facebook page at www.facebook.com/CoveredBridgeFest or call the Chamber office at 205.274.2153.